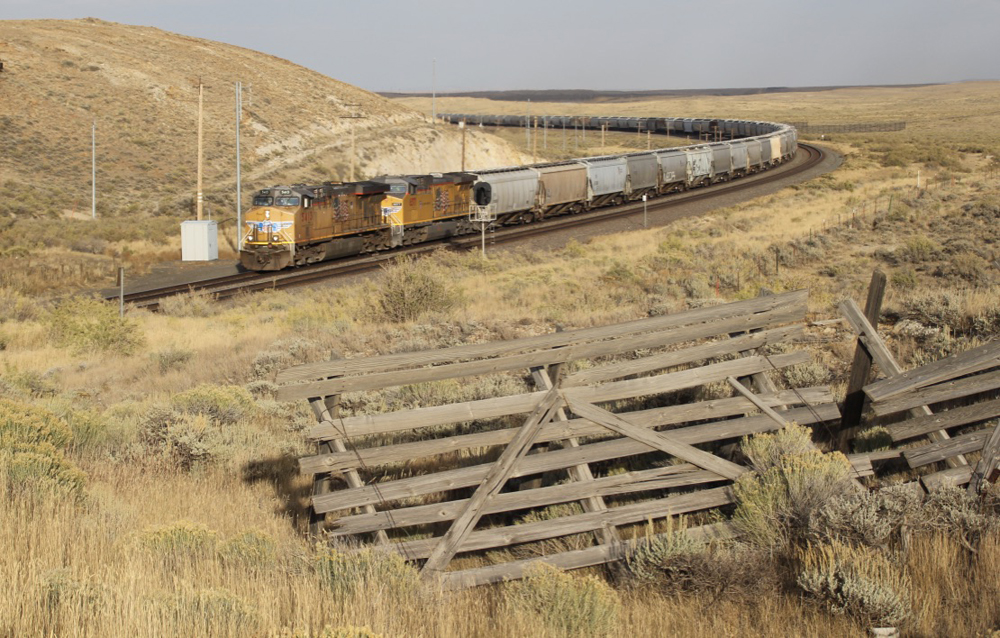 OMAHA, Neb. — Union Pacific reported record financial results on Thursday, including new marks for operating income, net income, earnings per share, and operating ratio.
"We pulled all three profitability levers simultaneously: volume, price, and productivity," CEO Lance Fritz told investors and analysts on the railroad's earnings call. The railroad improved its outlook and now expects volume growth of 7% for the full year, up from 6%.
For the quarter, UP's operating income increased 50%, to $2.4 billion, as revenue grew 30%, to $5.5 billion. Earnings per share rose 63%, to $2.72. The railroad's operating ratio was 55.1%, a 5.9-point improvement from a year ago during the onset of the pandemic and its historic traffic declines.
But congestion related to surging intermodal demand, derailments on key routes, and wildfire-related detours all affected UP's service. "While our financial results were impressive in the second quarter, our customers felt the impact of intermodal supply chain disruptions and costly rail equipment incidents," Fritz says.
UP suspended inbound moves from West Coast ports to its Global IV intermodal terminal in Chicago to allow customers to clear a backlog of containers. The embargo began Sunday night and is expected to last a week [see "Union Pacific suspends inbound international container shipments …," Trains News Wire, July 14, 2021]. "We've been working hand in hand with not only our customers, but everyone in the supply chain," says Kenny Rocker, executive vice president of marketing and sales. "And so the pause that you see should help us balance the network."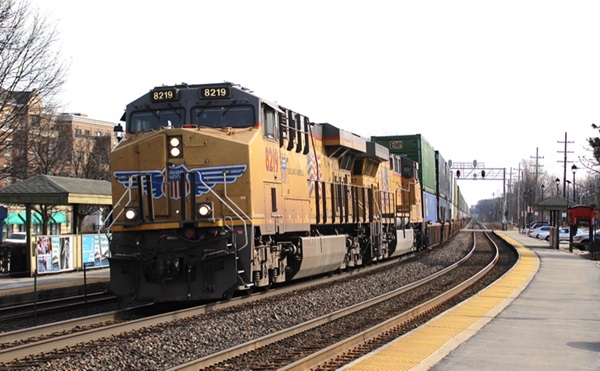 Rocker would not guarantee that the Global IV embargo would end after a week. "We're in early stages right now," he says, and working to make sure demand matches haul-away capacity.
UP has worked closely with steamship lines, West Coast ports, drayage companies, and cargo owners on ways to reduce congestion. The railroad also has increased the supply of well cars and has run extra trains to handle increased demand. And it has temporarily reopened the Global III terminal in Rochelle, Ill., as a storage location for inbound international containers. "Even so, it's likely these issues will persist through the end of the year, as the capacity to move boxes from our ramp to the final destination falls short of demand," Fritz says.
The international intermodal surge significantly affected UP's service, says Eric Gehringer, executive vice president of operations. "At the expense of our own service metrics, we chose to help reduce port congestion by moving more assets into dock operations," he says. "But that West Coast port congestion has now moved east, and is affecting some of our inland terminals, most notably in Chicago."
Derailments, loss of bridge have impact
Derailments — or "rail equipment incidents" in UP parlance — on the Overland Route and Sunset Route also took a toll on service, and UP's I-5 Corridor remains closed due to wildfire damage to its Dry Canyon Bridge north of Redding, Calif., necessitating long detours. Crews are working around the clock to rebuild the bridge, Gehringer says, and it may reopen in late August. The railroad has previously suggested a Sept. 1 reopening [see "Union Pacific's I-5 corridor route to be closed …," News Wire, July 12, 2021].
UP's intermodal trip-plan compliance fell to 71% from 82% a year ago, but was up 2 points compared to the second quarter of 2019. Carload on-time performance declined to 67%, down from 76% a year ago but up from 59% in the second quarter of 2019.
Gehringer said the on-time performance did not measure up to the expectations of UP or its customers.
UP's key operating metrics deteriorated for the quarter, with average train speed declining 7%, terminal dwell rising 6%, and daily car miles falling 6%.
Average train length increased to a record 9,410 feet in the quarter. To support longer trains, UP has completed seven 15,000-foot sidings this year and began construction on more than 20 additional long siding projects.
Running longer, heavier trains helped boost UP's fuel efficiency to a second-quarter record.
Overall, UP's volume grew 22% compared to the pandemic-impacted second quarter of 2020. All three of UP's business segments posted double-digit volume increases for the quarter. Bulk was up 13%, Industrial grew 15%, and Premium rose 31%.