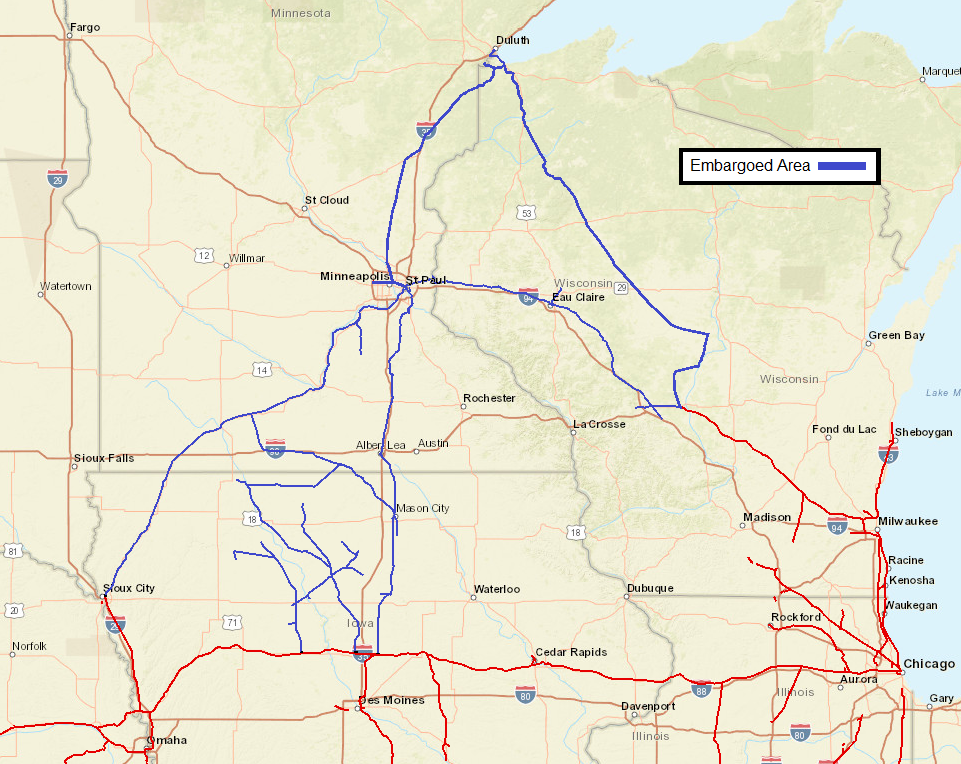 ---
OMAHA, Neb. — Union Pacific on Thursday ended the weather-related embargo it imposed on traffic moving to and from locations in Iowa, Minnesota, and Wisconsin on Dec. 29.
"We have cancelled Embargo #UP130022 that was related to the severe weather events that impacted our operations across Iowa, Minnesota and Wisconsin. We appreciate your patience while we worked to safely mitigate the impact the severe snow, ice and cold temperatures had on our network operations over the past several weeks" the railroad said in a customer advisory.
UP imposed the 14-day embargo on Dec. 29 and on Jan. 11 extended it another 14 days, saying ongoing snow, ice, and Arctic temperatures were impeding operations in the three states. It was the only Class I railroad operating in the area to impose a broad embargo.
The railroad had to contend with snow drifts as high as 15 feet that blocked tracks in Iowa and Minnesota in December. And in a Jan. 18 customer advisory UP said it was bracing for a storm that was expected to drop an additional 12 to 24 inches of snow across Nebraska, northern Iowa, southern Minnesota, and Wisconsin and whip up strong winds in Nebraska and Iowa.
Customers were allowed to request permits for shipments in the affected areas.
Members of Congress from the three states last week asked federal regulators to order UP to drop the embargo.
Regulators have been critical of UP's increasing reliance on congestion-related embargoes.
Last week Surface Transportation Board Chairman Martin J. Oberman rapped UP for the weather embargo in the Midwest.
"I think one of my priorities is going to be to hire a meteorologist to come to work for the board, to sort out for us the difference between the snow that falls on the UP tracks in Minnesota and the snow that falls on CP's, and BN's, and everybody else's tracks. Because I'm convinced it's different snow," he told the Midwest Association of Rail Shippers.
Meanwhile, in the Southwest, UP says repairs should be complete today on a bridge on its Golden State Route in Santa Rosa, N.M. Problems with the bridge on Monday prompted UP to suspend in-gates at its intermodal terminals for loads moving between Southern California and Chicago and Kansas City, as well as Mexico-Chicago traffic that moves via the El Paso gateway.
"Customers with rail shipments moving through the impacted area should continue to anticipate a delay of 48-72 hours as we work off the backlog of rail shipments," UP said in its advisory on Thursday.