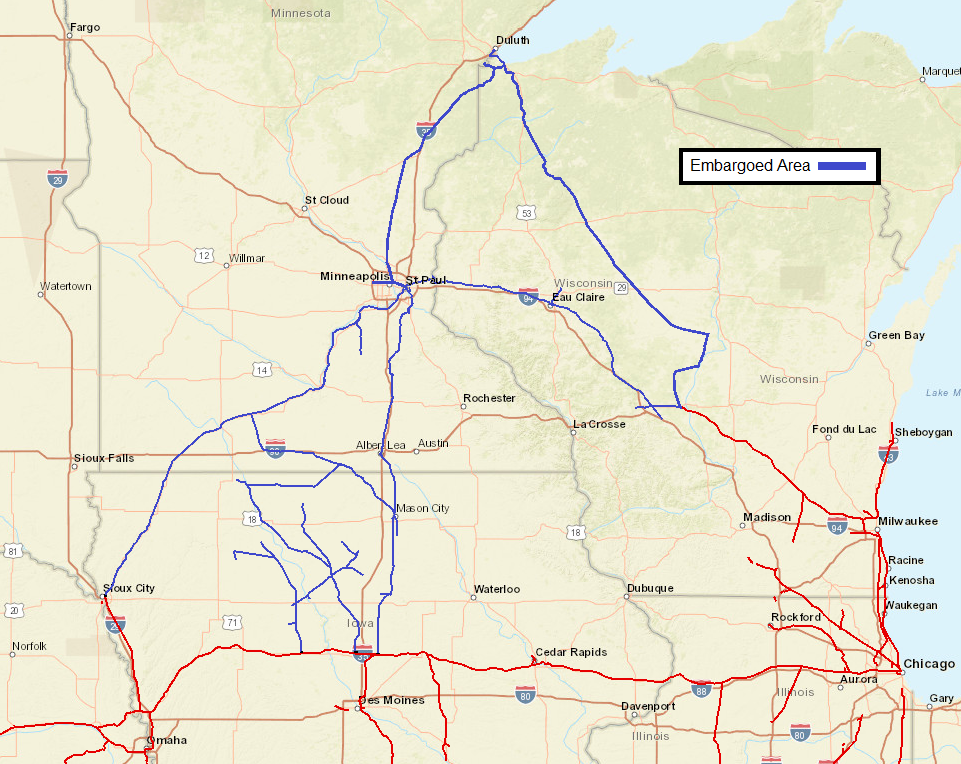 ---
WASHINGTON – Members of Congress from Iowa, Minnesota, and Wisconsin have asked federal regulators to order Union Pacific to lift a weather-related embargo on rail traffic in their states before it has "devastating effects" on shippers.
UP imposed the 14-day embargo on Dec. 29 and on Jan. 11 extended it another 14 days, saying ongoing snow, ice, and Arctic temperatures were impeding operations in the three states.
The railroad had to contend with snow drifts as high as 15 feet that blocked tracks in Iowa and Minnesota in December. And in a Jan. 18 customer advisory UP said it was bracing for a storm that was expected to drop an additional 12 to 24 inches of snow across Nebraska, northern Iowa, southern Minnesota, and Wisconsin and whip up strong winds in Nebraska and Iowa.
Customers are allowed to request permits for shipments in the affected areas. "Union Pacific will continue to carefully review and consider customer circumstances while issuing permits during this recovery period. Permits will continue to be issued, as needed, to protect critical supply chains," the railroad said last week.
But eight representatives were critical of the railroad's response to winter weather.
"The delays resulting from Union Pacific's embargo and subsequent inadequate service for their customers is unacceptable. Current and forecasted weather conditions in the upper Midwest are not abnormal for this time of year, and similar conditions in the past have not significantly disrupted rail service," the representatives wrote in a Jan. 13 letter to the Surface Transportation Board.
The representatives urged the STB to hold a meeting with UP and affected shippers, direct the railroad to lift the embargo, and restore service as quickly as possible.
"We must ensure our farmers, biofuel producers, and manufacturers can rely on critical rail transportation for their products, in-turn ensuring Americans may continue to rely on safe and affordable domestic food and fuel supply," they wrote.
STB Chairman Martin J. Oberman told the representatives on Wednesday that the board is "deeply aware of UP's service shortfalls," noting that the board held a hearing in December on UP's increased use of embargoes as well as an April hearing on widespread service problems on UP, BNSF Railway, CSX Transportation, and Norfolk Southern.
"I can assure you that I share your concerns and will continue to hold UP accountable with respect to its plans to lift not only the current embargo, but to address its general use of embargoes to manage its operations," Oberman wrote.
None of the other Class I railroads operating in Iowa, Minnesota, and Wisconsin – which include BNSF Railway, Canadian National, and Canadian Pacific – have issued similar blanket embargoes in the area, according to the Association of American Railroads embargo system.
The only non-UP embargo in the three states was issued by BNSF on Nov. 17 to alleviate congestion at its auto ramp in St. Paul, Minn. The embargo was updated on Dec. 21 to include extreme weather conditions.
"Embargoes are a high priority for us to deal with this year," Oberman said on Thursday at the Midwest Association of Rail Shippers conference. "I think one of my priorities is going to be to hire a meteorologist to come to work for the board, to sort out for us the difference between the snow that falls on the UP tracks in Minnesota and the snow that falls on CP's, and BN's, and everybody else's tracks. Because I'm convinced it's different snow."
UP says winter weather delays began to mount in December.
"Union Pacific has experienced significant weather delays since December due to severe winter storms and arctic temperatures in the Midwest. Although incremental progress has been made in reducing congestion across the region, we are seeing longer than anticipated recovery due to the magnitude of weather impacts. We will continue to issue permits for customers during this recovery period to protect critical supply chains," a railroad spokeswoman says. "Union Pacific is committed to restoring the fluidity of our network and we are working closely with members of Congress and the Surface Transportation Board to address their concerns."
At a hearing in Washington last month, Union Pacific's increasing reliance on embargoes to clear congestion came under fire from shippers, labor unions, and members of the STB.
Regulators in November ordered UP to explain why it has significantly increased its use of embargoes. With UP running short of train crews, the railroad has issued more than 1,000 embargoes so far this year in response to congestion, compared with just 27 in 2017 – the year before it adopted a Precision Scheduled Railroading operating model.
After the hearing, UP said it would stop issuing congestion-related embargoes under its pipeline management system. UP continues to issue embargoes related to congested customer facilities and weather, however, according to the AAR embargo system.
Note: Story updated at 2:34 p.m. Central Time to include statement from Union Pacific.
Trains Senior Editor David Lassen contributed to this report.