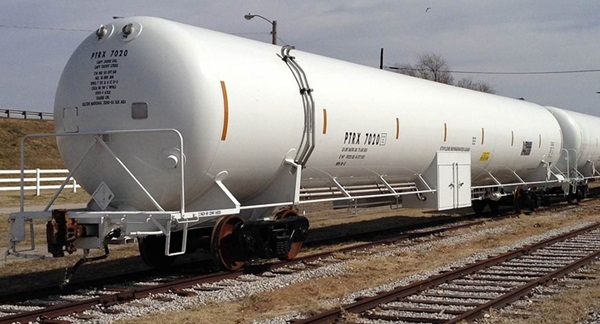 ---
GIBBSTOWN, N.J. — The U.S. Department of Transportation has turned down a request for a permit to transport liquefied natural gas by rail from Pennsylvania to a terminal on the Delaware River, NJ.com reports.
DOT's Pipeline and Hazardous Materials Safety Administration on Monday turned down the special permit sought by Energy Transport Solutions, a subsidiary of New Jersey Energy. The permit was needed to move natural gas liquefied and pressurized at a plant in Wyalusing, Pa., some 175 miles by train to a terminal at the Gibbstown Logistics Center, a proposed export facility in Greenwich Township, N.J.
That move, and the general topic of LNG moves by rail, has long been controversial. The then-chair of the House Committee on Transportation and Infrastructure, Rep. Peter DeFazio, was highly critical when the Wyalusing-Gibbstown move received a special permit from the DOT under the Trump Administration in 2019 [see "Chair of House committee rips agency …," Trains News Wire, Dec. 9, 2019]. The Trump Administration followed in 2020 by moving with a rule to allow broader movement of LNG by rail [see "DOT releases final rule for transport …," News Wire, June 22, 2020].
But the special permit granted in 2019 expired in 2021, and the Biden Administration has proposed setting aside the Trump-era rule [see "DOT seeks to suspend rule on LNG by Rail," News Wire, Nov. 9, 2021].
NJ.com reports critics say the lack of a permit may end the proposed LNG export project. While the LNG could move from Wyalusing to Gibbstown by truck, the number of vehicles involved could be prohibitive.
Area residents and environmental groups have been trying to block the Gibbstown project since at least 2019 over safety concerns about the transport of LNG, vapors of which can be highly flammable in the event of a leak.