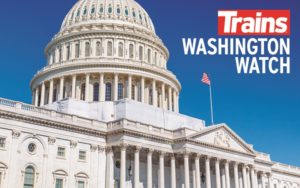 The U.S. Department of Transportation has issued its final rule for transportation of liquefied natural gas by rail, a controversial and highly politicized new rule which will take effect 30 days after its publication in the Federal Register. The rule, developed by the DOT's Pipeline and Hazardous Materials Safety Administration in consultation with the Federal Railroad Administration was released Friday. It will allow transport of LNG in DOT-113 specification tank cars with enhanced outer tanks of thicker carbon steel. It also requires remote monitoring of pressure and location, and a two-way end-of-train or distributed power system when a train includes 20 or more cars of LNG in a block or 35 or more cars anywhere in its consist. It also requires railroads to conduct "routine risk assessments to evaluate safety and security."
In a press release, Transportation Secretary Elaine Chao said, "The Department's new rule carefully lays out key operational safeguards to provide for the safe transportation of LNG by rail to more parts of the country where this energy source is needed."
U.S. Reps. Peter DeFazio (D-Ore.), chairman of the House Committee on Transportation and Infrastructure, and Tom Malinowski responded with a statement in which DeFazio calls the new rule "reckless" and saying the rule was approved through a "sham process, while Malinowski said LNG movement without adequate safeguards "presents substantial risks to the public."
A statement from the Railway Supply Institute President Mike O'Malley noted that "Federal hazardous materials regulations have for many years allowed the safe and efficient transport of cryogenic materials in DOT-113 tank cars and we commend the U.S. Department of Transportation for following that precedent in authorizing the transportation of LNG by rail in DOT-113 tank cars.
"RSI's Committee on Tank Cars appreciates the opportunity to provide input on this rule and will continue its work advancing the safe and efficient movement of hazardous materials by tank car."
The rule was developed in response to an executive order issued by President Donald Trump in April 2019. When proposed, it drew harsh criticism from DeFazio (D-Ore.), chairman of the House Committee on Transportation and Infrastructure, who had previously introduced a bill to block transport of LNG by rail pending further safety testing [see "DOT advances rule to allow movement of liquefied natural gas in tank cars," Trains News Wire, Oct. 21, 2019.] The surface transportation bill passed Friday by DeFazio's committee has a similar provision regarding LNG by rail [see "House committee releases new five-year transportation legislation," Trains News Wire, June 3, 2020].
The full 151-page rule is available here.
— Updated at 9:45 a.m. CDT on June 22 to add link to PHMSA press release, reactions from Democratic congressmen and Railway Supply Institute.