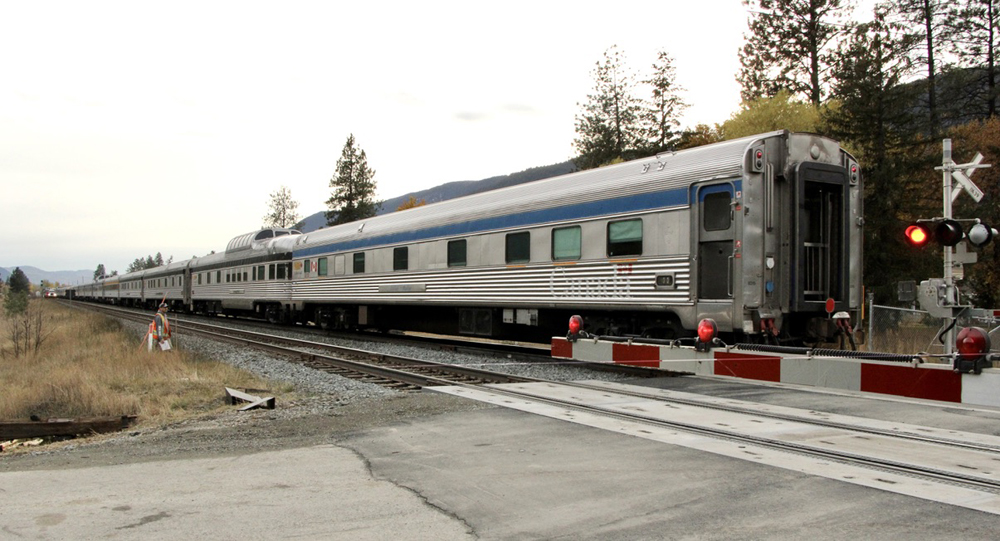 ---
OTTAWA — VIA Rail Canada no longer needs to run unoccupied "buffer" cars on trains with stainless steel Budd "HEP-1" and "HEP-2" passenger cars and rail diesel equipment, Transport Canada has announced.
The order, effective at 11:59:59 p.m. EDT on Wednesday, May 17, repeals a previous order issued last October after questions surfaced about the structural integrity of the 1950s-vintage rolling stock, refurbished to accommodate head-end power. That equipment is used on the Quebec City-Windsor corridor and all VIA regional and long-distance service [see "VIA: Need for 'in-depth' inspections led to buffer car decision," Trains News Wire, Oct. 19, 2022].
"VIA has since conducted a series of simulations, testing, and inspections, which concluded the cars showed no additional deficiencies, and the cars are still compliant with structural design standards for crashworthiness," says the new order. At least four pieces of equipment —a  coach, diner, Rail Diesel Car, and non-Prestige class Chateau sleeping car — were destroyed in the testing process.
Transport Canada and VIA have never explained exactly what triggered the original decision, and have yet to elaborate on results of testing that was supposed to have concluded on March 31, 2023.
Reports by sources familiar with the testing told Trains News Wire in February about issues that might remain, but that horizontal buff strength integrity — a primary crashworthiness consideration — had been confirmed [see "Truck bolster corrosion said to be a main concern …," News Wire," Feb. 22, 2022]. The order apparently means the cars now have a clean bill of health.
Trains departing or en route early today continued to operate with the buffer cars, but News Wire has learned some VIA trains dispatched since midday have been spotted without them.
The order means that VIA will be able to address heavy travel demand with coaches and sleeping cars had been relegated to deadhead duty since last fall. It is likely that pets will again be permitted to ride in baggage cars. That had ended because the prior order required buffer cars at both ends of a consist, and unoccupied baggage cars served that purpose. When pets were carried in the cars, their owners were allowed to enter the cars to visit and otherwise attend to the animals.
— Updated at 6 p.m. CDT to clarify equipment destroyed in structural testing.