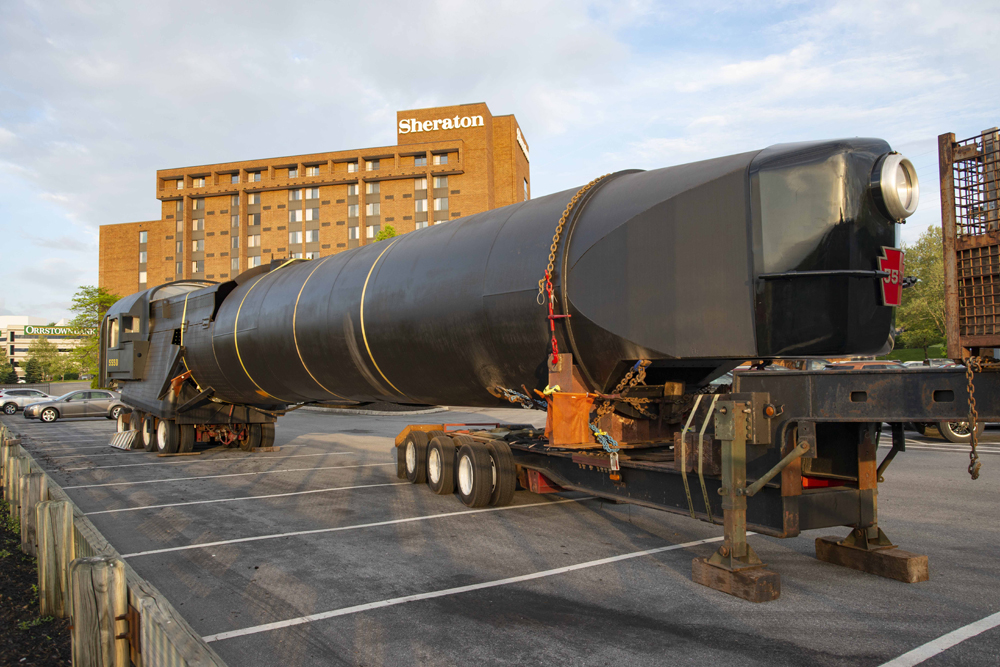 ---
HARRISBURG, Pa. — In the first public showing of the combined cab, boiler shell, and prow of its new streamlined steam engine, No. 5550, the Pennsylvania Railroad T1 Steam Locomotive Trust displayed its progress on a project whose backers hope to see it running by 2030.
The Trust trucked the 30-ton assembly 1,200 miles from its fabrication site in St. Louis to a Harrisburg hotel where the Pennsylvania Railroad Technical & Historical Society is holding its annual convention this weekend.
The Trust's goal is to create a new member of the iconic 52-engine fleet of PRR T1-class 4-4-4-4 high-speed passenger locomotives, all of which were scrapped [see "Pennsy T1 comes to life in a St. Louis shop," Trains News Wire, March 30, 2018]. Trust General Manager Jason Johnson reported that the group has raised $1.715 million to date and the engine is 39% complete, as measured by weight of components.
Completed, the engine will weigh 1 million pounds and the tender 200,000 pounds.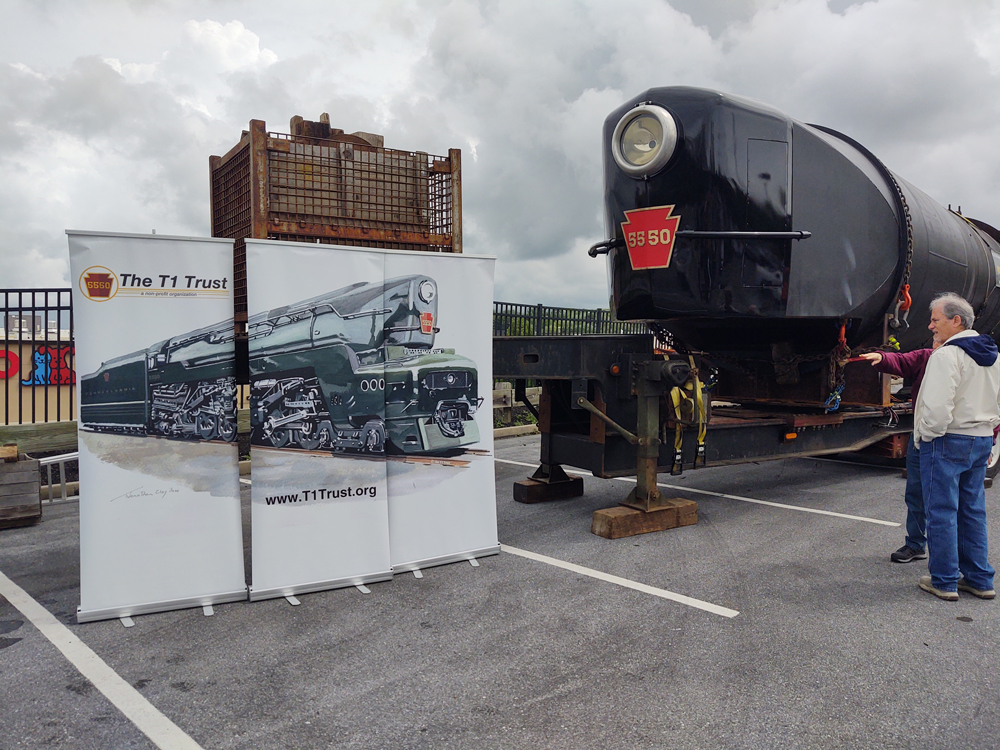 The Trust has shown parts of the locomotive, such as a keystone numberplate, an 80-inch-diameter driving wheel, the nose, and the cab, at previous society conferences. But the sheer bulk and appearance of the work-in-progress assembly were a stunning departure from past meetings.
The original PRR T1 fleet consisted of two prototypes, Nos. 6110-6111, built by Baldwin Locomotive Works in 1942, and 50 production engines built in 1945-46, half by PRR's Altoona (Pa.) Works (Nos. 5500-5524) and half by Baldwin (Nos. 5525-5549). Thus the Trust's decision to number its engine 5550, which would have been the next in the series. No. 5524 was the last locomotive completed at Altoona of nearly 6,800 steam and electric engines built there since 1866.
The styling, including a distinctive wind-splitter nose that presaged BLW's sharknose road diesel design, was the creation of famed industrial designer Raymond Loewy.
Johnson reported that four 80-inch-diameter drivers have been cast, with the remaining four in production.
Needed variations from the original PRR design include:
— Oil firing instead of coal.
— An all-welded boiler instead of riveted.
— A modern 26 brake system.
— The ability to MU with diesels.
— A wheel-slip alarm.
As to the question of where to run No. 5550, Johnson said economics dictate that it be on short lines and regionals at mostly 25 to 40 mph. It would be technically possible to run on main lines "if we had coaches and our own insurance," he said, but costs would eat up nearly all revenue.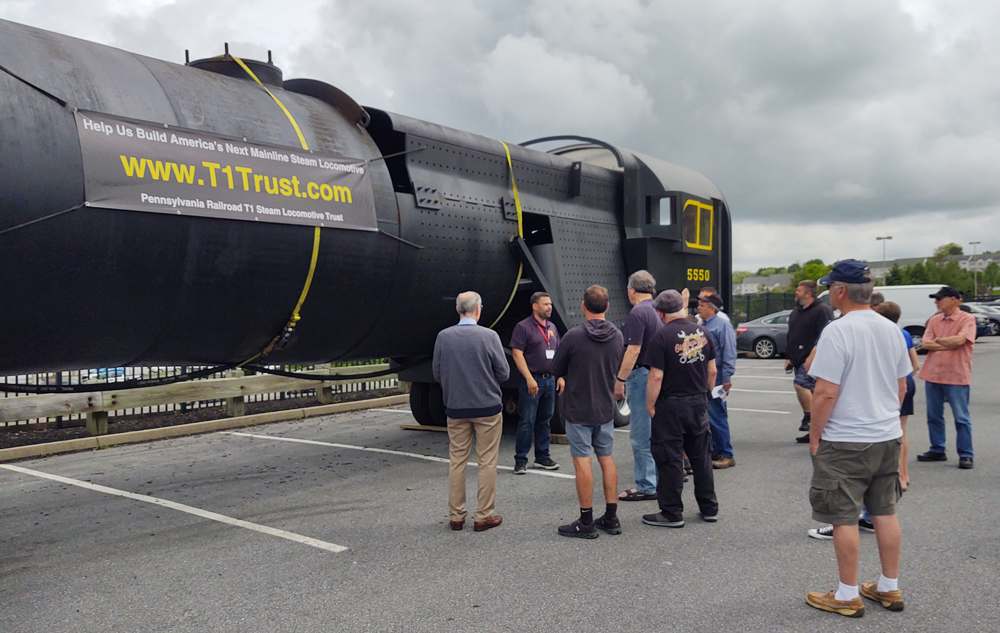 The next hurdle, Johnson said, will be to build the 68-foot-long frame, which will comprise both fabricated and welded parts. The originals were one-piece cast frames with all four cylinders integral to the casting. While it's technically possible to duplicate that feat today, Johnson said, the Trust can save time and money by dividing the job into "10-20-30-40 parts." Otherwise, the task would cost three to five times more. This and other tasks will be accomplished with the help of Computer-Aided Design and 3-D modeling, tools that didn't exist for Baldwin and PRR.
Scott McGill, the Trust 's chief mechanical officer, described the work needed to get to this stage. He spent the equivalent of 41 eight-hour days in the Pennsylvania State Archives, copying and scanning 1,754 T1 blueprints out of an estimated 450,000 in the state's holdings, which were saved from PRR's Harrisburg roundhouse. The T1s were largely based here, leading PRR's Blue Ribbon Fleet, including the Broadway Limited to Chicago and Spirit of St. Louis to St. Louis. The Trust's blueprints represent 99% of those needed, lacking only 14 drawings for a complete set.
The Trust has purchased a former PRR tender that is similar to the massive 16-wheel Class 180P84 tenders used behind the original T1s, and will spend an estimated $200,000 to streamline it and otherwise make it suitable. This saved the group at least $3 million over the cost of building a new tender.
The Trust got its start in 2017 when Missouri physician and longtime PRR fan Brad Noble read about the British success in building a new version of a "lost" steam-locomotive class, the A1 Tornado. He wondered what would happen if a billionaire like Bill Gates decided to back such a project.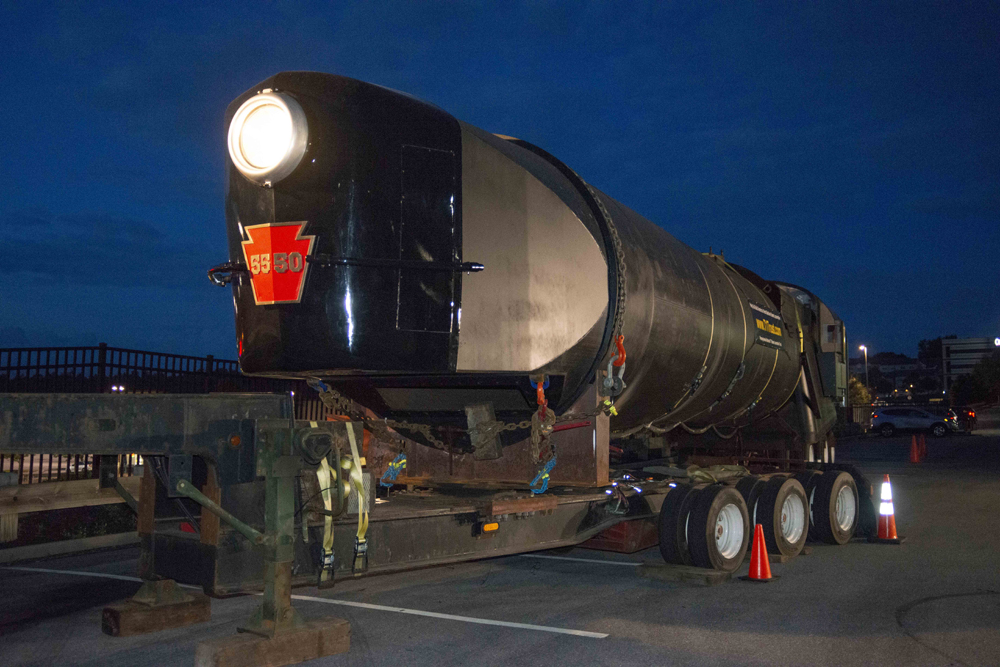 The original T1s were designed to run at well over 100 mph and, in a troubleshooting mission, the Franklin Railway Supply Co. actually clocked one unofficially at 141 mph. The emergence of the Tornado got Noble to wondering if it were possible to establish a new verifiable world speed record for steam, set at 126 mph in 1938 by London & North Eastern Railway A4-class 4-6-2 engine No. 4468, Mallard.
Through a number of contacts, he approached the Federal Railroad Administration, which coached him and colleagues on requirements and specifications needed to build a new locomotive in the post-steam era. He characterized FRA as both polite and highly supportive. Creation of a website and fundraising mechanism soon followed.
Standing in the hotel parking lot amid scores of photographers and the curious, Noble said, "I am grateful to be part of such an epic endeavor. Yes, I said epic."
The project will again be on display Sunday, May 15, at the Harrisburg-Hershey Sheraton, 4650 Lindle Road in Harrisburg.
More information on the T1 Trust is available at its website; more on the Pennsylvania Railroad Technical & Historical Society is available here.
— Updated May 25 to correct information on builders of the two production runs of T1 locomotives.