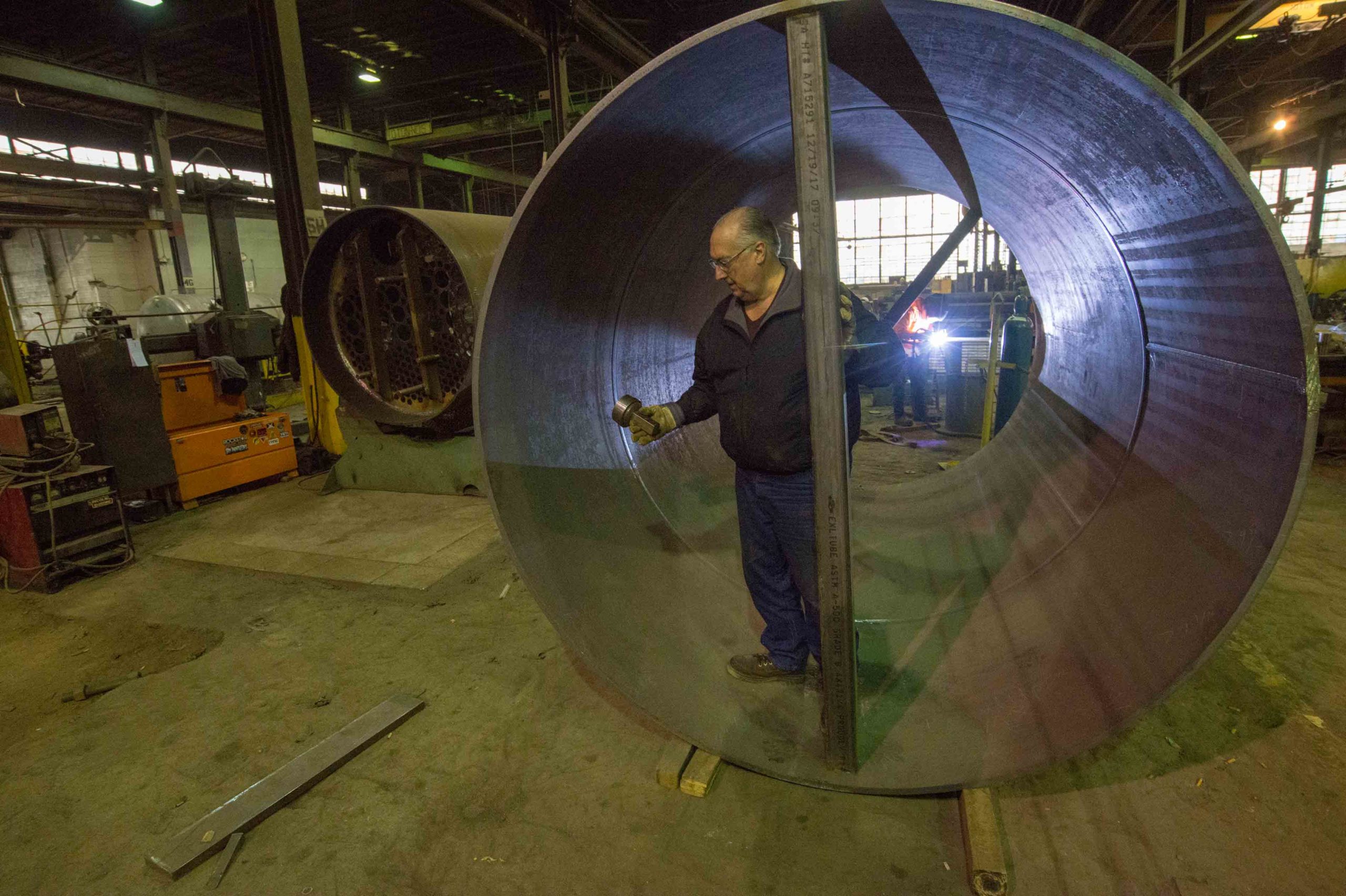 ---
ST. LOUIS – Gary Bensman walks through Continental Fabricators in St. Louis, holding a washout plug for the boiler of Pennsylvania Railroad T1 No. 5550. Bensman grips the plug much like a judge would hold a gavel, as he holds court over the fabrication of the boiler for a locomotive class whose last member of 52 all fell to the scrapper's torch by 1956.
The new PRR T1 4-4-4-4 steam locomotive is being built by the non-profit group, The Pennsylvania Railroad T1 Steam Locomotive Trust Inc.
The trust is using Bensman's experience to produce the boiler that's the heart of the T1. Bensman, 62, owns Diversified Rail Services and is overseeing construction of the pressure vessel, a 3½ course boiler, and smokebox.
When I started all the original steam men were still alive. Most of them died off by the end of the '80s; they were in their 80s by then''.
A mentor to Bensman and his missions to restore and repair steam locomotives was the late Joe Karal, a Nickle Plate Road master boilermaker based at Conneaut, Ohio.
"Karal told me an official walked into the shop in 1958 and told everyone to stop what they were doing, and that steam was done on the Nickel Plate." Most of the workers left the shops in disgust, retiring to a local bar to sooth the wounds of the end of steam. Karal went home for lunch and returned to the shop to complete beading the tube sheet of the last locomotive he worked on. "He told me he gathered every piece of paper having the do with the railroad, walked it out to the front yard, and burned it. He taught me a lot, teaching from a copy of Standard Practices for the Nickel Plate," said Bensman, who lost his friend in 1985 at the age of 85.
The first and second boiler courses (or sections) of No. 5550 sit next to a new boiler being manufactured for Mid-Continent Railway Museum's former Chicago & North Western R-1 4-6-0 No. 1385.
The 1385 project is easily recognized as a locomotive, but the T1 boiler start looks more like a highway culvert.
The group has already built the prow and cast drive wheels. Its website, prrt1steamlocomotivetrust.org/station, offers a chance of a contributor to donate to purchase a section of a boxpok driver wheel.
Bensman is visibly proud of the work he is doing to bring back a monster of steam days. "This is a realistic and believable project, $20 million and a twenty-year mission."
Years ago, Herman Cull, a Pennsy engineer based out of Richmond, Ind., told Bensman he'd get bumped up to Fort Wayne. Bensman did a double take on a tale that Cull shared. "Didn't I just tell you I ran a T-1 East? And didn't I tell you we went 100 mph?" said an irritated Cull. I loved them, they were big beautiful engines,'' said Cull of the 530-ton behemoths. Cull, like many of the other old heads from steam days, has passed on.
"I've heard urban legends and old wives' tales, but no one is left now," Bensman said. "It's all new engineering, we are not going to replicate a problem we know they ran into 80 years ago. We can engineer through that and work it out. There is support for this all over the World!
"I never thought I'd see it, this is a great challenge. People are stepping up and spending money on a steam locomotive!" Bensman said.
This story was edited April 4, 2018, to clarify the story of Joe Karal.