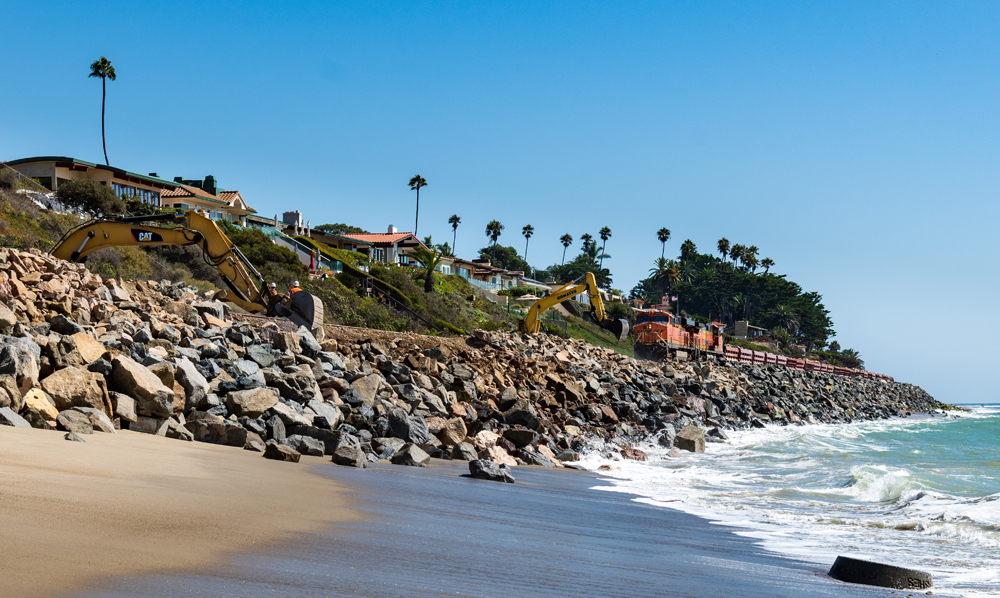 ---
LOS ANGELES — Metrolink commuter rail service in south Orange County, and Amtrak Pacific Surfliner operations between LA and San Diego, were scheduled to resume this morning (Monday, Oct. 4) following the conclusion of emergency repairs to tracks near San Clemente, Calif.
Service was halted Sept. 16 after a landslide pushed the rail line out of alignment [see "Emergency repairs halt Surfliner, Metrolink service …," Trains News Wire, Sept. 16, 2021]. This triggered a massive temporary stabilization effort that  saw approximately 12,000 tons of large rocks, known as riprap, dumped in the area by railcars. A more permanent solution will eventually be required.
Metrolink said in a press release that speed restrictions will be in effect as the affected line segment reopens, which could lead to some service delays.
Pacific Surfliner was initially halted south of Irvine, Calif., because of the closure, but since Sept. 20 bus connections had been offered between Irvine and Oceanside, Calif., with a limited rail schedule between Oceanside and San Diego.