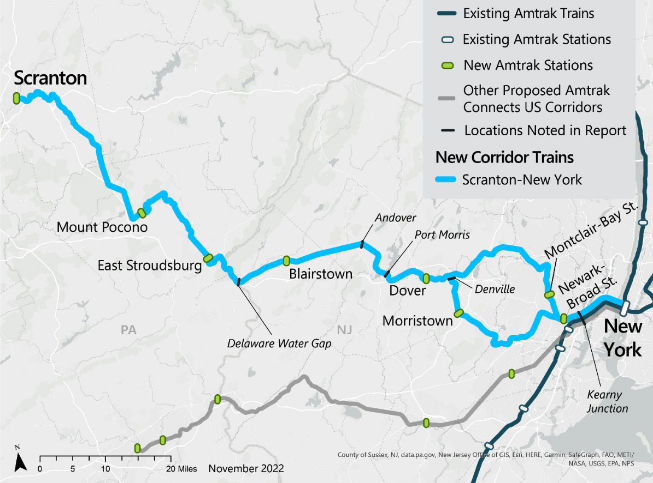 ---
SCRANTON, Pa. — A two-year analysis of potential rail service between Scranton and New York City estimates the service could carry more than 470,000 riders per year and generate some $111 million annually in economic benefits.
The study released by Amtrak and the Pennsylvania Northeast Regional Railroad Authority includes development of a sample schedule, economic impacts, and an infrastructure assessment for the 60 miles owned by the PNRRA between Scranton and the Delaware Water Gap.
"Restoring and expanding this corridor with daily multi-frequency service would dramatically boost mobility and economic development for residents of Scranton and northeastern Pennsylvania, New Jersey, New York and the broader Northeast region," Amtrak CEO Stephen Gardner said in a press release.
Startup costs are not fully delineated. They would include $100 to $175 million for infrastructure improvements in Pennsylvania and $70 million to $90 million for acquisition of two trainsets. Amtrak anticipates using its new Airo equipment but says additional trains would need to be purchased. The report estimates these items would be 30% to 45% of the total project costs. Not included are infrastructure costs for the New Jersey portion of the route, which would require upgrading to allow for a travel time of 3 hours or less between Scranton and New York City.
The ridership projection is based on three round trips per day with travel times of 2 hours, 50 minutes, with maximum speeds of 110 mph on a rebuilt Lackawanna Cutoff segment and nine stations: in Scranton, Mt. Pocono, and East Stroudsburg, Pa.; Blairstown, Dover, Morristown, Montclair, and Newark, N.J.; and New York City. The study projects economic benefits of $84 million in economic activity, such as increased tourism; $20 million in benefits to passengers, such as the ability to be productive on the train; and $7 million in societal benefits, such as reduced traffic and pollution.
"This study reinforces what we have advocated for decades that rail passenger service to this region is a huge economic positive," said PNRRA President Larry Malski. "The study's release is extremely timely with last year's passage of the Infrastructure Investment and Jobs Act that for the first time makes available federal funding for developing Scranton service, especially restoring the Lackawanna Cutoff and upgrading PNRRA trackage."
The next step in pursuing funding for the project is to complete an application under the Federal Railroad Administration's Corridor Identification and Development program [see "FRA unveils Corridor ID …," Trains News Wire, May 17, 2022]; deadline for that application is March 27.