---
STRASBURG, Pa. — Strasburg Rail Road's ex-Norfolk & Western 4-8-0 steam engine No. 475 returned to excursion passenger duty this week after the company's mechanical department worked overtime to repair smokebox damage from a Nov. 2 collision with a tracked excavator.
The locomotive was back in service on Monday [see "Strasburg No.475 back in service …," Trains News Wire, Nov. 7, 2022].
No injuries occurred, and the railroad is cooperating with the Federal Railroad Administration to isolate and clarify conditions that contributed to the incident. Among the factors were a track switch left open by a maintenance crew, and engine-crew inattention to the position of the switch points [see "Strasburg collision damages No. 475 …," Trains News Wire, Nov. 2, 2022].
The incident occurred as No. 475 (Baldwin Locomotive Works, 1906) ran around its train at the turnaround point of the road's 4½-mile line, Leaman Place Junction at Paradise Pa., along Amtrak's electrified Philadelphia-Harrisburg, Pa., Keystone Corridor.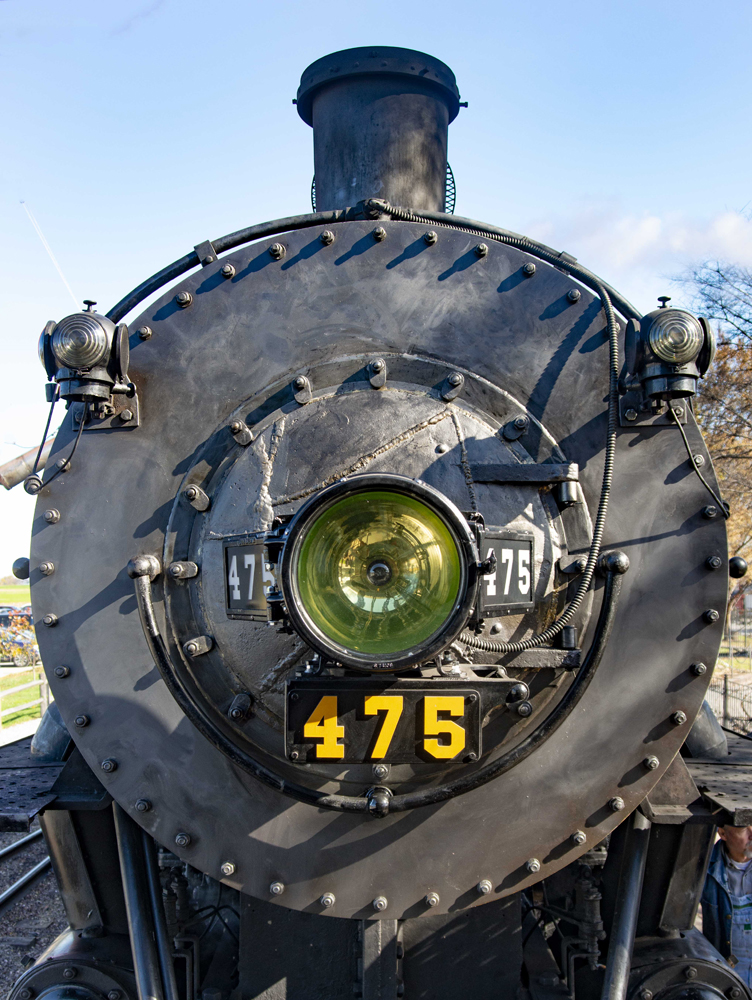 In a News Wire interview on Tuesday, Nov. 8, Vice President and Chief Mechanical Officer Brendan Zeigler said the damage was largely confined to No. 475's cast-iron smokebox front and door, with minor damage inside the smokebox to the cinder screen netting and supporting parts.
The major visible repair work was threefold, as the excavator's boom punched a hole in the smokebox front and door, both of which shattered into pieces, and damaged the headlight beyond repair.
SRC mechanics replaced the smokebox front with three-quarter-inch-thick steel plate, using the damaged item as a template. The smokebox door – the hinged round center of the smokebox front – likewise broke into shards, and Zeigler said, "We elected to braze-weld that. We put a reinforcing steel ring inside to hold it together."
The result is a door with visible spiderweb-like scars where the sections were rejoined. Zeigler addressed the question of why those braze marks weren't ground down to restore a smooth appearance: "I elected not to have them do that," he said, "to leave it as a 'witness mark' to remind our crews" of the need for vigilance.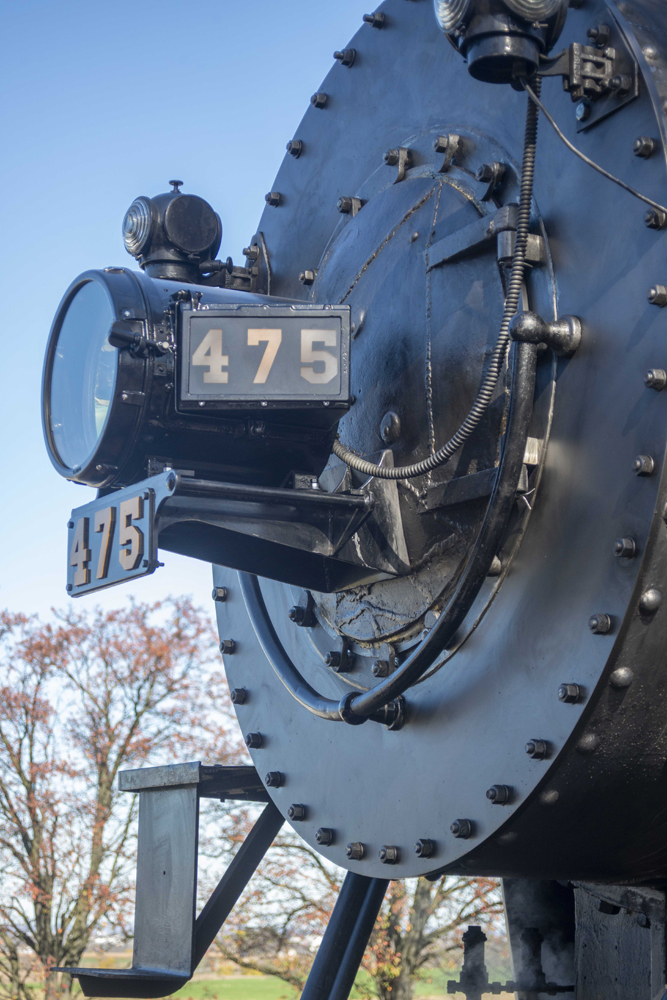 Finally, although the headlight bracket was undamaged, the headlight itself was too far gone, so the railroad installed a replacement that it had on hand.
While the engine was in for repairs, the staff made two temporary modifications to get it ready for a Peter Lerro photo charter this week with N&W J-class streamlined 4-8-4 engine No. 611 (N&W Roanoke, Va., Shops, 1950), which is visiting from the Virginia Museum of Transportation in Roanoke. One change was to replace the traditional road-engine pilot with a footboard-style switching pilot similar to what it would have worn in the 1950s when running alongside a J-class engine on the N&W. The other was to install a single-pitch N&W-style whistle in place of the Southern Pacific six-chime whistle it had been using.
Strasburg General Manager Jim Hager added that the "dedicated and talented" mechanical staff got the engine running again within a 96-hour window. "They went above and beyond [and] turned the locomotive around quickly so that the shop crew could get back to contract work that needs to get done," he said.
Strasburg's shop, which is one of the best-equipped steam facilities in the nation, routinely maintains not only its own fleet of steam and diesel locomotives and cars but also fabricates and repairs railroad equipment for museums, other tourist roads, and amusement parks. Current clients include East Broad Top and Black River & Western.
Zeigler said the workers closely involved in the 475's repair were Shop Superintendent Bill Oates and Boiler Shop Foreman Mike Kershaw, along with Josh Kimble, Sam Lester, Jackson Oehme, and Blake Zimmerman.
As for operational issues and remedial steps, Hager said the railroad has met with FRA inspectors.
"Mistakes are inevitable, and [the point is that] we learn from that," said Zeigler. "We stand behind our employees and the contributions they make."
Zeigler noted that Strasburg is one of the few tourist railroads, if not the only one, to participate in FRA's Confidential Close Call Reporting System. Also known as C3RS, the program provides a protected environment for employees to report unsafe events and conditions without fearing reprisals. The system, Zeigler said, identifies root causes of accidents and minimizes them through analysis of operating and engineering factors. The goal of C3RS, he said, is to "eliminate risks before they occur."
Founded in 1832, Strasburg Rail Road is the oldest short line in the United States. Beginning in 1959, it was transformed from a weed-grown feeder line to the Pennsylvania Railroad into a major steam-powered excursion carrier. Situated in the heart of Pennsylvania Dutch tourist country, it handles 250,000 to 300,000 passengers a year. It also services several freight customers.