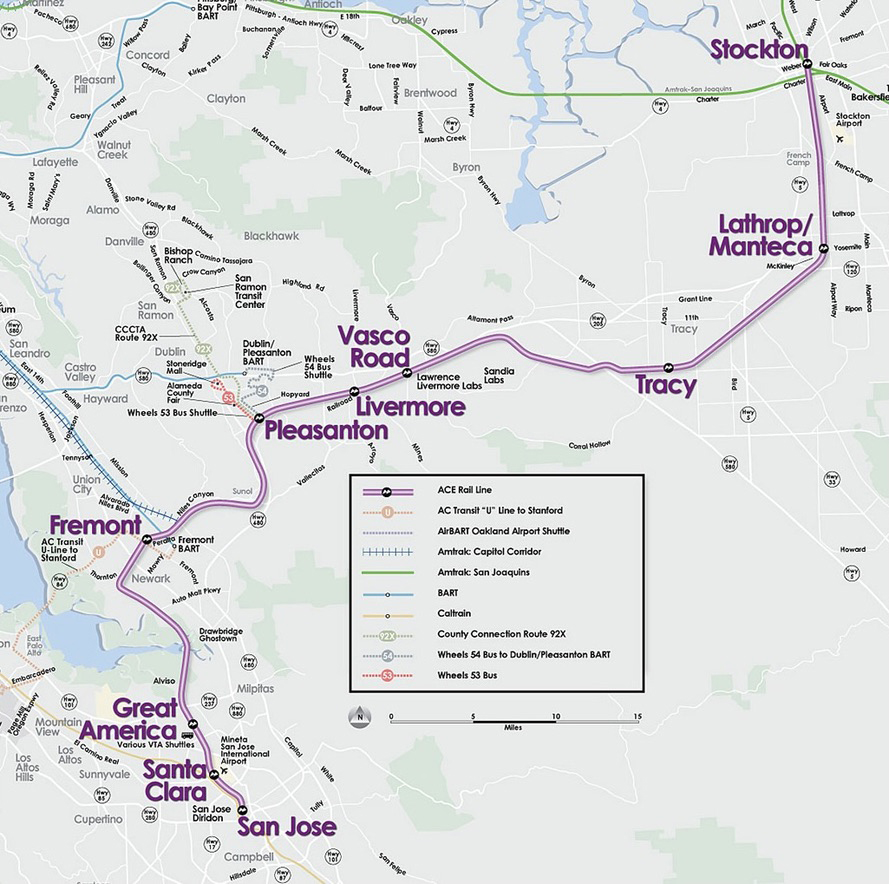 MODESTO, Calif. — Planned expansion of the Altamont Corridor Express commuter rail service into Stanislaus and Sacramento counties will be delayed by two years, with the first trains not running until 2026, the Modesto Bee reports.
The San Joaquin Regional Rail Commission, which manages the service currently running between Stockton, Calif., and San Jose, attributes the delay in part to a complex review process by host railroad Union Pacific, the newspaper reports. A UP spokeswoman told the paper it is working with ACE to insure safe and reliable service.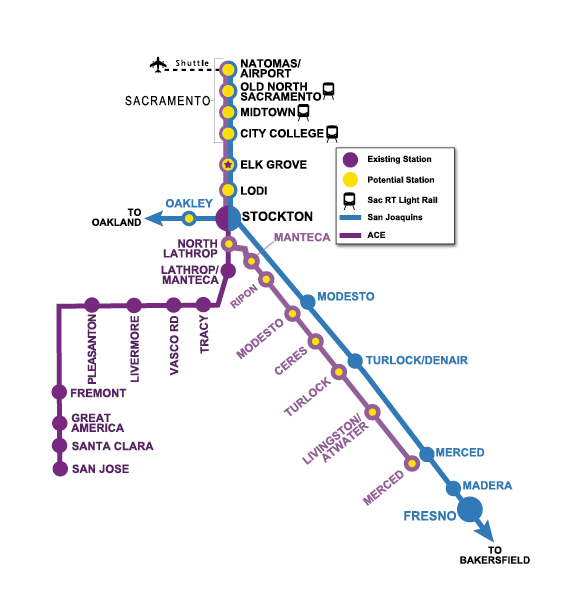 The Stanislaus and Sacramento county expansion is part of the Valley Rail project, which will extend ACE service both north and south from its current terminus in Stockton. Under the new schedule, the southward expansion would see operations to Manteca, Modesto, and Ceres in 2026, Ripon and north Lathrop in 2027, Turlock in 2029, and Livingston and Merced in 2030. On the northern portion, Elk Grove, Midtown Sacramento and Natomas stations would open in 2026, followed by Lodi in 2027, and Sacramento City College and Old North Sacramento in 2029. The northern section would also see some Amtrak San Joaquins service.
David Lipari, marketing manager for both ACE and the San Joaquins, told the newspaper that there are issues beyond UP's review contributing to the delayed timeline. Modesto's station is now going to have two passenger platforms, rather than one, which will require construction of a pedestrian bridge, and the ACE expansion is tied to the $237 million Stockton flyover project, which will eliminate a ground-level crossing of the UP and BNSF Railway main lines by elevating the UP tracks [see "Digest: Stockton diamond project receives $100 million …," Trains News Wire, Dec. 4, 2020].