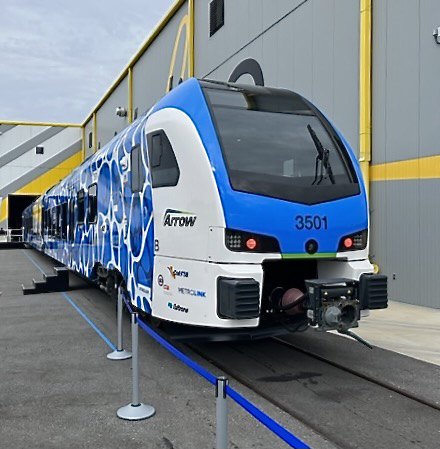 ORLANDO, Fla. — Stadler's FLIRT H2 trainset, the hydrogen-powered commuter-rail equipment set to debut next year in Southern California, has made its first U.S. debut this week at the APTA Expo in Orlando, the American Public Transportation Association's annual conference.
The train will eventually join three Stadler FLIRT diesel multiple-unit trainsets on the San Bernardino County Transportation Authority's 9-mile Arrow service between San Bernardino and Redlands, Calif. This week, it has been making test trips for APTA attendees from Brightline's "Basecamp" maintenance facility near Orlando, and received an official unveiling Tuesday. SBCTA board member Ray Marquez, on hand for that event, called the H2 trainset "a game changer when it comes to sustainable, alternative-energy passenger rail in the U.S.
"More than a decade ago, SBCTA recognized a need in our community to not only expand passenger rail service, but to come up with a greener alternative. This partnership gets us there," Marquez said in a press release. "We're also inspired by the innovation, engineering and brilliance of our partners at Stadler. The FLIRT H2 is a 21st-century marvel and something that we'll be admiring for decades to come."
The Zero-Emission MultipleUnit, or ZEMU, trainset had previously been displayed at the InnoTrans trade fair in Berlin last fall before undergoing extensive testing in Europe [see "Stadler unveils first hydrogen train for U.S. …," Trains News Wire, Sept. 21, 2023]. It is expected to enter Arrow service in late 2024.