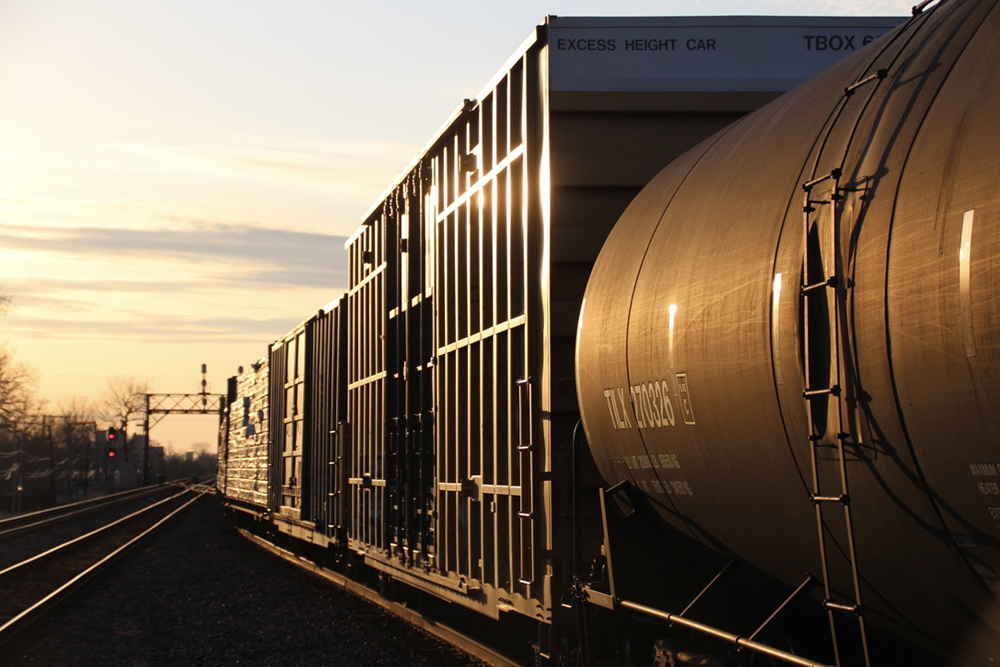 ---
FORT WORTH, Texas — There are plenty of barriers to be faced in equipping the U.S. freight car fleet with telematics, the use of GPS equipment and other sensors to provide real-time information about car location and all sorts of additional information.
One is just getting all parties to agree on the benefits, and what that information should be.
"I think there's a different set of expectations if you're an asset owner, if you're a railroad, if you're a shipper," says Brad Myers, executive vice president and chief operating officer of Amsted Digital Solutions. Owners are hoping for data that can help with maintenance; railroads seek safety and operational data; shippers mainly just want to know where the car is and when it will get where it's going. "I think the alignment of all those stakeholders is really probably the key thing that we're going to have to deal with on a go-forward basis."
Says Michael Tyler, head of Siemens Mobility Rail Services in North America, "When you talk about digitalization and making assets smart, what you find is what starts as a small discussion with one part of an organization ends up spanning the entire organization. And there are more stakeholders involved with smart infrastructure topics than with any other part of my business."
The headline effort in telematics is RailPulse, the coalition which so far includes GATX, Trinity Rail, Greenbrier, Norfolk Southern, Union Pacific, Genesee & Wyoming, and Watco [see "Norfolk Southern, partners tout Rail Pulse …," Trains News Wire, Nov. 20, 2020]. Jason Ormond, GATX's manager of emerging technologies, says the coalition now has about 400 cars in service, offering GPS and impact dection information, along with open-close, load-empty, and hand-brake status sensors. "Box cars, tank cars, covered hoppers, auto racks — just really trying to get the full scope of potential commodities that are shipped by rail." It is about halfway through a three-stage pilot program.
RailPulse, he says, will determine standards, not provide devices, for the data effort.
"Once we can sort through a neutral and open set of standards, sort of similar to what's already done in Europe, and modify it in a way that makes sense for our market … then it's off to the races. We just need to do the work, and define it, and make it public, and then it's anyone that wants to participate. … We're looking to vendors like Amsted and others to come to us with technology."
Cost has been one barrier to wider adaptation of telematics, Myers notes. RailPulse, by involving car owners like GATX, Trinity, and Greenbrier, helps address that, since its members "look at it like it's a very small addition to the the total cost of ownership and the life of the asset."
Outside of that coalition, though, shippers have been a bit more reluctant.
"They're very much interested in the value that they can generate from basic GPS data location information," Myers says. "The struggle that most of them have is that when you look at the population of the North American fleet is that they are leased assets. You might do a three- to five-year lease, outfit that fleet of, say, a thousand railcars with a thousand devices, and then you've got to take a thousand devices off, because you're going to turn those cars back to the lessor and start over. That's really difficult.
"So I think there's a general understanding of the applicability and the value that can be extracted. I think if we can figure out a better path to bring that all together, then we've got something."
Another issue to be addressed: these systems have the potential to produce an enormous amount of data. For some people, that's the last thing they want, so presentation of the data will be at least as significant as its availability.
"I talked to [a manager at] one of the Class I railroads this morning," Myers said. "He flat out said, 'We've got a lot of cars. I need to manage by exception. I've got 70,000 cars that I own, I've got 200,000 on my network. I don't want to see 200,000 cars of data. Get me to the ones I need to go do something about.'
"Well, it doesn't matter what angle you're looking at the problem, that's a key part of it."
Telematics and passenger operations
While Siemens has some involvement in the freight aspect of telematics, its larger interest comes as a manufacturer of passenger equipment. Tyler says one of the goals of digitalization for passenger and transit fleets is a shift to predictive maintenance, "which will lead to fleet availability being much higher. We talk about 100% numbers on the passenger side. I think that's a realistic [target] … You wouldn't need a 20% spare ratio for your fleet. You could go ahead with as little as zero, as we do with some of our transit operators."
While telematics can bring benefits when added to older equipment — either freight or passenger — Tyler says newer passenger systems will gain additional benefits "because it will all start talking to each other. You will get a first-mile, last-mile passenger experience where it's integrated with how the train runs. if you have an accident, then it would automatically start ordering parts. You would be ready when the train comes in for maintenance. And oh, by the way, the passengers are rerouted to where they need to go. … So I think the newer the equipment is, the more you can benefit from a digitalized system. But I think you can have a 50-year-old coach car and put a connectivity device on there and do some pretty cool stuff with it."
Myers, Ormond, and Tyler spoke as part of a panel at the Railway Supply Institute conference in Fort Worth on Oct. 12.