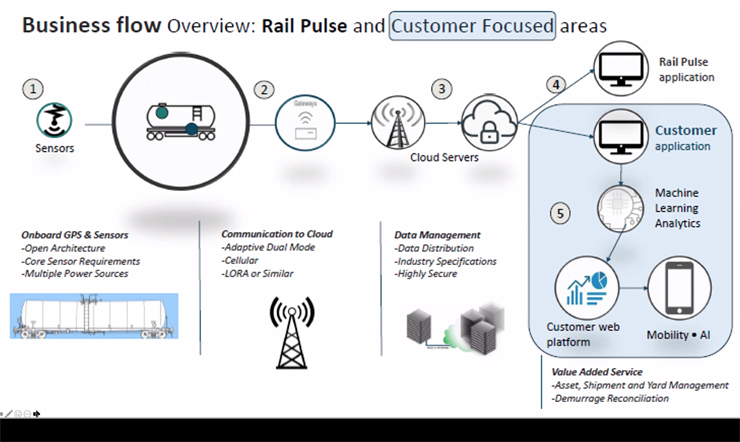 ---
The Rail Pulse car tracking system that's under development will lead to growth in merchandise traffic by providing shippers with real-time location data throughout a car's journey from origin to destination, rail industry executives say.
Rail Pulse is a joint venture of Norfolk Southern, short line holding companies Genesee & Wyoming and Watco, railcar leasing company GATX, and freight car manufacturer TrinityRail that was announced in October. [See "Railroads, carbuilders announce effort to create advanced railcar monitoring," Trains News Wire, Oct. 22, 2020.]
"We have one thing really in common: We all wanted to grow the merchandise/industrial products business in North America," Michael McClellan, the vice president of strategic planning at NS who spearheaded the effort, told the RailTrends 2020 conference on Thursday. "This is a business that's been under a lot of pressure for a lot of reasons … We really wanted to drive growth into the rail network through a better customer experience."
Current railcar tracing systems pale in comparison to those used by truckers. Although railroads have improved their customer portals, their car tracing systems generally don't cover the interline shipments that account for half of all merchandise traffic.
If shippers want to trace their cars across the rail network, they have to use multiple websites to find cars that originate on one railroad and terminate on another. This, railroaders say, puts carload freight at a competitive disadvantage at a time when shippers want to monitor everything in their supply chains.
And shippers say railroads need to provide better visibility and be easier to do business with, a point underscored by an Oliver Wyman survey of major railroad customers. [See "Shippers, critical of railroad service, continue to shift to trucks," News Wire, Nov. 20, 2020.]
A pilot program involving G&W, NS, and a paper shipper three years ago proved that providing interline visibility can boost rail traffic. The paper shipper typically diverted 25% of its planned rail shipments to truck simply because it couldn't see inbound empty cars moving in interline service.
NS and G&W shared data on inbound empty cars with the customer, which increased its use of rail by 9%. "You can apply that to literally every single customer that we as railroads, not just short lines, have," says Stefan Loeb, Watco's chief commercial officer.
The expectation is that railroads will be able to gain market share across the merchandise network thanks to the improved visibility that Rail Pulse will provide, Loeb says. "When you talk to your customers, the most implicit way we lose share is not being able to tell … how many empties we have pointed at customers," he says.
The pilot program, relying on current data and tracking systems, was too unwieldy to do on a nationwide scale, says Michael Miller, president of G&W's North American operations.
"We've just got to come together as an industry and put this together and provide our customers with a service product that makes us more competitive because our competitor is getting better and better and we need to do the same," Miller says.
The standard Automatic Equipment Identification tracing system, which relies on a network of wayside readers, works well if a freight car is in motion, says Richard DeGroot, vice president of railroad leasing and sales at TrinityRail.
"The challenge comes in when cars are dwelling in between AEI tag readers and the detectors, in the dark territories, the interchange points, and typically first mile/last mile locations," DeGroot says. "Rail Pulse, utilizing a GPS-based system, would change that."
Data on a car's location and health will be available continuously, in real time, no matter where it is on the rail network.
"I am … very excited about Rail Pulse. We at GATX really believe it can be a game changer," says Paul Titterton, the car leasing company's chief operating officer for North America.
Development of the system is being funded by the five founding partners, a federal grant, the Pennsylvania Department of Transportation, and, eventually, data subscription fees. Car owners will pick up the tab for installing the GPS equipment on their cars and will have access to the data.
The goal is to gain widespread adoption of the system as quickly as possible, ultimately reaching the entire fleet of 1.6 million cars within 12 years. "The real value of telematics to the industry will be when there is universal or near universal adoption," Titterton says.
In order to be successful, Rail Pulse ultimately will have to attract all of the Class I railroads, short lines, railcar owners, and leasing companies, McClellan says. They will be invited to join when the system is launched in late 2022.
The current members of the Rail Pulse coalition own about 20% of the North American car fleet. "That's a great start," McClellan says.
Over the long term, it's possible that the system's car health monitoring could eliminate the need for wayside detectors, Titterton says, and the precise location data could be used as a building block for automating yards.
Sensors on railcars will monitor whether a car is loaded or empty, if its doors or hatches are open or closed, and include data on temperature, moisture, and things such as high impact events that could damage cargo. Sensors also can monitor a car's mechanical health, including wheel bearings, bolsters, air, and couplers.
The rail executives spoke at RailTrends 2020, which is sponsored by independent analyst Anthony B. Hatch and industry trade publication Progressive Railroading.