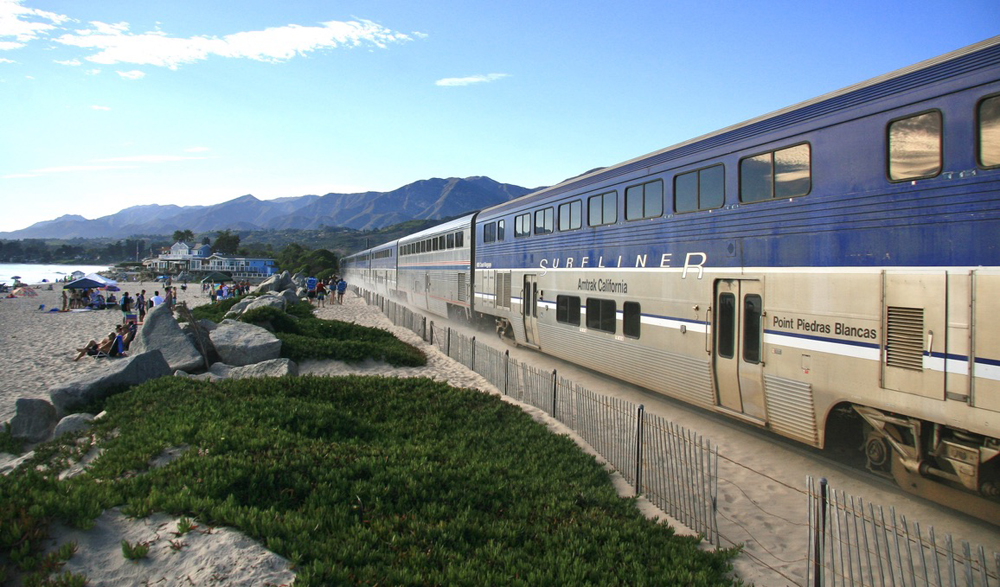 ---
LOS ANGELES — Extensive flooding and mudslides in the Santa Barbara area caused by more than a week of continuous rain pounding California's coast have resulted in the cancelation of all Amtrak service north of Los Angeles through at least today (Wednesday, Jan. 11)
The Coast Starlight had been cancelled north of Sacramento as a result of flooding last week [see "Weather cancellations impact Amtrak …," Trains News Wire, Jan. 6, 2023], but the outage was extended to the entire route for trains leaving Seattle Sunday and Los Angeles Monday.
With the flood threat moving south, the north Starlight is originating at Emeryville, Calif., rather than Oakland, and terminating there for the southbound from Seattle for trains departing Jan. 11.
An internal Amtrak advisory obtained by News Wire said tracks between Goleta (north of Santa Barbara) and San Luis Obispo "will be closed from 10 to 16 days while Union Pacific crews complete repair work." As a result, morning northbound train no. 761 out of Los Angeles is cancelled and southbound morning Surfliner 774 to San Diego, which normally originates in San Luis Obispo, will begin its run in Los Angeles. In the afternoon, train nos. 794 (southbound) and 777 (northbound) will originate and terminate, respectively, at Goleta. As of midday Wednesday, none of these cancelations were reflected in Amtrak's reservation system.
However, while there is no advisory, the Coast Starlight is showing "sold out" south of Emeryville every day until Friday, Jan. 27. Passengers traveling to the Los Angeles area from north of Sacramento are given a "mixed service" option transferring to an Amtrak Thruway bus at Sacramento, a San Joaquin at Stockton, Calif., and another bus at Bakersfield, though passengers could avoid one of the bus segments by changing to a San Joaquin at Martinez, Calif.
Metrolink commuter trains will continue operating from Los Angeles to Oxnard, Calif., and Surfliner service is still running a reduced schedule south to San Diego with the aid of a bus bridge [see "Rainy weather delays effort to fix rail line …," News Wir,e Jan. 10]. Pacific Surfliners have a "status update" link separate from the "Amtrak Alerts" Twitter feed, but neither shows disruptions to both services together.
Freight derailment sidelines Auto Train, disrupts Silver Meteor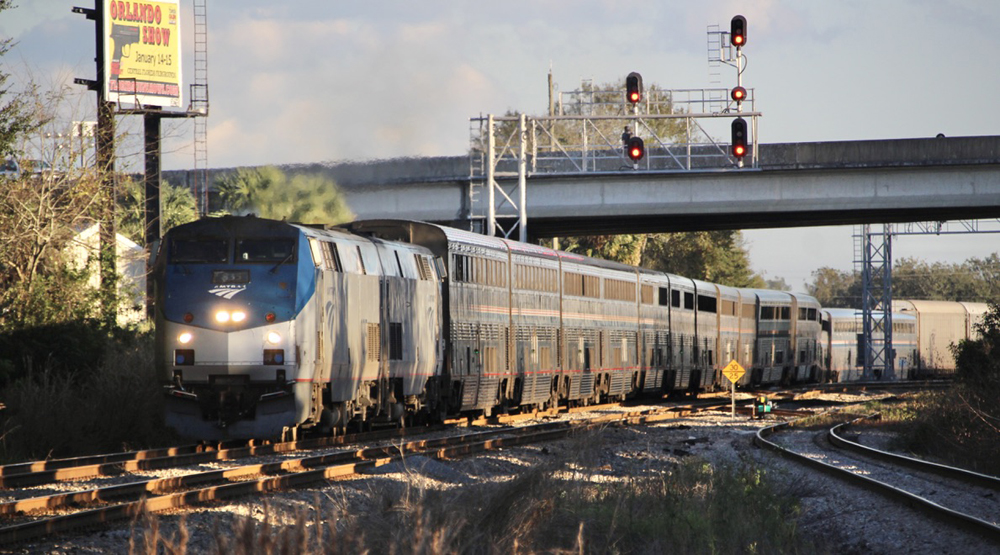 ---
Meanwhile, 20 cars of a CSX freight train derailed after it struck a stalled automobile at a Lake City, S.C., highway crossing on the evening of Jan. 9. The accident occurred south of Florence, S.C. after the southbound Palmetto had passed, but the northbound and southbound Auto Train and Silver Meteor were forced to detour over the Silver Star's route through Raleigh and Hamlet, N.C.
Monday's southbound Auto Train suffered a lengthy delay when its crew ran out of time under the federal hours-of-service law, and was still in South Carolina some 24 hours after departure, and more than 7 hours after it was supposed to have arrived in Sanford, Fla. The wait for a replacement crew was complicated by the fact that only a small number of crews are certified to run the lengthy consist of passenger cars and auto racks. ABC News reports some passengers were apparently calling 911 during the delay, based on videos in which a crew member asks passengers to please stop calling police.
The train status feature on Amtrak's website shows the train finally arrived in Sanford at 6:03 a.m. today (Wednesday, Jan. 11), some 20 hours, 4 minutes late. Monday's northbound Auto Train arrived in Lorton at 6:53 p.m. on Tuesday, almost 9 hours late.
In light of the lengthy delay, Amtrak canceled the Auto Train in both directions Tuesday. The northbound Star and Meteor combined, and were running more than 6 hours off the Star's schedule, with the Meteor more than 14 hours late. The southbound Meteor also detoured, but an Amtrak alert said that Monday's train would terminate at Hamlet, with alternate transportation provided for the otherwise stranded passengers from there.
— News Wire editor David Lassen contributed to this report. Updated at 6:50 a.m. CST with southbound Auto Train arriving in Florida; updated at 1:05 p.m. CST with additional details on Amtrak service disruptions in California.