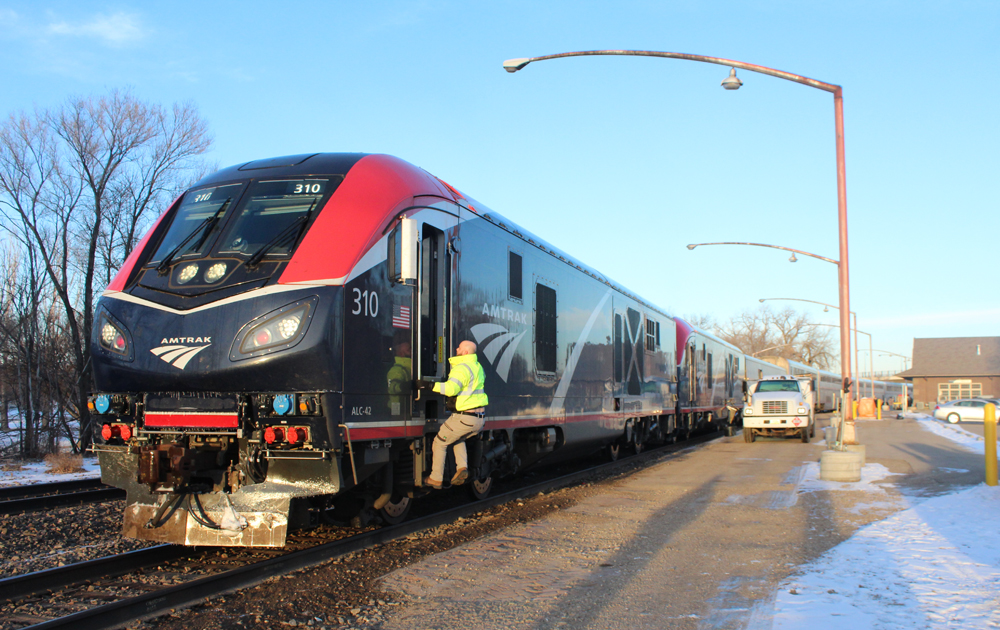 ---
CHICAGO — The Amtrak locomotives that sustained mid-route failures on the Empire Builder in December, stranding the eastbound train in rural Minnesota, are undergoing software and hardware modifications intended to prevent the problems from recurring.
Responding to a Trains News Wire inquiry asking Amtrak why the Builder didn't operate west of the Twin Cities for more than a week [see "Weather cancellations impact Amtrak and its western network," News Wire, Jan. 6, 2023], Siemens acknowledged that issues have been identified and are being rectified.
In a statement to News Wire, a Siemens spokeswoman says, "Over the course of the past couple of weeks, Siemens Mobility has been working closely with Amtrak to identify the root cause of a number of isolated incidents of ALC42 power loss occurring under very specific and unusually extreme circumstances, where the locomotive experiences drastic changes in temperature. As a result, we've identified both a software solution and an additional hardware improvement that will eliminate the issue experienced. The software update has been implemented to the entire fleet, greatly reducing the potential for incidents. The hardware modification, replacement of a pipe, will be completed as quickly as possible. The [issues were] not encountered on other Charger locomotives, which have different power arrangements than the long-distance ALC42 locomotives."
She adds, "Given that the ALC42 is a new addition to the Amtrak fleet, Siemens is providing Amtrak with additional support and training regarding the operation and maintenance of the locomotives, to help eliminate downtime and optimize operations."
Amtrak is taking delivery of 125 ALC42s, a 4,200-hp, long-distance version of the Charger series. The units have larger fuel tanks and more head-end power capability than the 4,400-hp SC44s purchased by Midwest states, California, and Washington for regional trains. After testing, the locomotives first entered revenue service exclusively on the Empire Builder last February [see "Amtrak finalizes order … ," Feb. 8, 2022].
The units have usually been paired with General Electric P42s, the locomotives they are set to eventually replace, as assignments expanded to the Capitol Limited and City of New Orleans. Though they have often run solo on the Builder, a P42 trailed the three ALC42s that all failed in subzero temperatures and blowing snow on Dec. 20, so the train never lost head-end power during the day-long delay while a BNSF freight locomotive came to the rescue [see "Amtrak cancels more trains …," News Wire Dec. 22, 2022].