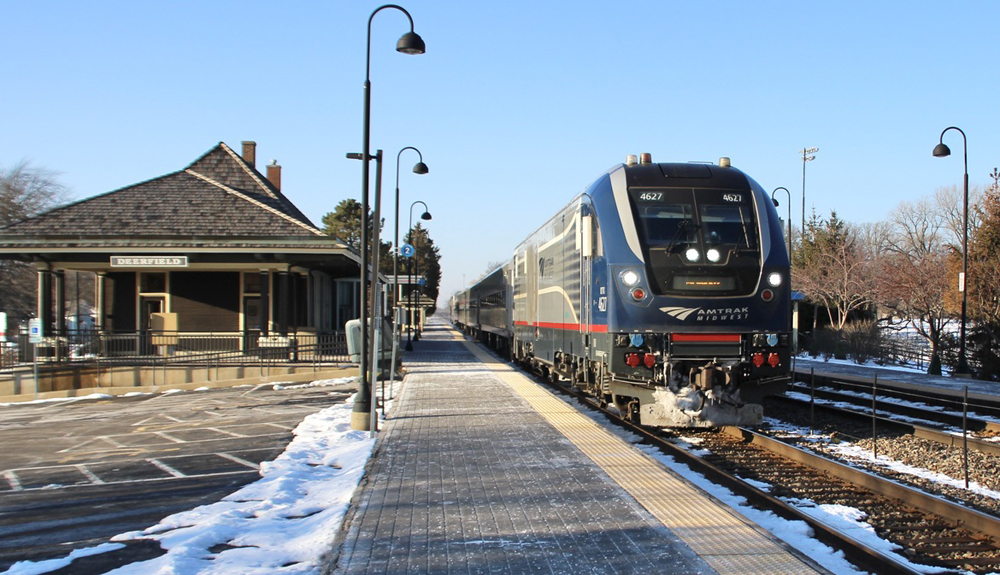 ---
CHICAGO — Ongoing issues with the server involved with Amtrak's positive train control system have led to the cancellation today (Saturday, March 25), of a number of trains in the Midwest and elsewhere.
According to the Amtrak Alerts Twitter feed, 11 of the 13 Hiawatha service trains between Chicago and Milwaukee have been canceled as of 9:41 a.m. CDT. Still slated to run as of this writing are northbound No. 333 (an 11:05 a.m. departure) and southbound No. 336 (leaving at 1:05 p.m.)
Also cancelled in the Midwest are Lincoln Service train No. 301, the 7:15 a.m. departure from Chicago to St. Louis, which was originally reported as being delayed because of equipment problems; St. Louis-Chicago Lincoln Service trains Nos. 300 (a 4:30 a.m. departure) and 302 (a 6:40 a.m. departure); and Wolverines Nos. 350, the 6:45 a.m. departure from Chicago to Pontiac, Mich., and 351, the 5:43 a.m. departure from Pontiac to Chicago.
Long-distance cancellations include today's departure of the northbound Texas Eagle from San Antonio, and the westbound Sunset Limited from New Orleans. Trains that were scheduled to depart Friday that were eventually cancelled included the westbound Sunset Limited; the westbound Empire Builder, and the southbound Texas Eagle, which was slated to leave Chicago at 1:45 p.m., and was cancelled about 7:45 p.m., although that cancellation was not reported on Amtrak Alerts until 1:01 a.m.
The problems first were reported Thursday, but became widespread on Friday [see "PTC issues cause Amtrak cancellations …," Trains News Wire, March 24, 2023].
A brief statement currently on Amtrak's website says only, "Intermittent communications issues have resulted in cancellations of morning trains to and from Chicago. Customers have been notified. We are working to resolve these issues as soon as possible. Updates will be provided as available." It also offers information on changing reservations.
The Amtrak Alerts feed for the Northeast Corridor indicates that trains may be experiencing delays of 30 to 60 minutes because of the ongoing server issues but does not appear to show any cancellations have resulted.
— Updated at 11:20 a.m. CDT to correct the number of Hiawathas canceled; updated at March 27 at 2:10 p.m to clarify when Texas Eagle was canceled as opposed to when that cancellation was reported on Amtrak Alerts.