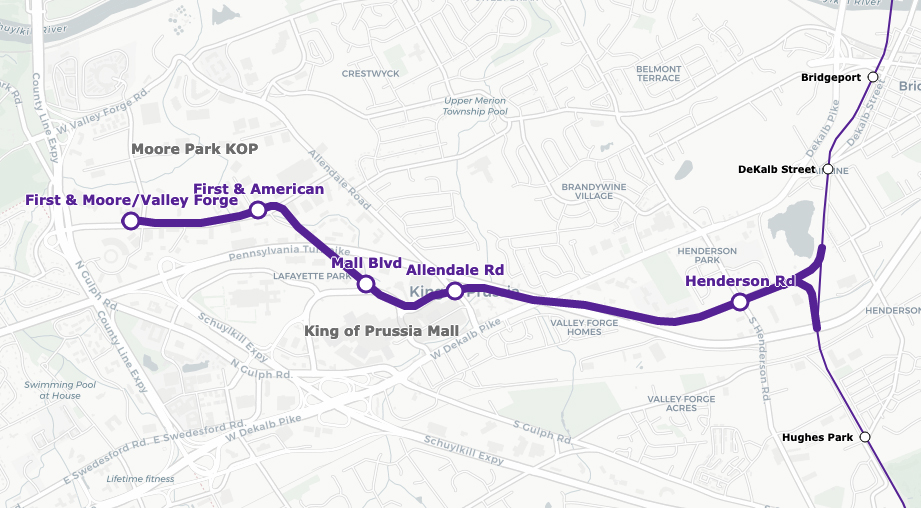 ---
PHILADELPHIA — The Southeastern Pennsylvania Transportation Authority has halted work on its plan to build a 4-mile spur of the Norristown High Speed Line to King of Prussia, Pa., after the project failed to receive funding from the Federal Transit Administration.
SEPTA said in a press release that it was "pausing the King of Prussia Rail project following further review of rising costs, which have been exacerbated by inflation and high interest rates." The agency said a lack of flexibility in its capital budget was "a major factor" in the failure to receive funding under the FTA's New Starts program, with the FTA expressing concern whether SEPTA could fund its share of the project.
The SEPTA share would include any cost overruns for a project that seen its price tag soar to $3.02 billion, up from $2.08 billion in August 2020. The agency says the price increases about $100 million with each year of delay.
"SEPTA's capital budget has been underfunded for decades," SEPTA CEO Leslie S. Richards said. "This has left the Authority with significantly fewer resources than peer agencies to pursue system expansion while also addressing critical infrastructure needs. With the funding we have currently, SEPTA must prioritize essential infrastructure work and safety and security improvements to maximize the reliability and effectiveness of our aging system."
The agency had not yet executed a $125 million final design contract approved last month [see "SEPTA approves contract …," Trains News Wire, Feb. 25, 2023]. It will announce how it plans to reallocate funds set aside for the project when its capital budget and long-term project is released in April.
The Philadelphia Inquirer reports that the project has been criticized because of SEPTA's estimate that it would generate about 10,000 riders daily, potentially making it one of the country's most expensive projects on a per-passenger basis. A SEPTA spokesman said the agency has spent about $53 million so far on the project, which has been in development since 2012.