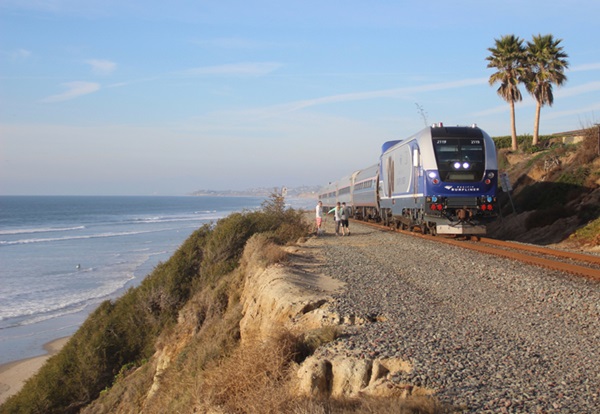 ---
DEL MAR, Calif. — After a lengthy but unsuccessful effort to negotiate an agreement, the San Diego's North County Transit District has voted to proceed with plans to install a safety fence along its tracks on the coastal Del Mar Bluffs.
The San Diego Union-Tribune reports the district board voted 7-0 on Jan. 20 to install a fence along the district-owned right-of-way used by Amtrak's Pacific Surfliners, Coaster commuter trains, and BNSF freight trains. Two members abstained, with one, from Del Mar, saying the city needed more information on liability.
The board cited 64 fatalities and 315 near-misses on rail lines countywide in a five-year period ending June 30, 2021. While noting some of those deaths are suicides, the number is unknown. Executive director noted one case in which the district is being sued over the death of an individual taking a selfie on the tracks, in which attorneys are alleging the district contributed to the accident by not doing enough to prevent trespassing.
While state law prohibits crossing tracks except at designated crossings, Del Mar residents are opposed to the fencing. They say it will prevent them from walking along the tracks on the bluffs or accessing the beach. They also say the fencing will spoil views from adjacent homes.
The district believed it had an agreement with Del Mar over the fencing last year [see "North County Transit District reaches new agreement …," Trains News Wire, July 23, 2021], but the city has yet to sign off on modifications that would see fences installed for a shorter distance, some of it of a lower or less obtrustive design. Unless the city agrees by Feb. 28, the district will proceed with installation of 6,748 feet of black welded-wire mesh fencing at a cost of about $3 million. Del Mar officials have indicated they would discuss a lawsuit over the plan.
The disagreement over the fencing, and concerns over potential effort to prevent stabilization of the slide-prone bluffs, led the district to petition the Surface Transportation Board for a ruling insuring it had control over the projects [see "Digest: San Diego transit agency seeks STB ruling …," News Wire, Sept. 15, 2020]. That request was held in abeyance while the district negotiated with the city and the California Coastal Commission, but with the failure to reach an agreement, the district has asked the STB for an expedited decision [see "Transit agency to move ahead …," News Wire, Jan. 10, 2022].
The Coastal Commission, in a letter to the transit district prior to its decision, said the fencing "would significantly disrupt or eliminate pedestrian access on existing, informal access trails … that have been heavily used by the public for decades."