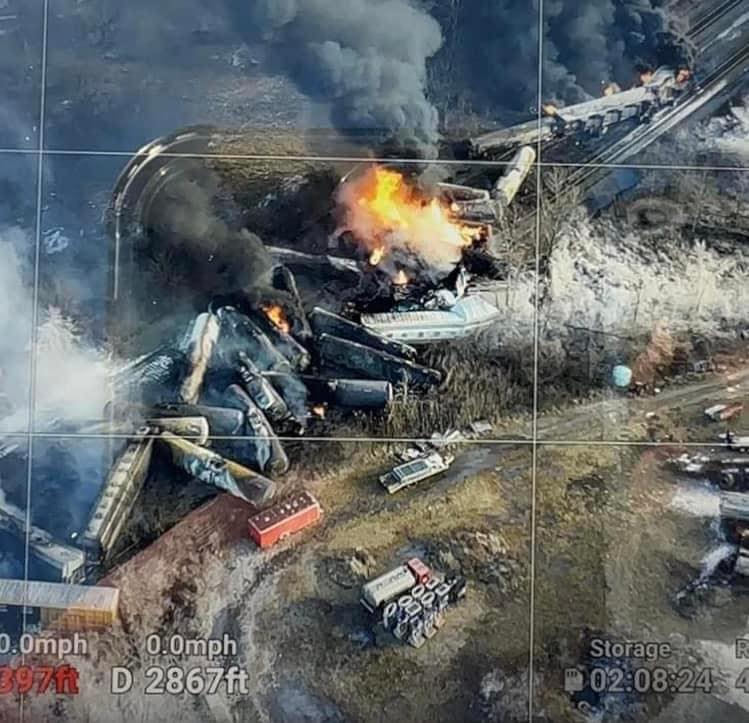 ---
EAST PALESTINE, Ohio — Residents evacuated after Friday's derailment of a Norfolk Southern train now await word when they might be allowed to return home, although Ohio Gov. Mike DeWine cautioned Monday that it would not be soon.
Cleanup of the 50-car derailment involving toxic chemicals is expected to begin to move forward following Monday's "controlled release" of vinyl chloride from derailed tank cars, a process which led to a massive cloud of black smoke rising above the derailment site. Norfolk Southern said in a statement that the process had been successful [see "Controlled release of chemicals at derailment …," Trains News Wire, Feb. 6, 2023] and that "remediation at the safe can now safely continue." Pennsylvania Gov. Josh Shapiro said "no concerning readings had been detected" from air-quality monitoring during the process, according to the Associated Press. Part of the evacuation area covered a sparsely populated portion of Pennsylvania, which Shapiro said affected about 20 residences.
The derailment occurred about 9 p.m. Friday, and continues to block the main NS route between Cleveland and Pittsburgh, with a service alert posted by the railroad on Monday indicating there is no estimate when the route will reopen. Amtrak's east and westbound Capitol Limited, which use that route, remain cancelled through at least Wednesday, Feb. 8.
School has been cancelled in East Palestine for the remainder of the week and the village hall remains closed today, the Steubenville Herald Star reports.
Also, the Times Leader of Martins Ferry, Ohio, reports two men pleaded innocent in Columbiana County Municipal Court to ignoring orders to stay away from the derailment site . Frederick C. Hennan, 43, of Columbiana, Ohio, is charged with misconduct at an emergency and two counts of endangering children after officers alledgedly observed him driving around barracades and walking toward the accident site with two juveniles. Chad D. Fowler, 37, of Salem, Ohio, is charged with misconduct at emergency after allegedly being found parked in a truck near the crash site. All the charges are misdemeanors.