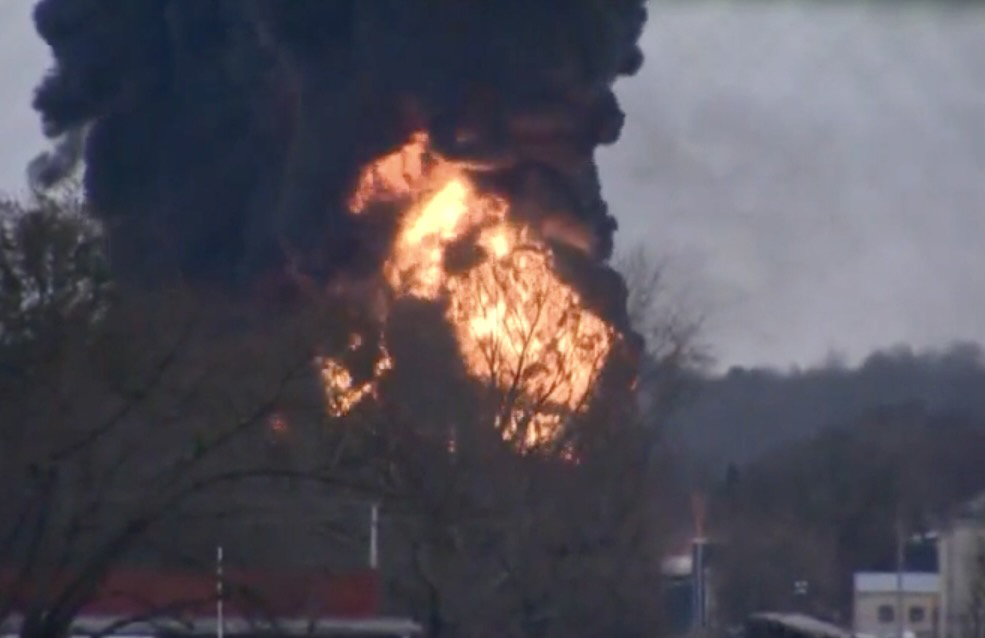 ---
EAST PALESTINE, Ohio — The controlled release of chemicals from derailed tank cars in East Palestine has been successful completed, Norfolk Southern said in a press release this afternoon (Monday, Feb. 6)
As reported by the Review of East Liverpool, Ohio, the NS release said the chemical release "has been completed successfully under the supervision of experts and first responders. Some of the material is now burning off consistent with expectations from the earlier models, and is expected to drain for a short number of hours. We have been, and will continue, monitoring air quality with the Ohio EPA. Remediation work at the site can now safely continue."
Video from the scene showed a thick plume of black smoke rising from the derailment scene shortly after the controlled release began, with WTOV-TV reporting two loud explosions moments after the controlled release was scheduled to begin.
The controlled release was spurred by Sunday's report of a dramatic rise in temperature in one of the five tank cars containing the highly toxic chemical vinyl chloride, increasing concerns over the prospect of an explosion [see "Ohio governor issues new evacuation order …," Trains News Wire, Feb. 5, 2023]. That led to the plan to use a small explosive charge to open a hole in the car, allowing the chemical to drain into a trench where it would be burned off [see "Authorities prepare 'controlled release' …," News Wire, Feb. 6, 2023].
Norfolk Southern also said today in a service alert to customers that it does not have an estimate when operations will be restored on the route through East Palestine. The railroad said it continues to use alternate routes "in an effort to minimize shipment and availability delays," but that the detours will add at least 24 hours to shipments between Cleveland and the Northeast via Pittsburgh.
The route has been closed since approximately 50 cars of the train en route from Madison, Ill., to Conway, Pa., derailed shortly before 9 p.m. on Friday and caught fire. National Transportation Safety Board investigators have said they have been given video evidence indicating a possible mechanical problem involving an axle on a railcar, and that crew members had been notified of a defect by a wayside detector just before the derailment.