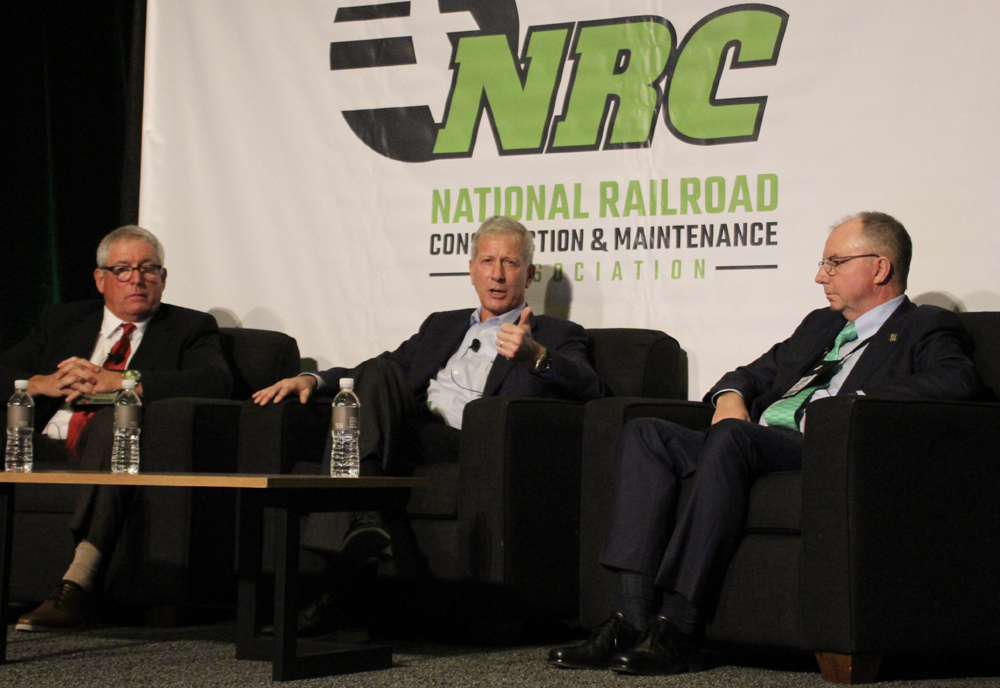 ---
PHOENIX — Union Pacific CEO Lance Fritz isn't sure what direction the Surface Transportation Board will take as it considers rules for reciprocal switching, but says the decision poses real risks for the rail industry.
Speaking Thursday in a "Fireside Chat" at the National Railroad Construction and Maintenance Association Conference, Fritz termed the proposed rule to allow competitors access to a shipper "forced open access." The proposal dates to 2016 and will be the subject of a hearing in March [see "STB sets details for hearing on reciprocal switching," Trains News Wire, Dec. 28, 2021].
"Forced open access is basically saying any individual customer can force a railroad that serves them to allow a different railroad to serve them, or force them to interchange, if the original railroad continues the direct local service," he says. "That sounds really good for customers that think, 'Boy, I'm getting screwed and I'd like a different service provider.'
"But the reality of all of our networks is that we've spent years and years fine-tuning them, and investing in them, so that we aggregate volume. We serve our existing customers and new customers as efficiently as we possibly can … That takes a boatload of work, and it takes a boatload of aggregation of volume, to make sure that you've got enough volume to justify capacity investment. If that starts getting deconstructed, and you start having to interchange product where you don't have the investment or it doesn't make sense, we will start threatening the reliability of the network and the service product itself for everyone.
"So, to the benefit of maybe a small handful, you'll get an order of magnitude of negative impact on the remainder who use the network. So we ask the STB to just be really prudent and thoughtful when they go down that path."
Fritz said UP will participate in the March hearing with the goal of making clear "the potential negative consequences of being too broad and ham-handed" with a new rule.
"My concern is if they get it wrong, and you start getting demands for access willy-nilly, or demands for interchanges willy-nilly," he says. "You [contractors] might all see a little uptick in business early on, as we're having to make some investments in areas we don't interchange right now, and interchange is mandated to occur.
"Over time, my concern is our returns get degraded, our growth gets degraded because the service product gets degraded, and then the long-term impact on you is there's less business, because we're investing less. And I think that's quite real. We have modeled out different scenarios, and I think it's potentially quite real if the regulation isn't done thoughtfully and well."
Fritz also addressed the pending Canadian Pacific-Kansas City Southern merger on two fronts: what it means for potential future consolidation, and what the merged company, CPKC, could mean for UP from a competitive standpoint.
"I don't have any unique insights," Fritz says of the prospect of more mergers. "I have the same insights that you can pick up as you read what the STB decision making is, and what they communicate about. But it sure looks like they're pretty negative on follow-on Class I mergers beyond the CP and the KCS.
"We're … keeping active, and keeping our strategic plans active, so that if in some point in the future, something was possible and made sense for Union Pacific, we'd jump on it. But it sure looks like the STB is not terribly interested."
The combined CPKC projects capturing 80,000 carloads and 137,000 intermodal containers currently hauled by other railroads [see "CP and KCS project dramatic rise in daily train counts," Trains News Wire, Nov. 2, 2021]. The new company expects at least some of that to come at the expense of Union Pacific, and Fritz does have some reservations about that aspect of the merger.
"Our primary concern about the CP-KCS merger is that right now, we enjoy somewhere between two-thirds and 70% of all cross-border rail freight [between the U.S. and Mexico]," Fritz says. "The reason we enjoy that is we are the best network for Mexican industry to either source from or sell into. It's because of the layout of our network; it's because of the service that we provide. …
"My concern is when the CP owns the KCS, that somehow they'll use market power in Mexico to block our customers from the access they currently have to and from Mexico. And there's ways to remedy that, and we're working directly with the CP and also now engaging with the STB to make sure that we have an adequate remedy for our customers. Because otherwise, the acquisition is not pro-competitive, because it knocks out what today is proving to be a very, very attractive, competitive alternative for Mexican industry as they interact with the U.S. economy."