WASHINGTON – Canadian Pacific and Kansas City Southern say their proposed merger will generate significant traffic growth, with daily train counts on the combined system's north-south spine projected to more than double within three years.
The traffic details were among those included in the railways' 4,342-page, 1-gigabyte merger application filed with U.S. regulators late Friday. The document, posted to the Surface Transportation Board website overnight Monday, includes Canadian Pacific Kansas City's operating plans, outlines capacity expansion projects, and makes projections for traffic and job growth that would flow from the creation of the first railroad to link Canada, the U.S., and Mexico.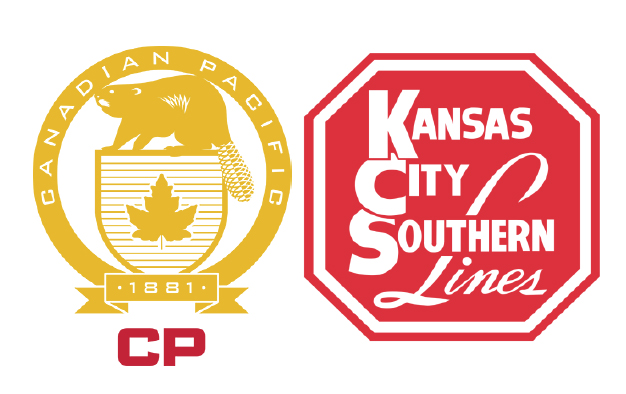 The merger "will enable CPKC to provide dramatically improved rail service in important north-south corridors, transforming relatively underutilized CP-KCS routes into a more robust artery of trade both within the United States and among the United States, Mexico, and Canada, promoting growing USMCA trade flows," the railways told federal regulators.
"CP and KCS fit together like two perfectly interlocking pieces of a jigsaw puzzle," CP CEO Keith Creel writes. "We are perfect complements for one another, and our combination will better serve the transportation needs of our shippers and the entire North American economy."
CPKC's growth will be fueled by a combination of capturing traffic from other railroads, diverting trucks off the highway, and tapping new markets that only a merger could unlock, the railroads argue.
With new single-line service linking Canada and the Midwest with Texas, the Gulf Coast, and Mexico, CPKC will be able to gain 80,000 carloads and 137,000 intermodal containers currently handled by competing railroads.
New intermodal service — the first connecting the CP and KCS networks — will take 64,000 trucks off highways annually.
And by pairing origins on one railway with destinations on the other, the expanded CPKC system will be able to gain new traffic across a range of commodities, from grain, chemicals, and forest products to appliances, auto parts and finished vehicles, and intermodal.
Within three years, CPKC will generate $716 million annually in new revenue from traffic growth and realize $173 million per year in efficiencies and cost savings. No routes or rail facilities would be abandoned or closed, and CPKC will add more than 1,000 jobs to handle traffic growth.
Big Growth in 3 Years
The most dramatic increases in the number of daily trains on the CPKC system are expected to occur on CP's former Milwaukee Road routes from the Twin Cities and Chicago to Sabula Junction, Iowa, and from there to Kansas City.
CP's River Sub, part of its St. Paul-Chicago main, will gain six trains, boosting the daily total to 18. Its Marquette Sub, which follows the Mississippi River from River Junction, Minn., to Sabula Junction, will rise to 14.3 trains per day from 7.7. Traffic on the Chicago Sub will reach 11 trains per day, up from 2.9.
Those traffic flows from St. Paul and Chicago converge at Sabula Junction, which will push Davenport Sub volume to 21.6 trains per day, up from just 7.1 today, and the neighboring Ottumwa Sub to 18.4 trains from 4.2. The CP Laredo (Mo.) and Kansas City subdivisions will see their traffic jump from a sleepy three trains per day to 17.
Similar increases are forecast for the KCS main line south from Kansas City to Shreveport, La., and Beaumont, Texas: From 13.5 trains per day to 28.5 on the Pittsburg Sub; 11.3 per day to 25.9 on the Heavener Sub; 9.4 per day to 23.6 on the Shreveport Sub; 15.8 per day to 27.7 on the Shreveport Terminal Sub; and 8.9 per day to 20.3 on the Beaumont Sub.
Traffic on the KCS international corridor — from Beaumont to Laredo, Texas, via a combination of trackage rights on Union Pacific and KCS's own rails — is expected to double. Daily train counts on the Rosenberg Sub are expected to rise to 17.7 from 8.5, while Laredo Sub volumes will go from 10.5 trains per day to 19.4.
The railroads pledged to work with the STB and lineside communities to address concerns likely to arise from more trains rolling through town. "We will work hard to be a good neighbor and mitigate potential adverse community impacts," Creel writes.
Capacity Improvements
CPKC will spend $276.4 million to boost capacity on its north-south corridor from the Twin Cities and Chicago to Louisiana, including 26 locations where the merged system envisions building double track, new sidings, or siding extensions.
"The natural pairing of CP's and KCS's U.S. networks will create the catalyst for significant new investment in service, capacity, and safety on our main stem between Louisiana and Minnesota, lines that have room to grow but are underutilized today," Creel writes.
Some 260 miles of centralized traffic control will be added to three sections of currently dark territory on CP's Kansas City main in Iowa and Missouri, which also will receive six new passing sidings and six siding extensions. CP's Chicago Subdivision also will receive a new siding.
Capacity projects on the KCS main line south from Kansas City include a section of double track adjacent to its Kansas City International Freight Gateway intermodal and automotive terminal, nine siding extensions and three new sidings between Kansas City and Beaumont.
At the Laredo Gateway, KCS is already adding three tracks near Laredo Yard that will allow it to stage trains for movement across the single-track International Railway Bridge. KCS also plans to build a second single-track span over the Rio Grande.
CP already has plans underway to enable its Bensenville intermodal terminal outside Chicago to handle higher volumes and 10,000-foot trains.
New Intermodal Service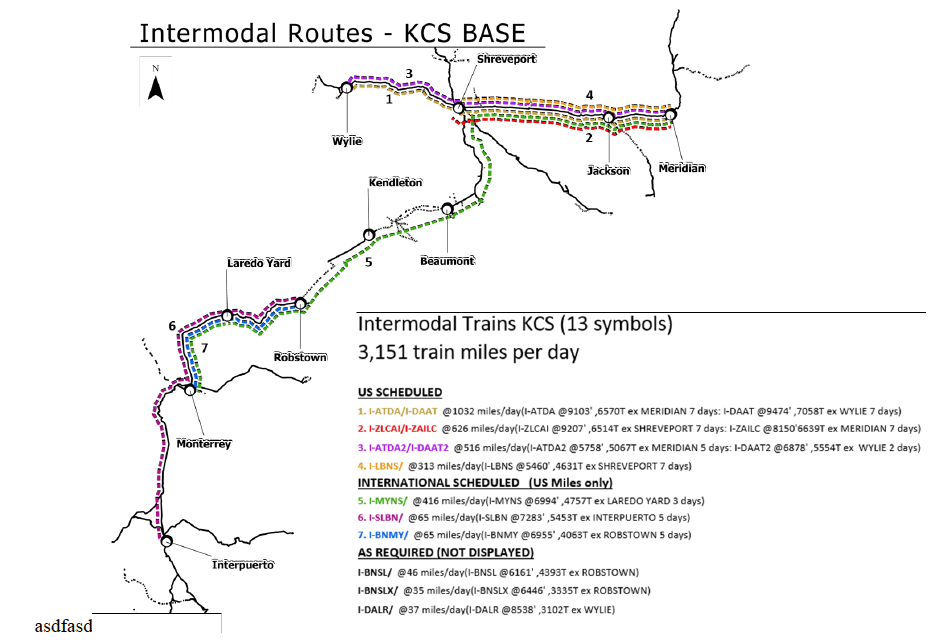 CPKC will introduce intermodal service between CP and KCS points, linking Mexico and Texas with the Midwest and Canada. Bensenville will be a major hub for intermodal traffic running from Eastern Canada and Detroit to and from Kansas City, the Dallas area, and points in Mexico. CP's terminal in Minneapolis will play a similar role for intermodal volume from Western Canada and the Upper Midwest bound to and from destinations on KCS and KCS de Mexico.
"CPKC will establish new intermodal services connecting Dallas … with Chicago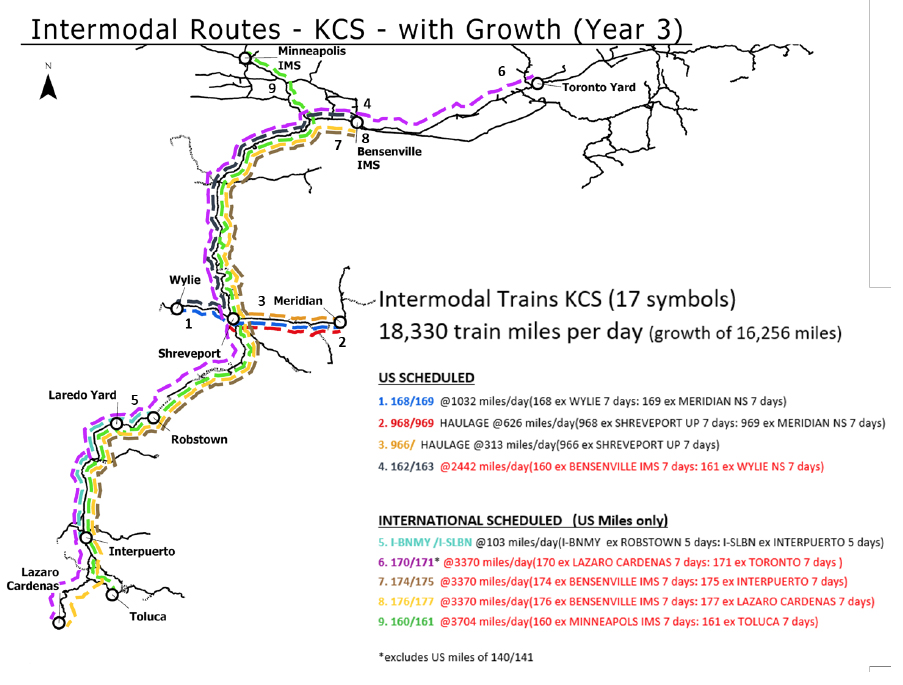 and points beyond, and it will enable a host of new single-line intermodal routes connecting Mexico with the Upper Midwest and Canada," according to the merger application. "Among these new services will be the longest-distance intermodal train on the CP/KCS system, connecting the Port of Lazaro Cardenas with Chicago, Toronto, Montreal, and Eastern Canada. CPKC will build numerous other through trains connecting Canadian and Upper Midwest points seamlessly with the U.S. Gulf Coast and Mexico."
CPKC will offer premium, standard, and flex intermodal service levels, just as CP currently does. Significant growth opportunities include auto parts moving between Eastern Canada, the Midwest, and Mexico, as well as cross-border refrigerated shipments of Mexican produce and meat processed in the Midwest. With premium single-line service, CPKC expects to land 500,000 tons of the 5 million tons of produce Mexico exports to the U.S. each year.
CPKC said it would introduce more competition for auto parts shipments. "Today, substantial volumes of these parts move by truck, but rail intermodal offerings attract significant volumes as well, including UP-KCSM routes via the Laredo Gateway and UP-FXE and BNSF-FXE options via the Eagle Pass Gateway," Jonathan Wahba, CP's vice president of commercial integration, and KCS Chief Marketing Officer Mike Naatz wrote. "The CP/KCS combination would give these shippers another – and we think better – option. Even though the CPKC single-line route between Chicago and Laredo would be longer than UP's route, CPKC would offer seamless, origin-to-destination management of all facets of the service, likely unlocking superior economics as well. We anticipate that the existing rail alternatives will continue to compete successfully for many of these shipments, but everyone's game will be elevated by CPKC's competitive entry into these lanes."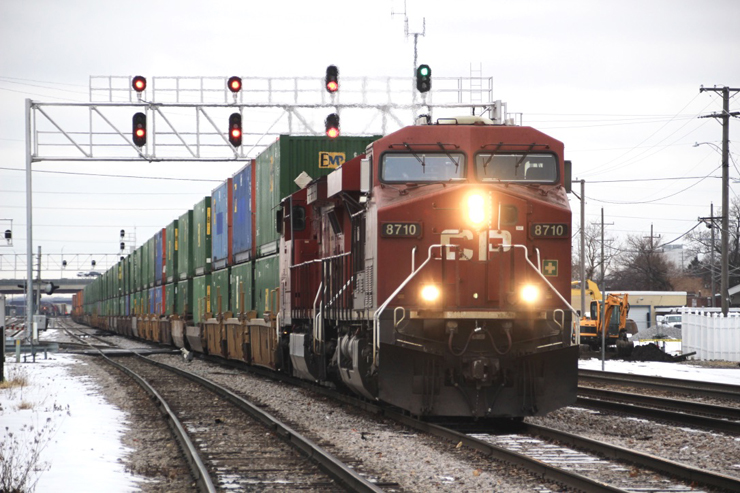 CPKC's Dallas-Chicago service would compete with BNSF Railway. "Though BNSF's service would be both shorter and faster, CPKC would compete by offering very-reliable third-morning availability to/from our strategically located Bensenville Terminal. Further, both KCS's Wylie terminal and CP's Chicago facilities have available capacity," Wahba and Naatz wrote.
CPKC will offer direct intermodal service from the Port of Lázaro Cárdenas, on Mexico's Pacific Coast, to Detroit, Toronto and Montreal via Chicago. "From a supply chain perspective, this new service would provide a quite attractive – and likely more reliable – option as compared to inland rail routes to/from Los Angeles/Long Beach, which are notoriously congested," Wahba and Naatz wrote.
CPKC also will offer international intermodal service to Kansas City from Vancouver, British Columbia, and Saint John, New Brunswick.
Operational Changes
CPKC's two-stage operating plan includes first meshing the railroads' current train plans and then launching new service to handle traffic growth that is expected to come from diversions from other railroads, truck conversions, and merger-related market opportunities.
Immediately after receiving approval to merge, CPKC would bypass interchange at Kansas City and build longer-distance blocks of traffic that would flow across the combined system in trains whose runs would be extended. Eliminating CP-KCS interchange-related switching at their Joint Agency Yard in Kansas City will shave 26 hours off transit times between Shreveport and St. Paul.
The growth plan includes changes to two dozen trains and builds on the optimized plan, capacity improvements, and new traffic flows.
"Traffic will flow from origins on CP in Western Canada and the Upper Midwest via CP's line between St. Paul and Sabula Junction to Kansas City," the application says. "Traffic will also flow from origins in Chicago, Detroit, and Eastern Canada via CP's line between Chicago and Sabula Junction to Kansas City. South of Kansas City that traffic will be delivered to destinations on KCS in Arkansas, Mississippi, Louisiana, and Texas, and throughout Mexico. Northbound traffic will flow in reverse."
The additional traffic density of the combined system will enable CPKC to extend train runs, boost train length, and card more train schedules that operate daily.
Examples of new daily CPKC trains include:
Intermodal and manifest trains 160/161 between Minneapolis and Toluca, Mexico.
Intermodal and manifest trains 162/163 between Bensenville, Ill., and Wylie, Texas, outside Dallas.
Intermodal, automotive, and manifest trains 170/171 between Toronto and Lazaro Cardenas. They'll replace Toronto-Bensenville trains 140/141 and pick up and set out Detroit traffic at Bensenville.
Intermodal and manifest trains 174/175 between Bensenville and Interpuerto, Mexico, near San Luis Potosi.
Intermodal trains 176/177 between Bensenville and Lazaro Cardenas, serving intermediate Mexico markets at Salinas Victoria and Encantada.
CPKC yards at St. Paul, Bensenville, Schiller Park, Shreveport, San Luis Potosi all will see traffic and switching activity increase as they build blocks for yards and destinations further into the combined network.
Most KCS yards would see switching volume fall slightly, with substantial declines at KCS de Mexico's Sanchez and Nuevo Laredo yards near the U.S. border.
Chicago Bypass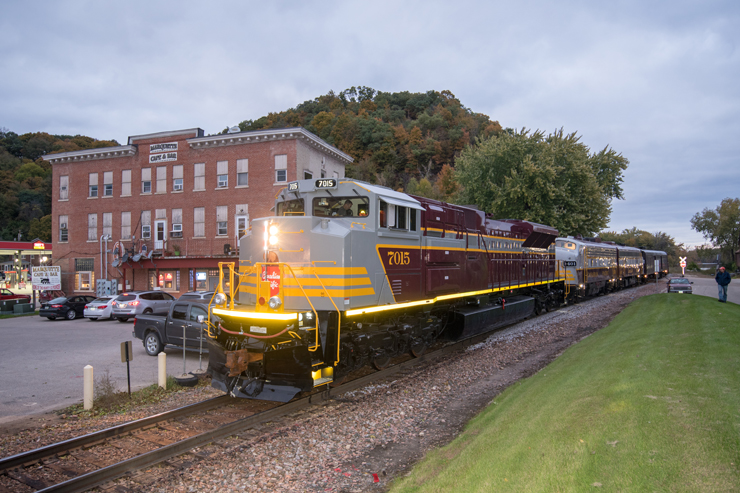 CPKC's single-line route linking Western Canada and the Upper Midwest with points on KCS will allow traffic to bypass Chicago.
The railroads estimate that an average of 6.6 additional trains per day – traffic currently interchanged with other railroads in the Windy City – will be routed around Chicago via CP's Marquette Subdivision.
Creel says this will help alleviate congestion in the Chicago gateway by allowing traffic moving between CP points north and west of Chicago to shift to CPKC single-line routes through Iowa and Kansas City.
Locomotive and Car Fleets
CPKC will have a combined fleet of 2,421 units. The optimized plan will allow CPKC to store at least 135 locomotives, but by year three of the growth plan all 135 will be added back to the active fleet to handle traffic growth. CPKC estimates it will need an additional 14 units, which will come from locomotives currently not part of either railroad's active fleet.
KCS locomotive shops are expected to handle more maintenance work thanks to traffic growth. CP shops' workload is expected to remain the same, and no shops will be closed.
CPKC will acquire 265 multilevel auto-rack cars, 831 intermodal cars, 194 boxcars, and 604 covered hoppers to meet rising freight demand. CPKC will reduce the size of its leased freight car fleets of gondolas, centerbeams, and general-purpose flatcars.
Job Creation
Since announcing their deal in March, CP and KCS have maintained their merger is about growth, and as an end-to-end combination that job losses would be minimal.
CPKC will add more than 1,000 union-represented operating positions, with more than 800 of those new jobs in the U.S. Detailed labor impact tables show job growth at locations across the combined systems, including engineers, trainmen, and mechanical workers.
CP will move its U.S. headquarters to Kansas City from Minneapolis and close the Minneapolis headquarters within three years. Consolidation of administrative and support functions will result in a loss of 112 jobs in Kansas City, but that will be more than offset by the transfer of 135 jobs from Minneapolis. Some 92 CP administrative jobs in Canada will be eliminated.
CP train and crew dispatchers will relocate from Minneapolis to Kansas City.
Broad Support for Merger
The merger application includes more than 960 letters of support from shippers, short lines and regional railroads, ports, industry suppliers, public officials, business groups, and some labor unions.
Environmental Benefits
A combination of increased fuel efficiency and new intermodal service diverting trucks to rail will avoid the production of more than 377,000 tons of greenhouse gas emissions annually, CP and KCS estimate.
A tilt away from Canadian crude oil shipments and toward non-hazardous "DRUbit" will improve safety and reduce risks to the environment, the railroads say. The DRUbit process removes flammable diluent from Canadian oil sands crude. CP and KCS this year began hauling the first loads of bitumen from Alberta to a refinery in Port Arthur, Texas.
Proposed Timeline
The railways have proposed a 10-month review schedule and said they expect an STB decision on the merger by late 2022.
CP and KCS shareholders will vote on the $31 billion deal at separate shareholder meetings in December. If the merger receives shareholder approval and Mexican regulators complete their review, KCS will be placed into a voting trust to preserve its independence while the STB reviews the merger. Former KCS CEO David Starling will serve as trustee.
— Updated at 9:35 a.m. CST on Nov. 8 to reflect CP-KCS correction on number of new U.S. jobs.