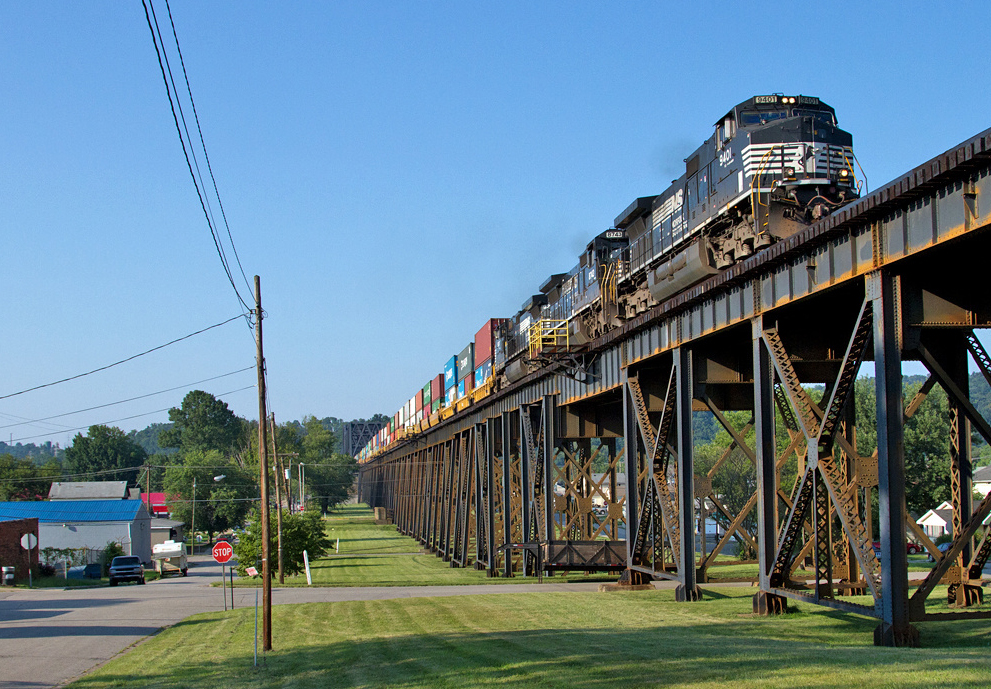 ---
NEW YORK — East Coast ports are handling a record number of containers due to ongoing supply chain issues in California and the West, but railroads aren't seeing this equate to more intermodal volume for a number of reasons.
First, rail doesn't have the same international intermodal market share in the East as it does in the West because East Coast ports are a shorter distance, within 500 miles or so, of markets like Atlanta, Pittsburgh, Cleveland, or Buffalo, N.Y. These shorter hauls are more attractive to trucks, as opposed to markets in Kansas City, Dallas, or Chicago that are at least 1,500 miles from the Pacific Coast. In these lanes, international intermodal is more likely to use rail from the West.
For East Coast lanes conducive for rail, opportunities are periodically hindered by labor and equipment issues and constrained warehouse space, as reported recently in the Wall Street Journal. Also an issue is tight drayage capacity that's requiring international containers to be transloaded close to the port, so the containers can quickly be reloaded onto container ships. These circumstances make it difficult for railroads to capture the influx of containers arriving at East Coast ports. Trucks capture most of the business and complete the first-last mile deliver to consuming markets.
Norfolk Southern handled 4.104 million intermodal units in 2021, a 2.4% decrease from 2019's 4.207 million units. While the Class I railroad has nearly eclipsed pre-pandemic intermodal volume, the railroad has not experienced the intermodal growth like the East Coast ports it serves. In comparison, CSX Transportation handled 2.976 million intermodal units in 2021, an 11.4% increase from 2019's 2.670 million units. It is the railroad's best year for intermodal in recent history and is slightly more aligned with growth at ports.
Combined, the railroads' volume trails the increases recorded at the East Coast's top ports, based on comparison 20-foot-equivalent units (TEUs) in 2021 to pre-pandemic 2019.
The Port of New York and New Jersey, the East Coast's busiest port, handled 8.9 million TEUs, a 22% increase; Georgia's Port of Savannah, 5.6 million TEUs, also a 22% increase; Port of Virginia, 3.5 million TEUs, a 19% increase; South Carolina Ports, 2.7 million TEUs, a 12% increase; and Port of Miami .1.2 million TEUs, a 11% increase. Combined, these five top ports handled 3.5 million more TEUs in 2021 compared to pre-pandemic figures for 2019.
As drayage capacity improves, railroads should be able to haul more international containers currently relying on trucks. They should also haul more intomrodal as rail network velocities improve.  It will remain equally important for inland ports to make sure they can continue to process the inbound volume efficiently, as unexpected delays there will cause shippers to bypass rail-served facilities entirely. Such was the case in July 2021 when inland port congestion in the Chicago area prompted intermodal embargoes [see "Union Pacific suspends inbound international container shipments …," Trains News Wire, July 14, 2021].
Railroads may be able to capture incremental volume on truck-competitive lanes close to or more than 500 miles from ports, as congestion recedes elsewhere in the supply chain or as railroad network capacities improve. In the near term, these circumstances make it difficult to forecast how railroads will fare.
So far in 2022, West Coast intermodal rail is down more than 10% at BNSF Railway and 4% at Union Pacific. In the East, NS's intermodal is down 15%, while CSX is down more than 1% from a year ago.
For the year to date, the Association of American Railroads reports U.S. intermodal traffic is down more than 7% compared to 2021, signaling that U.S. railroads have the capacity to handle more traffic, if only the environment was more conducive for railroads.
— Trains correspondent Bill Stephens contributed to this report.