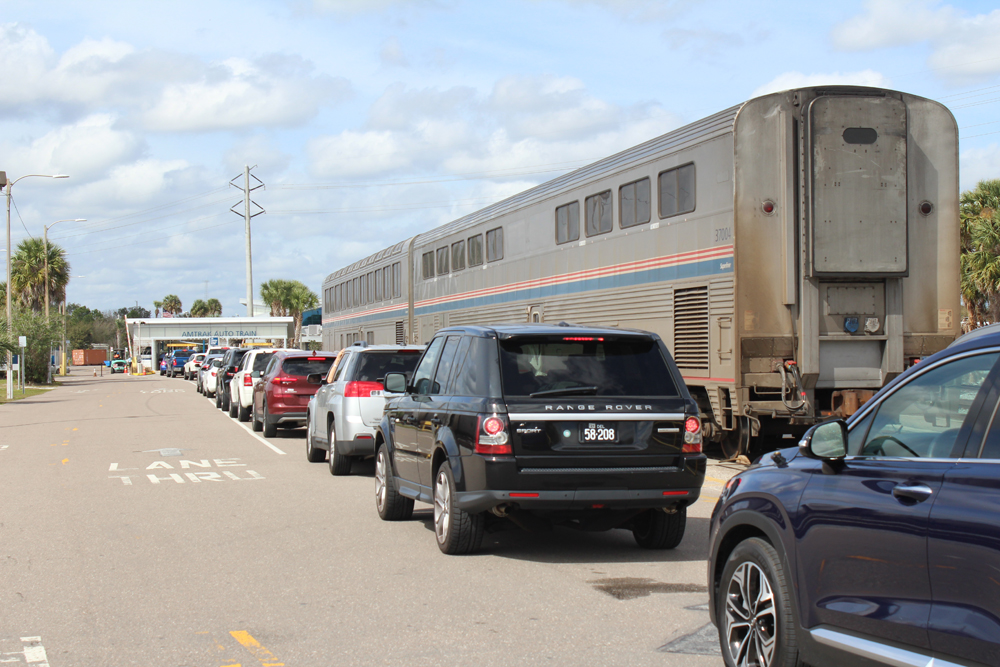 ---
Amtrak has announced it will halt operation of its remaining long-distance trains as of Thursday in anticipation of a possible freight rail work stoppage which could begin Friday morning.
In other news as of midafternoon Wednesday, members of the Brotherhood of Locomotive Engineers and Trainmen have begun receiving instructions on what to do in case of a strike; Canadian Pacific says it intends to continue to operate; and White House press secretary Karine Jean-Pierre said earlier today that a rail shutdown is "an unacceptable outcome for our economy" but said the two sides, not Congress, should settle their labor dispute.
Four more long-distance Amtrak trains suspended
Amtrak had previously suspended the majority of its long-distance trains on Tuesday and Wednesday, leaving just four to be suspended as of Thursday: the Lorton, Va.-Sanford, Fla., Auto Train, the Chicago-Washington Capitol Limited, the New York-Washington-Cincinnati-Chicago Cardinal, and the southern portion of Palmetto service, between Washington and Savannah, Ga.
Amtrak service will continue on the Northeast Corridor and its related branches to Albany, N.Y.; Harrisburg, Pa., and Springfield, Mass., with a full Acela schedule and most Northeast Regional trains. Most regional corridor services elsewhere will be suspended as of Friday.
In an update at 7 p.m. EDT, Amtrak said some Thursday evening trains would be cancelled on state-supported services including Illinois and Michigan services, the Heartland Flyer and Piedmont, Springfield service, Virginia service, and the three California regional services: the Capitol Corridor, Pacific Surfliner, and San Joaquin. The latter services had already spelled out some details earlier [see "More Amtrak services to be suspended," Trains News Wire, Sept. 14, 2022]. Amtrak directed passengers to its website for more details.
Letter to BLET members outlines strike instructions
A letter obtained by Trains News Wire for members of one BLET local instructs members on how, when, and where to go to picket if a strike is called and passes along information from the union's national leadership. While it notes a strike can begin at 12:01 a.m., it says no strike has yet been called.
In the event of a strike, it says members are expected to be on picket lines in 12-hour shifts and must be on the picket line to receive any strike benefits from the union. Those who cross a picket line will face charges and could be expelled from the union, the letter warns, while emphasizing that violence and destruction of property will not be tolerated. It also offers instructions for those who may be at work when the strike begins.
CP plans to 'fully operate' in event of work stoppage
In an advisory sent to customers Tuesday, Canadian Pacific — which is not part of the National Carriors' Conference Committee and not part of the current labor negotiations — told customers it will "continue to operate fully in Canada as well as the U.S., subject only to any applicable embargo imposed by any of the U.S. railroads."
Those embargoes "may impact CP's ability to move equipment from some locations on our North American network. That includes CP originating traffic that's interchanged to involved or affected railroads, traffic reliant on haulage handling or running rights agreements through the United States by or on an involved or affected railroad, and/or traffic reliant on reciprocal switch service by an involved or affected railroad. For intermodal customers, US destined import traffic from the Port of Montreal and Port Saint John may be impacted."
The railroad advises customers to monitor embargoes through the Association of American Railroads website.
Currently, all other Class I railroads in the U.S. have only embargoed hazardous or security-sensitive shipments.
Two unions ratify contracts with Class I railroads
In a major sign of progress, two unions have ratified the tentative contract agreements they had reached with the Class I railroads.
The National Carriers' Conference Committee (NCCC), which represents the freight railroads in national collective bargaining, said on Wednesday afternoon that the Transportation Communications Union/IAM (TCU/IAM) and the Brotherhood of Railway Carmen (BRC) backed the contract. Together, they represent more than 11,000 rail workers.
The ratified agreements implement the Aug. 16 recommendations of the Presidential Emergency Board, including a 24% compounded wage increase during the five-year period from 2020 through 2024 — with a 14.% wage increase effective immediately — and five annual $1,000 lump sum payments.
These are the first two agreements to be ratified in the national bargaining round. Ratification votes with other unions that have reached tentative agreements are pending, and the railroads continue to negotiate with unions that have not yet reached tentative agreements.
Unions and railroads, not Congress, should settle dispute, press secretary says
In comments Wednesday morning aboard Air Force One, with President Joe Biden en route to an appearance in Detroit, the president's press secretary confirmed that Labor Secretary Marty Walsh was meeting with unions and railroads today. And while Jean-Pierre said a work stoppage was unacceptable, she also said the "onus of resolving differences is on the parties themselves.
"Our continued message … stays the same, which is that they need to continue to negotiate at the table and in good faith," Jean-Pierre told reporters.
"This is an issue that can and should be worked out between the rail companies and the unions, not by Congress. … They have been able to come together and negotiate in the past. And that's what we're expecting this time around as well."
— Updated at 3:15 p.m. CDT with news that two unions ratified their contract agreements; updated at 7:55 p.m. CDT with additional Amtrak cancellations.