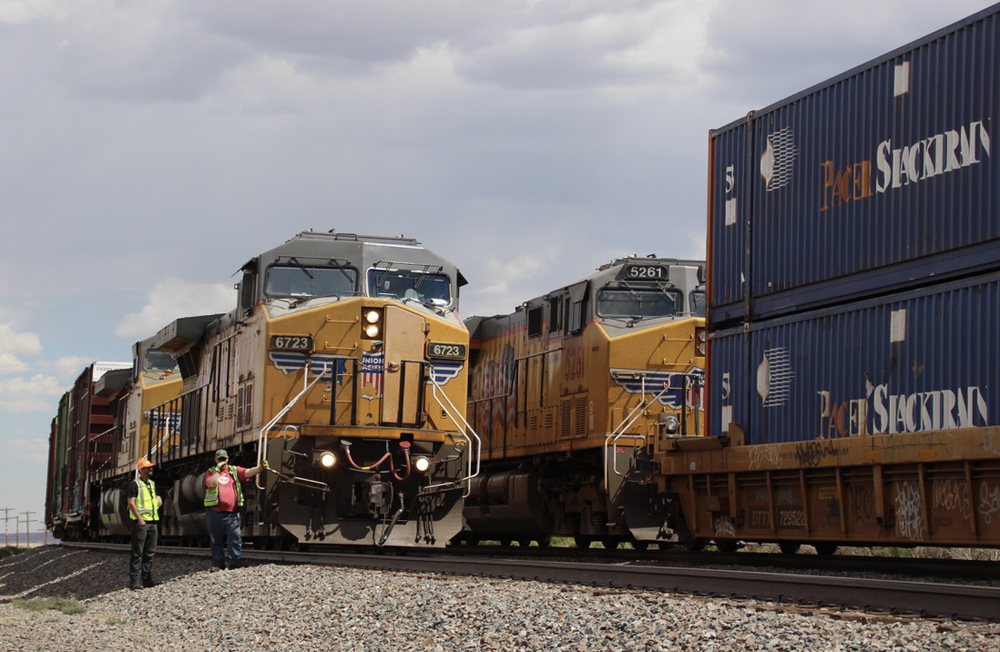 ---
The union representing conductors has thus far refused to participate in a pilot program Union Pacific wants to run to test the concept of shifting conductors to ground-based positions, The Associated Press reports.
But UP remains in mediation with two SMART-TD committees and negotiations are ongoing about the proposed pilot program, railroad spokeswoman Robynn Tysver tells Trains News Wire. "We cannot move forward without it being agreed upon through collective bargaining," she notes.
UP believes that ground-based conductors – which the railroad dubs expediters – would be able to more safely and more efficiently play the role conductors do today from the locomotive cab, Rod Doerr, UP's vice president of crew management services and interline operations, said last month at a Federal Railroad Administration hearing on one-person crews.
Positive train control has significantly reduced the conductor's tasks out on the main line, UP says, and an expediter would be better able to handle troubleshooting and fixing mechanical problems en route.
"This job will be much better served by a truck-based approach, responding to planned or unplanned events dispatched from a central location around the railroad network. Union Pacific envisions a role where the expediter receives a call for service from an en route train, drives to that train in a truck, performs the requested service, and drives back to the … base of operations," Doerr says. "Our data suggests in most cases this will take less time than having the on-board conductor attempt the same tasks."
But union officials panned the idea at the FRA hearing, saying that having two people in the cab improves safety. They also have said that talk of one-person crews had made it harder for railroads to recruit and hire conductors.
UP wants to first test the expediter concept on the South Morrill Subdivision, its coal-hauling route across western Nebraska that is paralleled by a state highway. Trains would continue to operate with an engineer and conductor during the pilot, and UP would measure the response times of expediters and conductors when a train encountered a problem.
"The proposed pilot enhances quality of life by placing the expeditor in a truck and dispatching them from a centralized home base to planned or unplanned events. They will be less likely to suffer the effects of fatigue and replace the unknown conductors currently experience with a regular shift, a regular schedule, and the ability to sleep in their own bed each night," Tysver says.
BNSF Railway and Norfolk Southern last month said they also were negotiating with unions about the possibility of pilot programs involving ground-based conductors. Spokesmen for BNSF and NS said today that negotiations with their unions are ongoing.
CSX Transportation and Canadian Pacific say they currently have no interest in ground-based conductors. Canadian National has declined to comment on the issue.
The SMART-TD union did not respond to an email requesting comment.
Note: Updated at 9:34 a.m. Central Time with comment from Union Pacific, BNSF Railway, and Norfolk Southern.