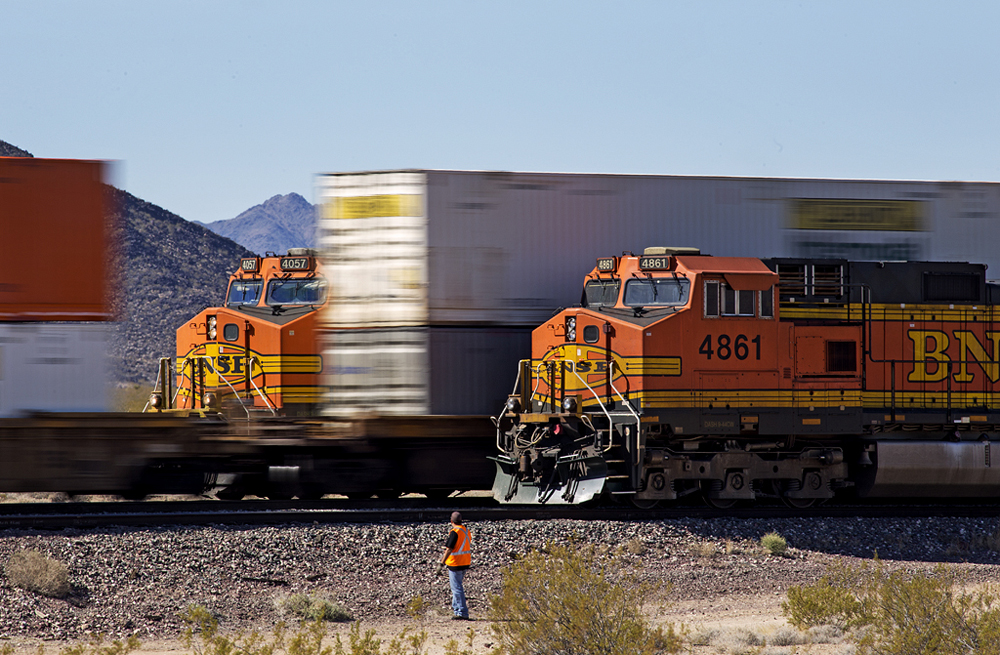 ---
The big six Class I railroads are not of one mind regarding taking conductors out of the locomotive cab and redeploying them to pickup trucks.
Union Pacific and Norfolk Southern told the Federal Railroad Administration this week that they are negotiating with unions about testing the concept, which would involve having conductors assist trains in specific territories.
BNSF Railway tells Trains News Wire that it, too, is on board. "BNSF has been in negotiations with SMART-TD for some time now on a workable transition to ground-based conductors, and could initially include pilot locations," railroad spokesman Zak Andersen says. "We remain optimistic that we can reach a progressive agreement that creates a better work-life balance for our employees through predictable schedules, enhances service to our customers, and sets BNSF up for future success."
In 2014 BNSF became the first railroad to propose engineer-only operations on lines protected by positive train control. It reached a tentative agreement with the SMART-TD union covering BNSF routes in the Midwest and Pacific Northwest that would have created a ground-based master conductor position. But the rank and file rejected the deal.
CSX Transportation is not considering using ground-based conductors and is not talking to rail labor about the concept, a spokeswoman says.
Canadian National declined to comment when contacted regarding its interest in ground-based conductor positions.
Canadian Pacific declined to add to comments CEO Keith Creel made during the railway's earnings call in July.
Creel seemed skeptical of one-person operation anytime soon, given how frequently trains encounter problems on the main line. Until pull-aparts and other mechanical issues become exceptionally rare, Creel says one-person operation doesn't make much sense.
"When you put a train together there's a lot of moving parts. And those moving parts historically have created some challenges. So If a train separates and it's 10,000-foot long and you don't have a man or a woman to assist the engineer, that can get complicated," Creel told investors and analysts. "That's something I'm very sensitive to."
Once technology and components allow safe, efficient, and reliable service, railroads should be allowed to operate trains with one person in the cab, Creel said.
Any shift to engineer-only operations in the U.S. would require two things: Approval from the FRA and labor unions. Both are obstacles for the Class I's considering a fundamental change to the way they operate.
The FRA is considering a rule that would mandate that railroads operate with two people in the locomotive cab. The regulation would allow railroads to apply for exceptions, but the Association of American Railroads say the hurdle is set impossibly high and would effectively bar taking the conductor out of the cab.
If the rule ultimately is adopted, it's likely that the railroad industry would mount a legal challenge.
Leaders of the Brotherhood of Locomotive Engineers and Trainmen and the SMART-TD union that represents conductors oppose taking conductors out of the cab. They argue that it's not safe despite the positive train control system that's designed to prevent collisions and overspeed accidents.
The railroads advocating for ground-based conductors say the move would improve safety and service. They also say that ground-based conductors would have better quality of life because they would work set shifts with scheduled days off and be able to return home every day. And that, they say, would make it easier to recruit and retain conductors.
— Updated at 7:25 a.m. CST with CN declining to comment and at 8:33 a.m. with CP declining to expand on CEO's comments from July earnings call.