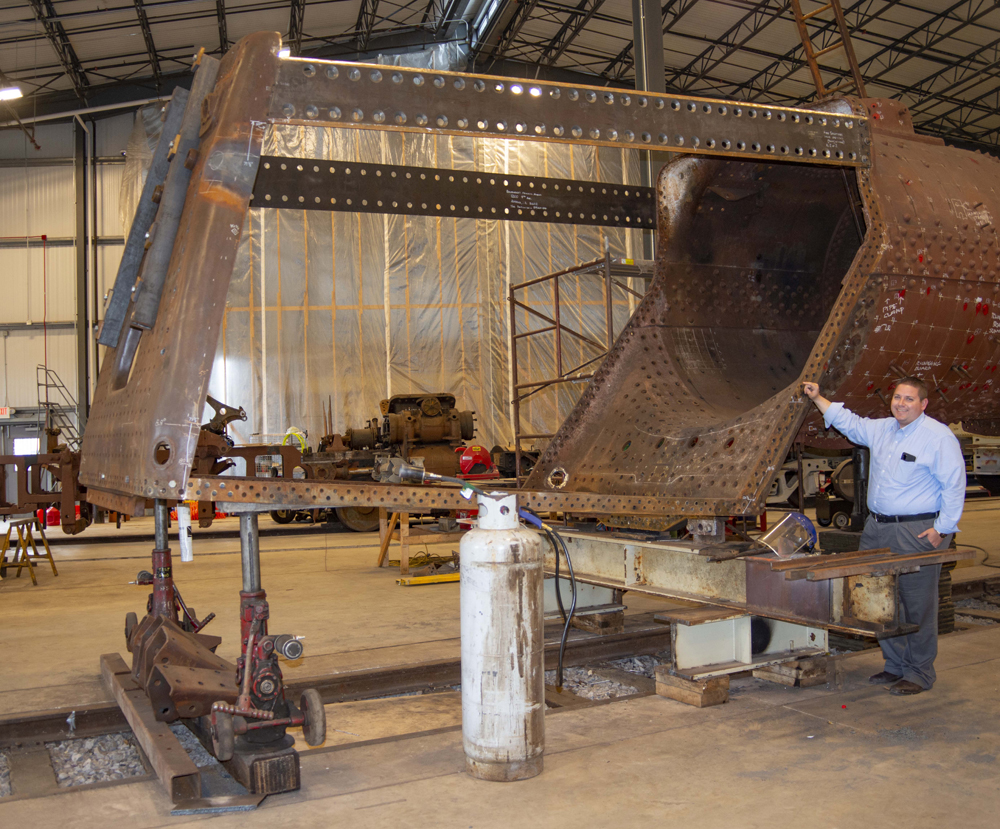 ---
ALTOONA, Pa. — The Pennsylvania Railroad Technical & Historical Society has met and exceeded its goal of raising $100,000 toward the construction of a new firebox for PRR Class K4s 4-6-2 steam locomotive No. 1361.
Owned by the Railroaders Memorial Museum, the engine is in the midst of a $2.6 million overhaul to restore it to operating condition. Built in PRR's Juniata Shops in 1918, the 150-ton passenger locomotive was retired in 1956 and the next year was put on display at the nearby railroad landmark, Horseshoe Curve.
It was one of 425 K4s-class engines built by Juniata (350) and Baldwin Locomotive Works (75). The type dominated the carrier's passenger-locomotive fleet for nearly 40 years, until the last were retired in 1957. The only other survivor is No. 3750 (Juniata, 1920), located at the state-owned Railroad Museum of Pennsylvania in Strasburg.
In 1985, the Altoona museum removed No. 1361 from Horseshoe Curve and restored it to operation in 1987-88, but it has remained idle since then.
A year ago, Railroaders Memorial Museum Board Chairman Wick Moorman and Executive Director Joe DeFrancesco announced a $2.6 million program to reactivate the engine [see "PRR K4s engine No. 1361 to be restored …," Trains News Wire, June 25, 2021]. A widely known steam-locomotive consulting firm, FMW Solutions LLC, is providing oversight and fabrication assistance, guiding a team of local volunteers. The major obstacle is that the engine's firebox – the rear part of the boiler that heats water into steam – doesn't meet current federal standards for pressure vessels.
On FMW's recommendation, the museum decided to replace it with an identical-looking firebox having specifications that do meet contemporary safety standards [see "Firebox replacement plans advance …," Trains News Wire, Nov. 23, 2021]. Among other items, this approach includes thicker sheet steel and closer staybolt spacing, which will be largely covered by jacketing.
A matching-grant challenge
Last fall, the Technical and Historical Society issued a matching-grant challenge to its 2,700-plus members, urging them to raise $50,000, an amount that the society pledged to match from its own treasury. At the group's annual meeting in Harrisburg, Pa., in May, DeFrancesco and FMW President Davidson Ward gave updates to two standing-room-only meetings.
As a result, members in the following weeks pushed the amount over the top, raising a combined $100,512.33 by the time the campaign concluded on June 1.
Initiating the idea was Steve Staffieri, president of the society for seven years before stepping down in May. He credited two society chapters – Philadelphia and New England – with contributing $10,000 each.
"I'm so pleased with our members," says Staffieri. "There's an energy and a willingness to really have this project go.
"The people behind it — Joe DeFrancesco, (board member) Bennett Levin, and Wick Moorman — have gone out of their way to make this a reality. It's something we'll see soon, in a few years, as opposed to other [projects that take] 10-15 years."
Of the campaign, DeFrancesco says, "It's worth noting that the firebox work is about halfway to the projected goal. It's the most expensive phase of the project."
Engineering and construction will cost $400,000. The museum earlier raised $100,000 on its own, so the PRRT&HS contribution brings the project halfway to the goal of funding that phase of the work.
In the late 19th century, PRR adopted an unconventional Belpaire-style squared-off firebox as standard, widely differing in appearance from the smoothly rounded tops of most North American locomotive boilers. Used on many thousands of PRR engines, the odd shape adds to the cost and complexity of No. 1361's restoration.
The newly raised funds, DeFrancesco says, will be spent as follows :
— Materials: Acquire firebox roof sheet material, side sheet material, roof sheet liners and doubler plates, and rivets.
— Labor: Form the sheets to fit, including drilling staybolt holes, heat treating of the roof sheet, fitting up and bolting sheets, and final welding and riveting of sheets.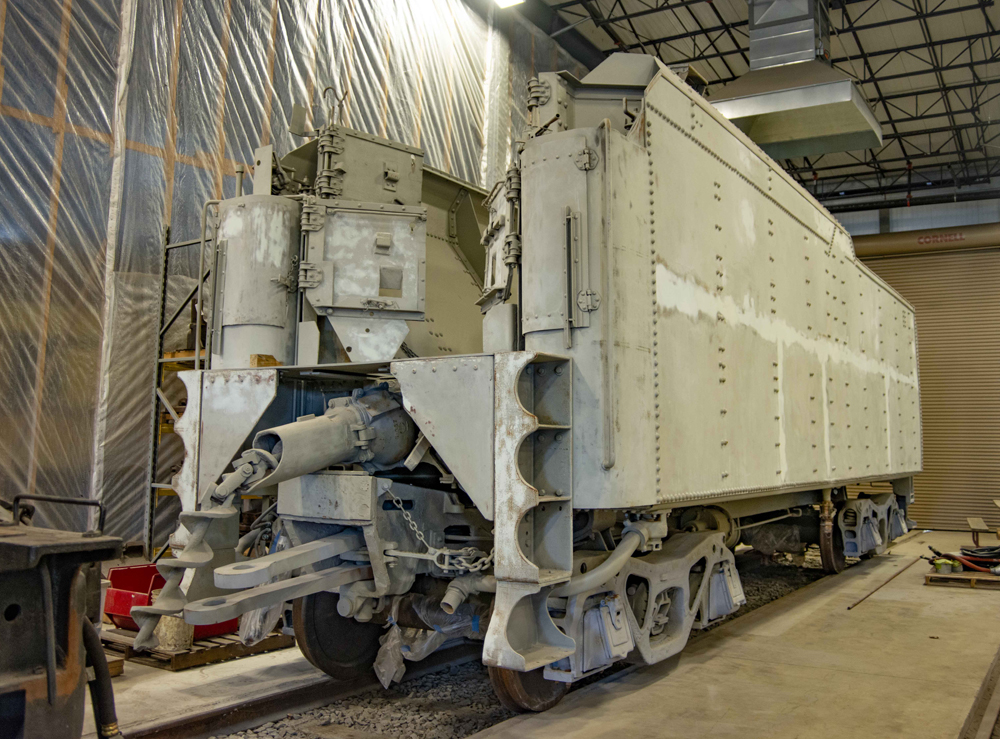 "By late summer or early fall, visitors can anticipate seeing the new material being installed," says DeFrancesco. "That will position us for the next phase of fund-raising for the next stage of the firebox, which is the inner wrapper and components."
No. 1361 is especially significant to Altoona, where 15,000 PRR shop workers once built and maintained the thousands of engines and cars needed to operate an 11,000-route-mile system stretching from New York and Washington to Pittsburgh, Chicago, and St. Louis.
PRR bought thousands of locomotives from Baldwin and other commercial firms, but was unique among American railroads in building more than 6,700 steam and electric locomotives on its own, mostly in the Altoona shops.
No. 1361 is being restored in the museum's seven-stall roundhouse, built new in 2014. Docents lead visitors on tours of the roundhouse and grounds, which now are undergoing a sweeping overhaul.
Other projects continue
Several pieces of rolling stock formerly displayed on isolated track panels around the museum yard have been relocated either to the roundhouse interior or to radial turntable tracks.
These pieces include four PRR cars: a Class D78F diner, a Class X29 steel boxcar, a Class N5 steel cabin car (caboose), and what is believed to be the only intact surviving Class R50B express refrigerator car. Work in the roundhouse also continues on a Penn Central Class N21 bay-window caboose that was built in Altoona.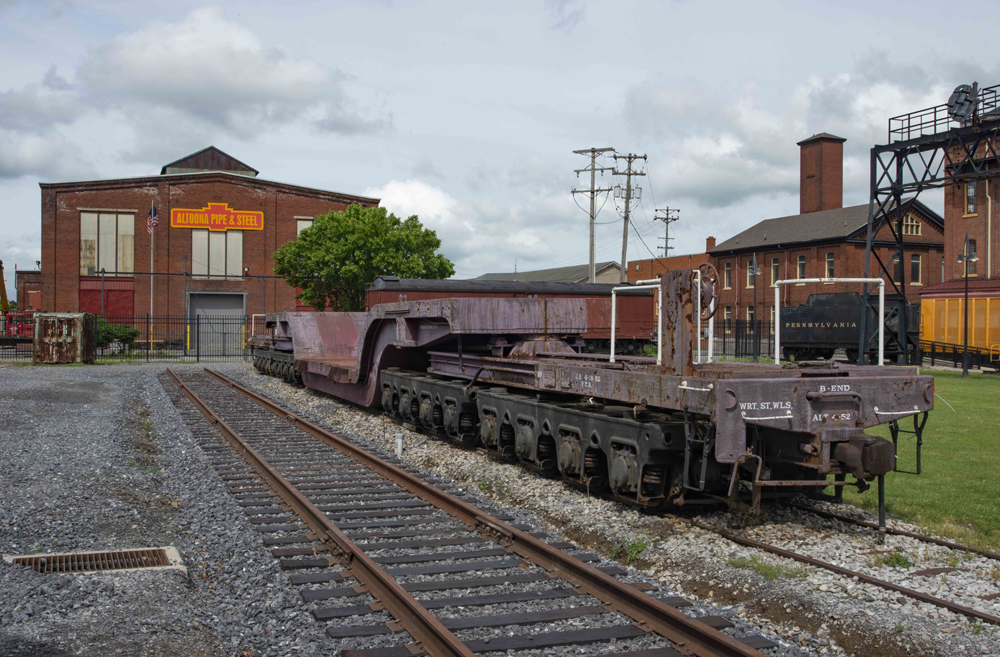 A one-of-a-kind, 124-foot-long, 32-wheel heavy-duty depressed-center flat car, PRR Class FD2 car No. 470245 — built in Altoona in 1952 and nicknamed "the Queen Mary" — soon will be moved a short distance to a new display track. And a four-track PRR signal bridge retired from the PRR, now Norfolk Southern, Harrisburg-Pittsburgh main line at Horseshoe Curve was turned and relocated last week to help make room for a redevelopment of the museum yard.
In the space between the museum's headquarters — the five-story 1882 brick PRR Master Mechanic's Building — and NS's active Harrisburg-Pittsburgh main line, plans call for new sidewalks, landscaping, lighting, seating, and a 32-by-42-foot outdoor covered stage.
"All [these] elements will complement the Master Mechanics Building," he says. "There will be a harmony of design."
The venue will support fundraising activities, educational programming, and community events. "It's another step in linking the museum to the railroad community, the Altoona community, the preservation community, and the educational community," DeFrancesco says.