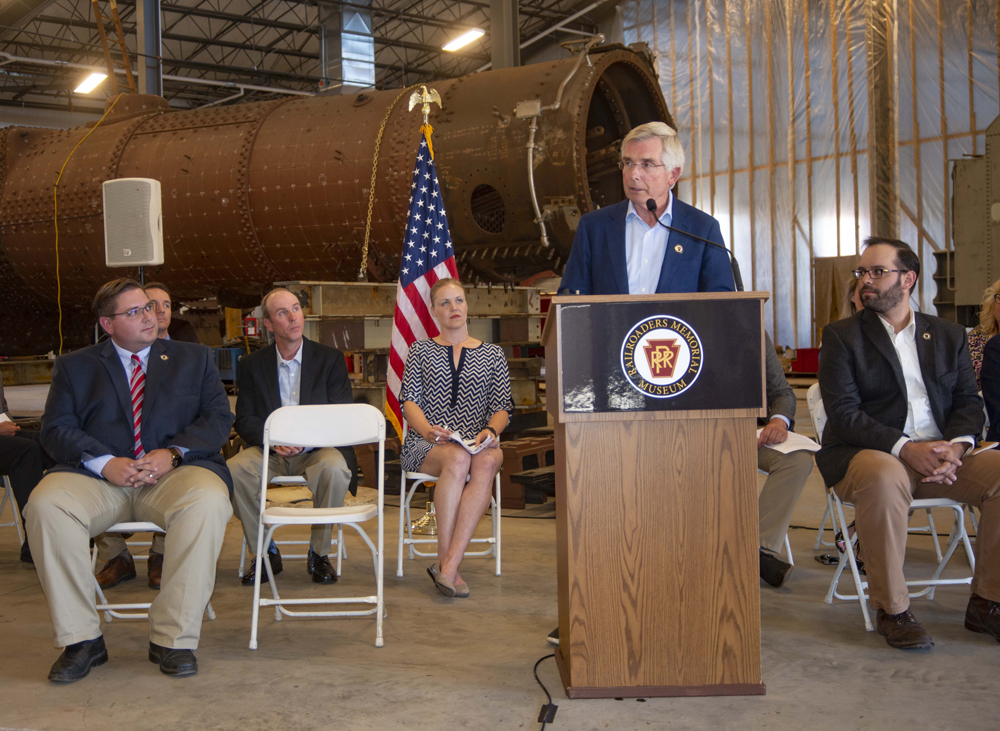 ALTOONA, Pa. — Pennsylvania Railroad Class K4s 4-6-2 steam passenger locomotive No. 1361 will be restored to operating condition under a $2.6 million campaign announced Thursday by the Railroaders Memorial Museum and its partner, engineering consulting firm FMW Solutions LLC.
Making the announcement was C. Wick Moorman, chairman of a newly reconstituted museum board and retired CEO of Norfolk Southern and Amtrak. With him were Joseph DeFrancesco, executive director of the museum, and a host of engineering experts led by FMW President Davidson Ward.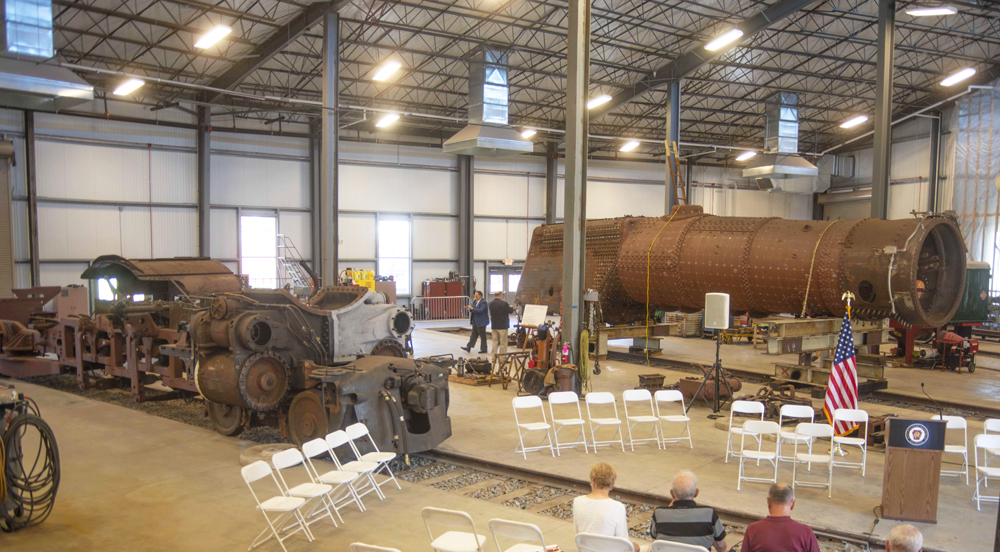 The scope of restoration work will cover repairs to the frame, appliances, spring rigging and brake rigging, drivers, and running gear of the engine, built by PRR in its Juniata Shops in 1918. In 2019, the museum contracted with FMW to conduct a six-month inspection of No. 1361, which included a full review of records of earlier work. Previous assessments that it would need a new boiler turned out to be incorrect (some repairs will be required), as the boiler courses are basically sound. However, the squared-off Belpaire firebox — common to most PRR steam locomotives but unusual in American practice — will need to be replaced.
The inspection included engineering calculations, 3D computer-aided-design modeling, non-destructive spectrometer and radiograph work, ultrasonic thickness testing, rivet material review, visual inspections, and consultation with the Federal Railroad Administration, which certifies pressure vessels for railroad use.
Ward said FRA has issued a "letter of concurrence," indicating that the agency condones FMW's engineering conclusions and repair recommendations. The FRA's blessing was necessary for the restoration to proceed.
Leading fundraising efforts will be Moorman and board secretary Bennett Levin of Washington Crossing, Pa., a longtime preservationist, PRR diesel locomotive and passenger-car owner, and museum supporter.
DeFrancesco, who began at the museum 16 years ago as a teenage volunteer, said the campaign seeks  to reinvigorate the museum by creating a living-history educational tool and a community outreach arm. He and Moorman envision No. 1361 traveling around the state for public appearances, along with a train of period PRR coaches. It also could operate on steam-friendly short lines. The consist might include the museum's 1949 Pullman-Standard buffet-lounge-observation car Mountain View, which once brought up the rear of PRR's flagship Broadway Limited. A shined-up Mountain View was on display at the ceremony.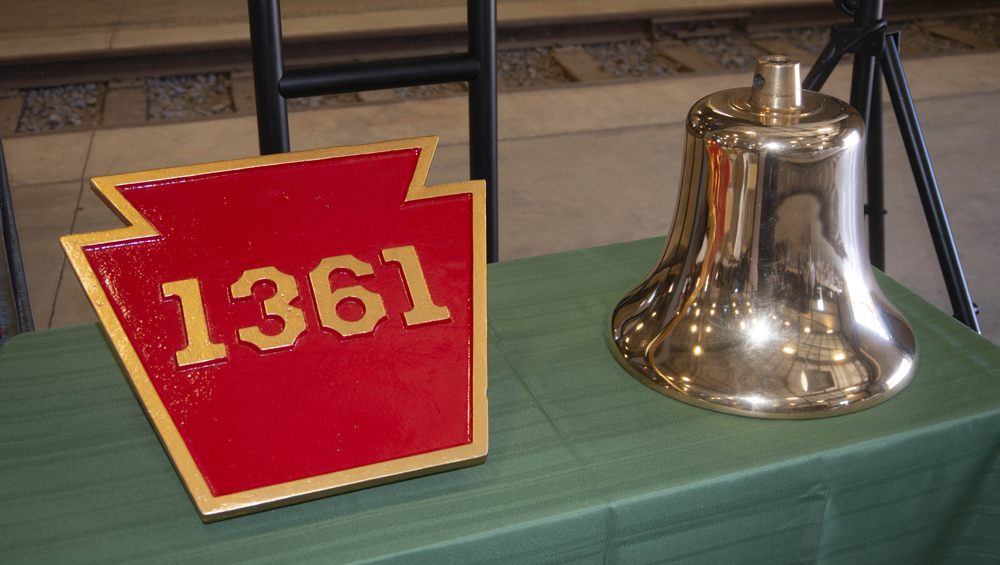 "What's got us to this point is volunteers," DeFrancesco said, adding, "We are about the people of railroading," a theme woven through exhibits in the museum's four-story Master Mechanics Building. He and Moorman singled out volunteers Mike Reindl (lead restoration consultant), Andy Charlesworth, Brandon Sliko, and Joe Harella as torchbearers in the ongoing work on No. 1361. An honorary crew member is David Seidel, a founding member of the museum in the 1970s.
"The K4 is the embodiment of the people of Altoona," said Ward, the FMW president.
Some 425 K4s engines were built (350 by PRR's Juniata Shops in Altoona and 75 by Baldwin Locomotive Works of Philadelphia) between 1914 and 1928. Only two remain, both Altoona products. The other, No. 3750, is at the Railroad Museum of Pennsylvania in Strasburg, Pa., awaiting cosmetic restoration.
With offices and shops in Minnesota, New York, Indiana, Tennessee, and Colorado, FMW is widely known in the American railroad industry at large and the preservation community in particular. It has worked on various steam preservation projects, including Nashville, Chattanooga & St. Louis Railway 4-8-4 engine No. 576; U.S. Sugar Co. (former Florida East Coast Railway) 4-6-2 engine No. 148; and the relocation and projected restoration of Atlantic Coast Line Railroad 4-6-2 engine No. 1504.
When Moorman headed NS, he developed a "Steam for the 21st Century" excursion program for the public and NS employees. He'd hoped that it would encompass locomotives from selected predecessor railroads of NS. These included Southern Railway 2-8-2 engine No. 4501 from the Tennessee Valley Railroad Museum, and Norfolk & Western Railway streamlined J-class 4-8-4 engine No. 611 from the Virginia Museum of Transportation. He was aware of No. 1361 and had held out hopes that it could join those two, but also that it had "a checkered 30-year restoration history." He said, "I knew it was up here and was in pieces."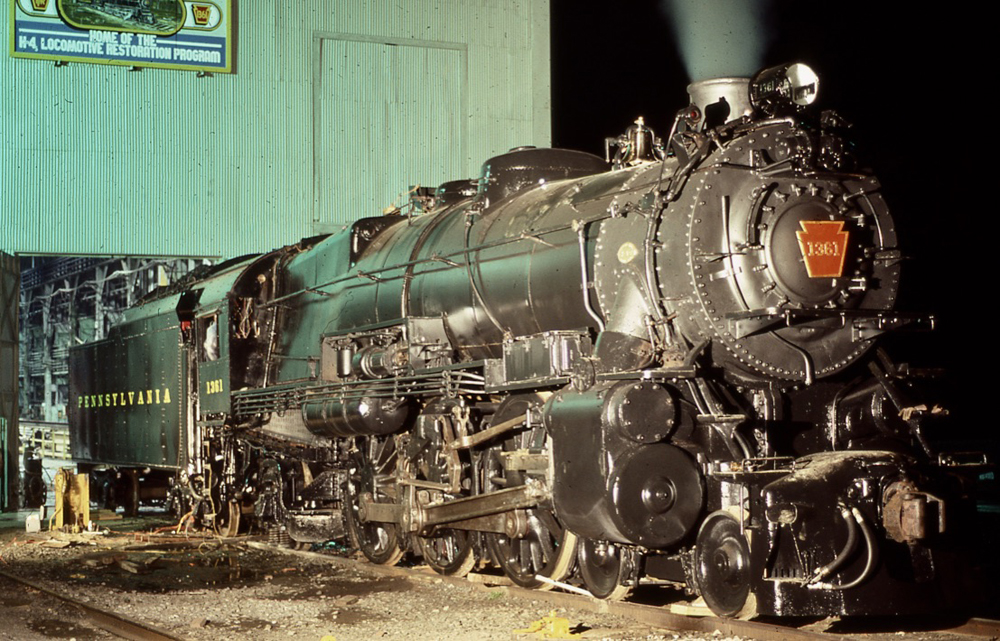 The engine has been the source of opinion and controversy in the preservation community since its first operating restoration in 1987, which fizzled out a year later under managerial and other issues. After a too-brief excursion career, the engine was sidelined and has mostly lain in parts ever since, as one effort after another failed to gain consensus or momentum. The engine was at various times worked on, disassembled, or stored off site at such disparate locations as the Steamtown National Historic Site shop in Scranton, Pa., and the East Broad Top Railroad shops in Rockhill Furnace, Pa.
Contributing to the malaise were a failure to resolve issues with management style, personnel choices, and finances. Those woes seem to be past now, as the organization is staffed by professionals, is building strategic public partnerships, and has turned the corner financially. Moorman said it is in the best fiscal condition it has been in for decades, and maybe ever.
The new board consists primarily of railroad officials and railroaders. Besides Moorman, it includes Levin; Jason Lamb, general manager of the Everett Railroad, a shortline freight and steam tourist passenger carrier in nearby Duncansville, Pa.; Mark Ritchey of Curry Rail Services of nearby Hollidaysburg, Pa., a firm that occupies the former PRR Samuel Rea Car Shop; Don Graab of Norfolk Southern's Mechanical Department; and Frank Givler, president of the Horseshoe Curve Chapter of the National Railway Historical Society.
No. 1361 has been dubbed "The Spirit of Altoona." It was and is special to the local community because it was emblematic of the 15,000 workers who labored in the PRR shops here at their peak in the 'teens and 1920s. While the PRR did rely on Baldwin and other manufacturers to supply locomotives, the company was unique among American railroads in also building more than 6,700 steam and electric locomotives on its own, mostly in Altoona.
After No. 1361 was retired in 1956, it was placed on display at nearby Horseshoe Curve. In 1985, the late state Representative Rick Geist of Altoona persuaded then-Conrail Chairman L. Stanley Crane to extricate No. 1361 from its trackside park site and return it to the city where it was built, to be returned to active service.
The first restoration was carried out in Conrail's Altoona Car Shop. The current restoration is under way in the museum's roundhouse building, also known as the Harry and Rebecca Bennett Learning Center. Bennett was a PRR master mechanic in Altoona 1901-1921.
Although DeFrancesco and his staff are always on the lookout for more volunteers, he said, "the best way to support us is to buy a membership." More information is available at www.railroadcity.org