---
ALTOONA, Pa. — Work is proceeding on planning for and funding a replacement for the firebox of Pennsylvania Railroad K4s-class 4-6-2 steam locomotive No. 1361 at the Railroaders Memorial Museum.
FMW Solutions LLC, the engineering consultant on the $2.6 million project to restore the engine to operating condition, determined that the original squared-off Belpaire firebox – a hallmark of thousands of PRR steam engines but counter to the radial-boiler practice of most American railroads – does not meet Federal Railroad Administration specifications in its present condition and must be replaced.
On June 24, museum board chairman Wick Moorman, Executive Director Joe DeFrancesco, and FMW officials announced the engine will be restored to operating condition [see "PRR K4s engine No. 1361 to be restored in $2.6 million campaign," Trains News Wire, June 26, 2021].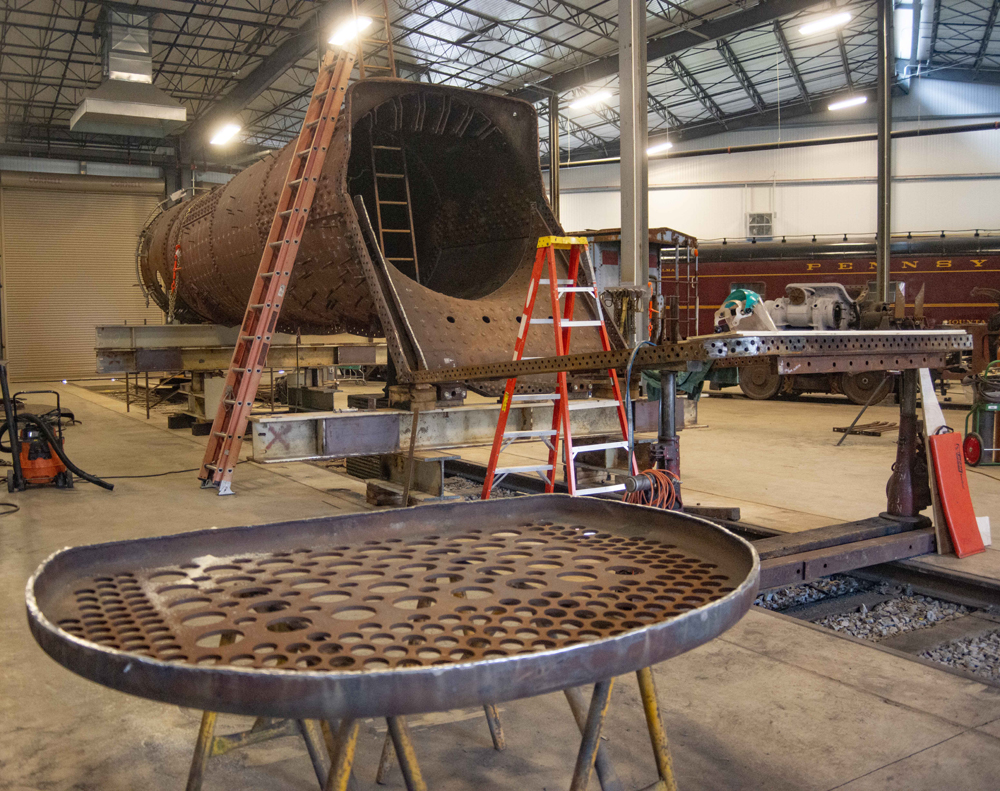 In an interview with Trains News Wire last week, FMW President Davidson A. Ward said, "Our engineering study showed that some of the [steel firebox] sheets were too thin, and with the combination of the changes to stay[bolt] sizing and staybolt spacing needed to bring the design into FRA compliance, we made the decision to take the firebox down to the mudring, the foundation of the firebox."
A new Belpaire firebox will be fabricated, he said. Outside, it will closely resemble  the original, but inside, components will comply with FRA standards, which were not in effect when the engine was built in 1918. The 150-ton passenger locomotive was built at PRR's Juniata Shops in Altoona, and upon retirement in 1956 was displayed at Horseshoe Curve 5 miles west of here. It was removed from the Curve in 1985, restored to operation, and briefly pulled excursions in 1987 and 1988.
Identical boiler and firebox designs were used on 999 PRR locomotives — 425 K4s-class Pacifics and 574 L1s-class Mikado 2-8-2 freight engines. Of that fleet, only one other K4s remains. No. 3750 (Juniata Shops, 1920) is at the Railroad Museum of Pennsylvania in Strasburg, Pa., which also owns the sole remaining L1s engine, No. 520 (Baldwin, 1916).
While a new firebox is being designed, Ward said, the aim is "to reuse as much of the existing metal as possible." This means that the backhead, door sheet, and rear flue sheet, which were fabricated as part of the previous restoration effort, will be retained. Where needed, they will be improved with stress relieving and straightening, he said. A throat sheet where the firebox meets the boiler will be retained, as well.
The courses of the boiler shell are sound, according to Ward, but did require some work.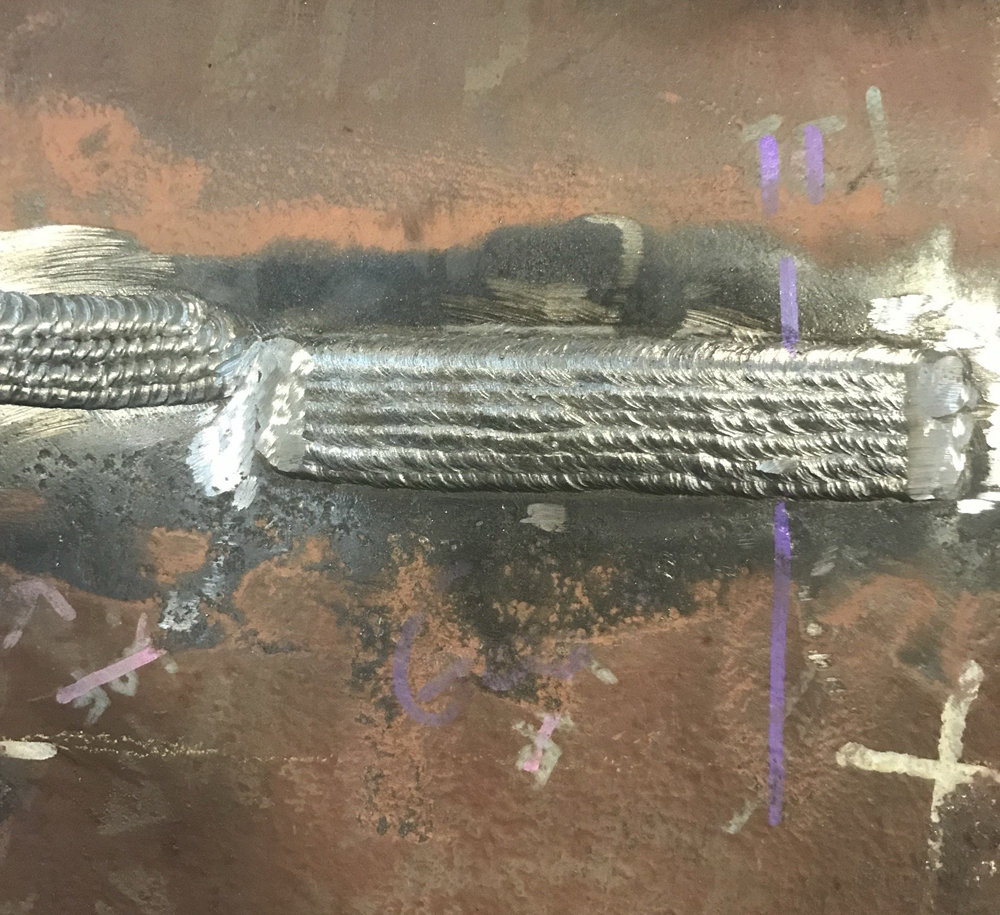 "One really important repair was recently completed to a boiler-barrel 'flush patch' beneath the steam dome," he said. During restoration in the late 1990s, cracks were found in the boiler shell beneath the dome, and a patch was subsequently fabricated and welded into place in the early 2000s. Recent radiographs of that area, completed during the FMW engineering study, identified defects in the weld.
"Earlier this fall we sent a welding crew to Altoona, which cut out the defects and properly rewelded them, so the flush patch has now been repaired appropriately," Ward said.
"As the capital campaign ramps up, we can make substantial reconstruction progress. We will work with different suppliers, with much of the fabrication work happening in Pennsylvania.
"One thing we found in the records of the Pennsylvania Railroad," he said, "is that it appears they designed the locomotive to have [this] procedure done. The boiler barrel was designed for longevity, but the firebox was designed to be replaced.
"We are very fortunate to have access to a large number of drawings from the Pennsylvania Railroad of this locomotive, an abundance of documentation. It's important that we return the locomotive to safe and suitable service for the modern era, but it's nice to be able to use those documents as original reference."
Key role for museum volunteers
FMW's strengths are in boilermaking, machining, and project management, and the mix of those skills with the effort of museum volunteers, DeFrancesco said, results in an economical sharing of work-scope tasks.
"[FMW's] Shane Meador coordinates the work," he said. "He leaves them a checklist of tasks so that on a weekly basis, our skilled volunteers can chip away at the many smaller projects such as cleaning the cylinder castings, getting behind crevices, stripping down [items], making it accessible for the FMW professionals to come in and be more effective with time management." Another volunteer task, DeFrancesco said, is "removal of cylinder heads and valve heads for inspection."
DeFrancesco said the museum's steam crew consists of four people, each contributing about 6 hours per week. Mike Reindl, an employee of NS's Juniata Locomotive Shop, is the crew leader, with members Andy Charlesworth (another NS Juniata employee), Joe Harella, a retiree affiliated with the National Railway Historical Society's Horseshoe Curve Chapter, and Brandon Sliko, who's affiliated with the Altoona Association of Model Railroaders.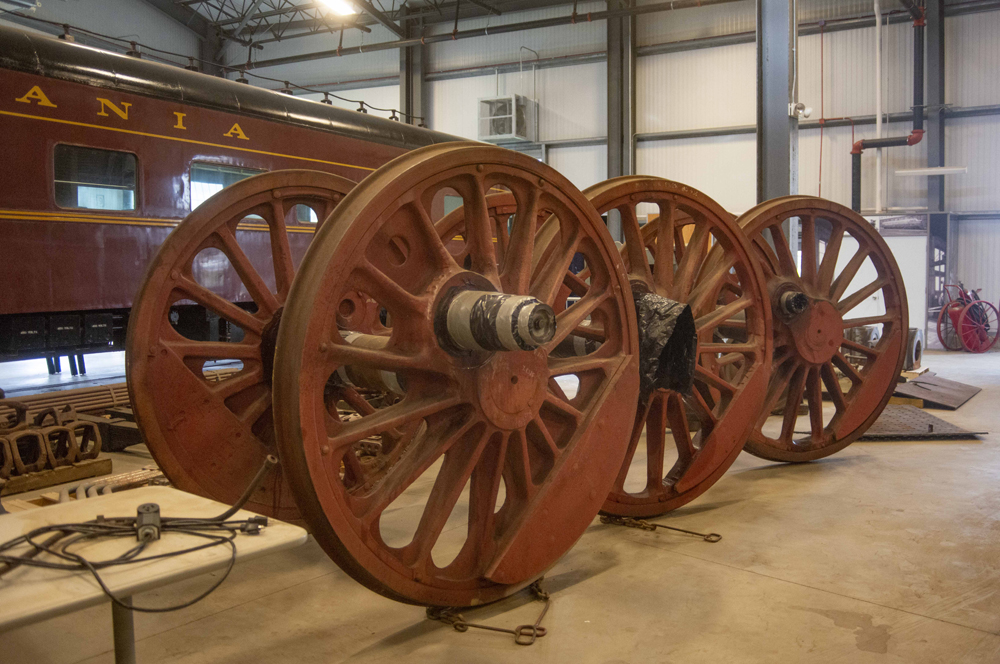 DeFrancesco and Ward stressed the importance of the museum maintaining transparency in both financial dealings and the nature of the work performed. "We will have an update soon on progress with the fundraising campaign," DeFrancesco said. "We want our supporters to know that if they contribute before the end of the year, money raised from here on out will go toward the firebox and boiler."
Running-gear work on the 1361 will come later. "The driving gear, the wheelsets — we're just getting into a detailed investigation of those," said Ward. Earlier, the trailing truck was converted to roller bearings, he said, and "we want to make sure that that did not limit lateral movement."
Minnesota-based FMW maintains multiple sites, including its Chattanooga, Tenn., machine shop and repair facility. FMW recently rebuilt ex-Florida East Coast Railway 4-6-2 engine No. 148 (Alco, 1920) for U.S. Sugar. It is managing the restorations of former Nashville, Chattanooga & St. Louis Railway 4-8-4 engine No. 576 (Alco, 1942) — the Trains Magazine-supported "Steam the Stripe" project — and former Atlantic Coast Line Railroad 4-6-2 engine No. 1504 (Alco, 1919) for U.S. Sugar, among other work.