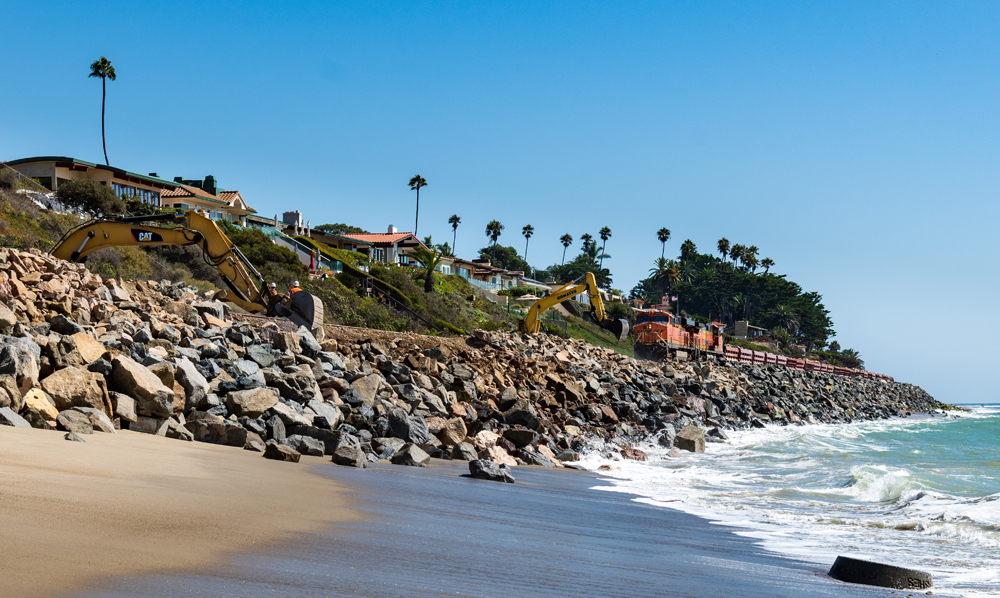 ---
SAN CLEMENTE, Calif. — Amtrak's Pacific Surfliner and LA-area commuter rail operator Metrolink have suspended service until further notice between Irvine and Oceanside, Calif., over "safety concerns" regarding the right-of-way in San Clemente, according to a notice on the Surfliner website.
The Los Angeles Times reported earlier this week that erosion along the beach in San Clemente had worsened after a recent tropical storm, leading to delays in rail service and increasing the threat to area homes.
The suspension is effective today (Friday, Sept. 30). Service will resume once emergency repairs to the right-of-way are complete. A bus bridge will operate between the two stations for Surfliner passengers; there will be no service to San Juan Capistrano or the San Clemente Pier.
Metrolink's notification says service will be suspended on its Orange County Line and Inland Empire-Orange County line south of the Laguna Niguel/Mission Viejo station. No alternate transportation will be provided to or from San Juan Capistrano, San Clemente, or Oceanside.
"Working with geologists, geotechnical engineers, and surveyors, we have determined … to suspension is necessary" to ensure passenger safety," the Metrolink notice reads. "Until we have confirmation from the experts the slope movement has stopped, we will not resume Metrolink service."
The two passenger operations experienced a similar emergency shutdown in the same stretch of the former Santa Fe Surf Line last year, halting operations between Sept. 16 and Oct. 4 [see "Surfliner, Metrolink service to resume …," Trains News Wire, Oct. 4, 2021].
"We understand that closures will result in disruptions and sincerely apologize for any inconveniences it causes our riders," the Surfliner notice says. "We'll continue to look for ways to minimize the impact of these closures as this critical work continues."