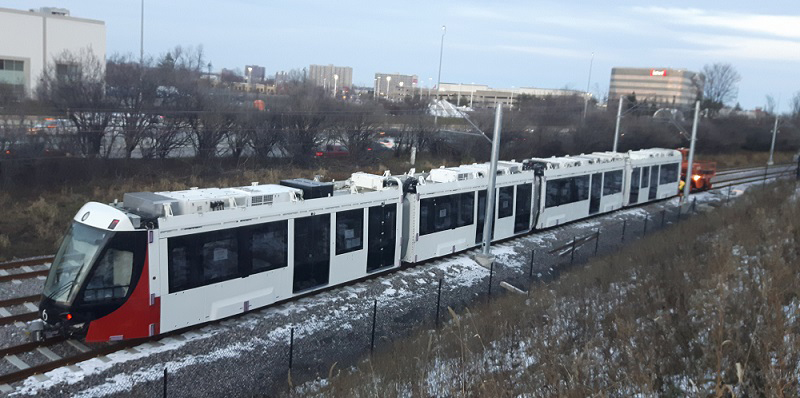 ---
OTTAWA, Ontario — The Confederation Line, a 7.8-mile, 13-station light rail operation in Canada's capital city — shut down since a Sept. 19 derailment — faces an extended closure as repairs from that derailment are made, investigations continue into the cause, and an independent consultant is brought in to develop a return-to-service strategy.
The Ottawa Citizen reports city council members are now looking at the possibility of cancelling the 30-year-maintenance agreement for the 2-year-old, C$2.1 billion line, and creating a city maintenance agency; may offer free light rail service for all of December in an effort to win back public confidence; and are considering a request for a judicial inquiry into the system and its contracts.
Preliminary information from the Transportation Safety Board of Canada indicates that in the latest incident, a train was already derailed when it arrived at the Tremblay station, but continued onward before stopping on a bridge over a street. No injuries were reported.
This derailment followed an earlier derailment in August that shut down the line for a week [see "Inspections after Ottawa light rail derailment finds eight cars needing repairs," Trains News Wire, Aug. 18, 2021] and a problem with cracked wheels that disrupted operations in July 2020 [see "Cracked wheels sideline Ottawa light rail equipment," News Wire, July 5, 2020].
The current closure led to the city's transit commission requiring an independent inspection to determine the light rail line is safe to operate — which has led to delays as the city seeks a new consultant, rather than one that has done work on the light rail system in the past. No timetable has been set for the resumption of operation.