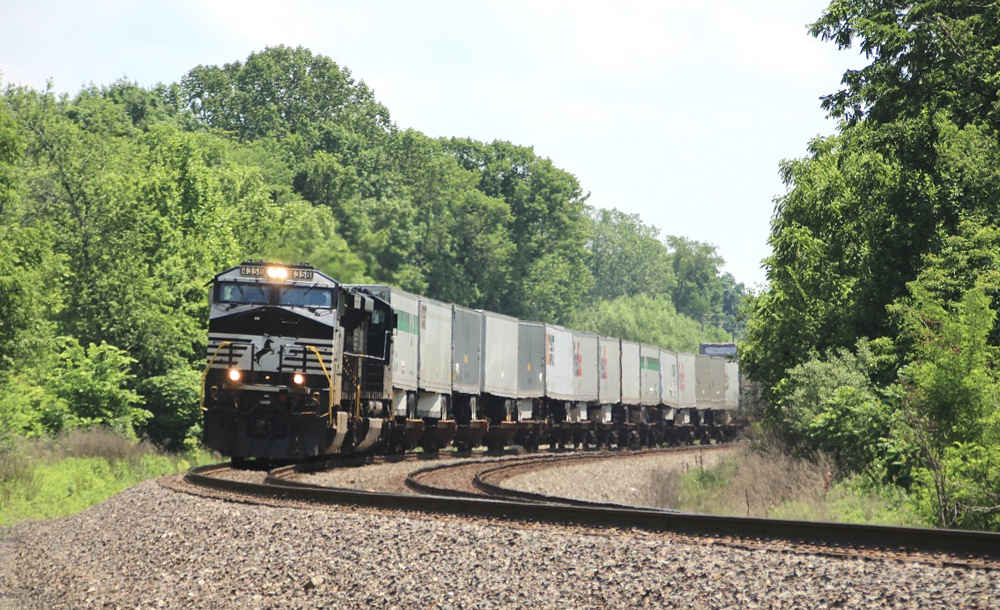 WASHINGTON – The chief executives of Norfolk Southern, Canadian National, and Kansas City Southern have told federal regulators that their railroads are hiring conductors to meet expected traffic demand as volume continues to rise.
Surface Transportation Board Chairman Martin J. Oberman, responding to shipper complaints about rail service as traffic has rebounded from the pandemic, late last month asked all of the Class I railroads to provide information on their hiring plans, as well as current crew and locomotive availability. NS, CN, and KCS are the last of the seven Class I systems to respond. Their letters were posted on the STB website on Monday.
Norfolk Southern
"Meeting our customers' expectations as the economy recovers from the pandemic is of course very important to Norfolk Southern, and having the train and engine workforce in place to meet increasing demand for freight transportation is essential to our success," CEO Jim Squires wrote, noting that by moving tonnage on fewer but longer trains the railroad has been able to operate with a smaller workforce.
"However, employee attrition, business growth, and changes in business patterns do create localized hiring needs," Squires wrote. "To meet these needs, Norfolk Southern has engaged in a program of targeted hiring, emphasizing locations with the greatest demand, and streamlining the timeframe to place qualified employees in the field."
To compete in a tight labor market, NS is offering incentives to conductor trainees. As of June 11, NS had 114 conductors in training, with plans to start between 72 and 96 trainees each month through the end of the year.
NS also is using "go teams" and temporary transfers to areas where the railroad is experiencing crew shortages. "These innovative approaches to localized workforce demands have given us a great deal of flexibility in responding to challenged areas of our network," Squires wrote.
NS currently has 2,533 active locomotives in its fleet, and 585 in storage. Squires cautioned that operational changes and the railroad's ongoing DC to AC conversion program make it difficult to draw comparisons to historical equipment levels.
"Our locomotive fleet is well matched to our operation. The rate of trains we are holding for power and our locomotive bad order rates remain at record lows, indicating a healthy balance between available resources and demand," Squires wrote. "We also believe the locomotives and most rail car types we have in storage enable us to address surges in demand or operational challenges. Last March, for example, we brought 50 locomotives out of storage to help us more quickly recover from severe weather we experienced in February."
NS performance metrics are moving in the right direction, Squires wrote. "We are working hard to get our service reliability levels to where we want them to be, and we are encouraged by the steady progress we have been making," he wrote, noting that dwell has declined 14% since mid-February.
"This positive trend has taken place as volumes are increasing, a sign that we have the right resources in place," Squires wrote.
NS local carload service is on an upswing and its unit train cycle times remain strong, Squires wrote.
Links in the intermodal supply chain – including ports, container supply, dray capacity, and warehouses and distribution centers – have been disrupted to varying degrees by the pandemic. This, Squires says, has created congestion at some NS intermodal terminals.
"We are addressing these challenges, which are unrelated to railroad resource levels, by metering traffic at those facilities in order to minimize service disruptions and maintain fluid terminal operations," Squires wrote. "As we take these actions, we work closely with our customers, communicating with them frequently to minimize impacts.
Canadian National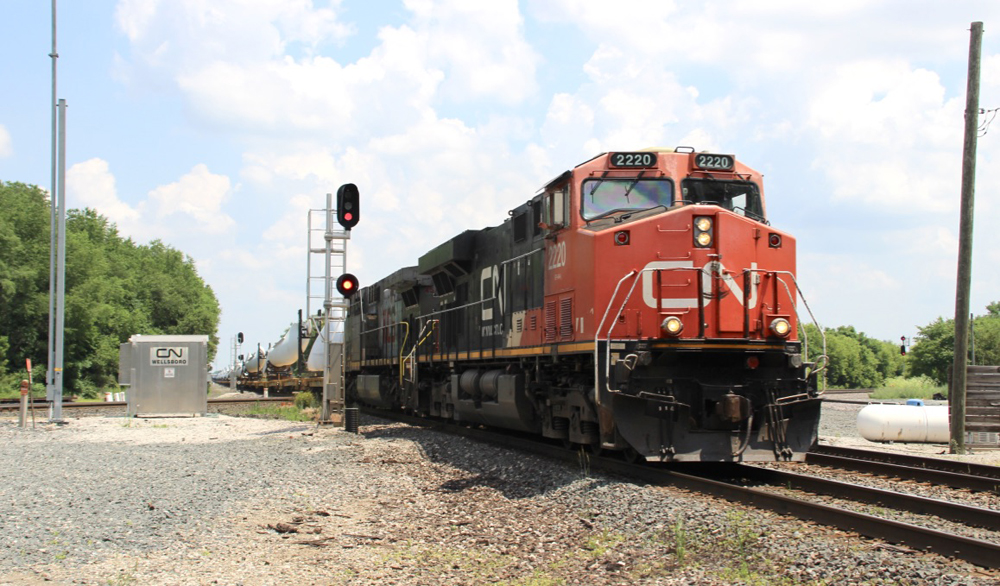 "I can assure you that CN is well situated to meet the needs and opportunities of the recovery," CEO JJ Ruest wrote. "We have the people and equipment in place to execute."
Ruest says CN is operating well in the U.S., with carload trip plan performance at 90% as of May 23 and intermodal trip plan compliance at 98.5%. "Currently, we are not experiencing any congestion or maintenance outages on our network, which continues to operate without issues," Ruest wrote, noting that CN is not experiencing crew shortages in the U.S.
The railroad has hired 532 employees in the past few months, and plans to hire 287 new conductors by the end of June, 250 by the end of September, and 170 by the end of December.
Some 433 conductors and 150 maintenance of way employees are furloughed across the system. "This is mostly due to change in traffic patterns, which cause some locations to be in surplus of employees at this time," Ruest wrote. "We expect most of those employees to be recalled before the end of 2021 as volumes continue to grow."
CN has 124 fewer locomotives in storage this year than last year. The railway had 46 locomotives in long-term storage in the U.S. as of May 23, compared to 38 at the same point last year. The railway had 155 units in short-term storage, versus 127 a year ago.
"We have ordered 75 locomotives for delivery in 2021 and 2022," Ruest wrote. "The order is based on growth and growth prospects we see over the next six to 24 months. In terms of timing, we expect to get roughly 25 of those here in the second half of 2021 and the other 50 in the first half of 2022."
Kansas City Southern
"KCS believes that we are where we need to be in terms of equipment; that we are making up as quickly as possible for reduction in transportation employee workforce due to workers who choose not to return from furlough; and that we are working to exceed pre-pandemic transportation employment numbers," CEO Pat Ottensmeyer wrote. "Increases in our locomotive fleet already in place, and commensurate increases under way in our transportation work force, put KCS in a good position to meet the foreseeable service needs on our system in the coming months."
Ottensmeyer's letter did not address chemical shipper complaints about delays to cross-border traffic in recent months [See "Chemical shippers cite widespread rail services problems …," Trains News Wire, June 9, 2021].
Some 16% of the engineers and conductors that KCS furloughed at the onset of the pandemic chose not to return to the railway when they were recalled. The railway aims to hire 200 conductors by the end of the year, on top of an unspecified number of conductor candidates that were certified on other railroads and hired to bolster the KCS crew roster in South Texas. In all, KCS has hired 108 transportation department employees so far this year.
KCS has 976 active owned locomotives, plus 68 leased units, currently on the roster. That compares to 874 active units in January 2020 and a pandemic low of 670 in June 2020, when traffic bottomed out.