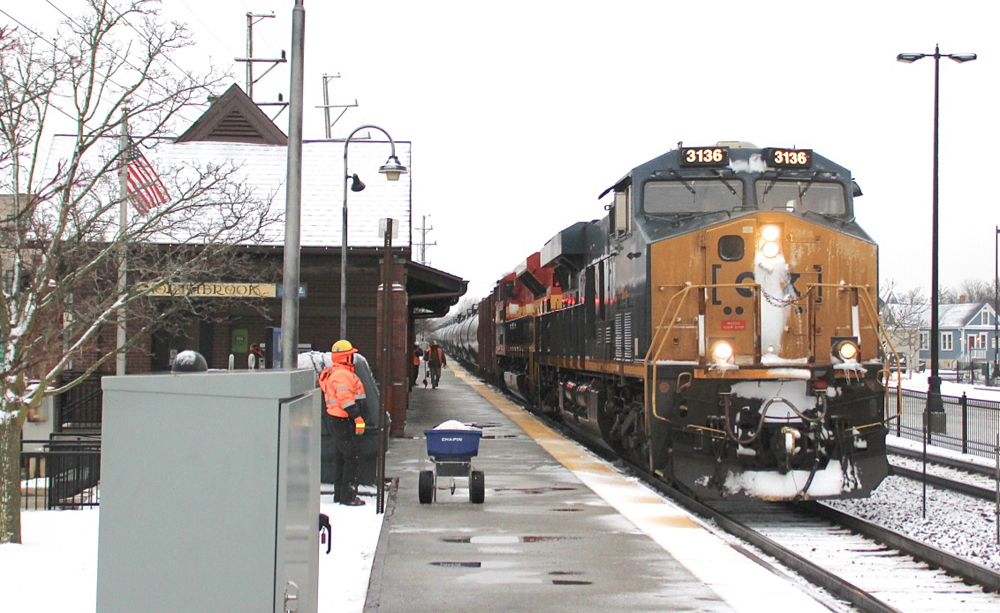 WASHINGTON — The trade association representing chemical shippers has asked federal regulators to put CSX Transportation under increased scrutiny due to what one company called an "operations meltdown."
Members of the American Chemistry Council reported "significant and persistent" railroad service problems, particularly with CSX. But Kansas City Southern and Norfolk Southern also were cited for erratic service.
"U.S. chemical shippers are experiencing widespread and persistent rail service challenges. These failures and delays are harming manufacturing operations, supply chains, and our ability to compete globally," American Chemistry Council CEO Chris Jahn wrote in a letter posted on the Surface Transportation Board website today. "While recognizing that the COVID-19 pandemic created daunting challenges for railroads, particularly with crew availability, we believe the current issues reveal systematic capacity constraints caused by cost cutting and major operational changes over the past several years."
The chemical shippers' complaints about CSX service largely mirror those raised by the railroad's fertilizer customers in a letter to the STB earlier this week. [see "Fertilizer shippers single out CSX …," Trains News Wire, June 8, 2021].
The chemistry association asked the STB to enhance its oversight of CSX, provide emergency service relief, hold railroads accountable for service failures, require railroads to suspend minimum volume requirements when service is poor, and boost competition among railroads.
On May 28, STB Chairman Martin J. Oberman wrote letters to the chief executives of the seven Class I railroads in which he outlined his concerns about rail service. Oberman asked the CEOs to update the board on their hiring plans for the next two years as well as their ability to meet freight demand, including crew and locomotive availability.
Chemical shippers said they had major service problems with CSX in the Gulf Coast and Southeast, particularly Atlanta; Mobile, Ala.; Jacksonville, Fla.; and at the New Orleans interchange with western railroads.
Problems included lengthy delays, cars delivered in bunches, cars dwelling for a week or more, and local service failures. A customer said transit times on one CSX route swelled by 150% over the past three months. And several complained of reductions in local service.
"Despite several escalating calls plus a teleconference, it took six days for CSX to move our product the 'final leg,' which was 15 miles from our plant," one customer said.
The CSX service issues forced some chemical companies divert shipments to trucks as well as to curtail production to avoid total shutdowns, the chemistry council said.
Nearly all respondents to the chemistry council's shipper survey reported problems on CSX, while 57% cited problems on KCS and 43% had issues with service on NS. No other railroads were named in the council's letter.
"Serious concerns are also reported on the KCS, particularly around Laredo, Texas, with dwell times sometimes reaching eight to 10 days," the chemistry council told the STB. "Respondents raised additional concerns about service from other Class I's in the Pacific Northwest, Midwest, and Northeast."
One chemical shipper said its cars were stuck on either side of the Laredo gateway, leading to customer shutdowns and requests for bulk trucking from the Mid-Atlantic to Mexico.
CSX CEO Jim Foote told an investor conference last week that the railroad is working to improve service and hire and train new crews.
"In most of the markets — rail, truck, anything — there's more demand than there is transportation product supply. It's as simple as that," Foote says. "The transportation product is struggling in our case for one reason and one reason only: We've been trying to hire since the beginning of the year."
CSX lost 7% of its train and engine crews to attrition last year and was unable to hire at the height of the pandemic because social distancing requirements made it impossible to hold training classes for new conductors, Foote said.
CSX on Thursday morning responded with a statement saying, "Along with safety, providing exceptional service is a priority for CSX. Due to the significant increase in Covid-19 cases and major weather impacts this winter, CSX experienced some service disruptions in isolated areas early in the year. We have since seen improvements in our service and performance metrics and will soon be sharing more detailed information with the Surface Transportation Board. We have been engaging with our customers directly and continue to work with them to resolve any remaining concerns."
— Updated at 7:55 a.m. CDT June 10 with CSX statement