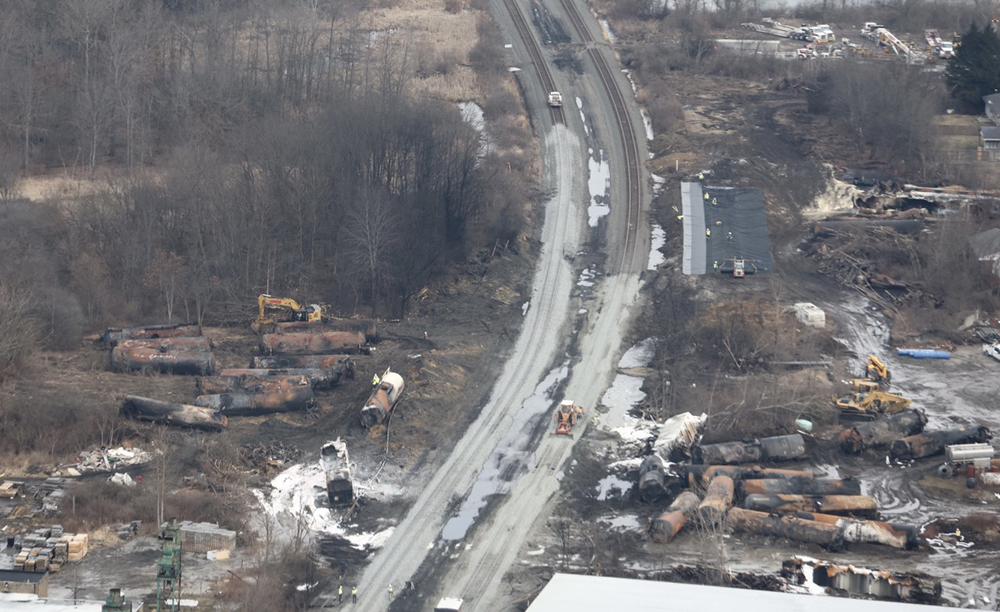 ---
BOSTON — Norfolk Southern's remediation work at the site of the February derailment in East Palestine, Ohio, is on pace to allow reopening of the second main line early next month, CEO Alan Shaw said today.
"What's important is we're making progress there," Shaw told an investor conference.
To date, NS has distributed $34.5 million to area schools, businesses, and families as part of its recovery efforts. "And that's just a start," Shaw says.
NS and its contractors have removed more than 40,000 tons of soil that was contaminated after the Feb. 3 derailment, which ultimately released toxic chemicals. They've also removed more than 17 million gallons of contaminated water. "There's more work to be done on both of those," Shaw says.
Once contaminated soil is fully removed from beneath the roadbed, NS will reinstall Track 2 and have both mains back in service on its key corridor linking Chicago with Harrisburg, Pa., and New Jersey. Trains are currently operating at restricted speed through the town near the Pennsylvania border.
The railroad is working with the attorneys general of Ohio and Pennsylvania to create long-term funds that will be established to address residents' concerns about their property values, health care, and long-term water monitoring. "We're addressing those issues," Shaw says.
Shaw, who visited East Palestine in the immediate aftermath of the derailment and has been back almost every week since, will award two scholarships to graduating seniors in a ceremony tomorrow at East Palestine High School. Shaw established a scholarship fund for students bound for college or vocational training.
Removing the single-track bottleneck through East Palestine is one piece of the puzzle required to return the railroad's merchandise service to normal levels. After a March derailment in Springfield, Ohio, NS tightened its train-building standards and increased its use of distributed power by 50%.
But until the railroad could revise train makeup rules after a review of each train symbol and each route on its system, it curtailed train length as a precaution. That caused terminal dwell to rise, merchandise train speed to fall, and car inventory to rise.
The NS merchandise network is beginning to recover as the railroad works through the backlog, Shaw says, but service likely won't fully bounce back until the third quarter. Right now NS can't meet demand for automotive or steel traffic because the merchandise network remains sluggish.
"Our intermodal network is running pretty darn well," Shaw says. "It's not exactly where we need it but it's in pretty good shape."
Shaw says progress is being made on Capitol Hill in Washington, where lawmakers last week made amendments to the Senate's Rail Safety Act that was proposed after the East Palestine wreck.
"I was in D.C. yesterday … there are a lot of things in that bill that make a lot of sense, and there are a lot of things in the House bill that make a lot of sense," Shaw says. "I can tell you that the Senate bill is in much better shape having come out of markup last week than it was going into markup."
"I really don't think a lot of the things in that bill are too overly burdensome for the rail industry or for our customers," Shaw says. "In fact, one of the primary focuses of that bill is enhanced tank car standards and I understand that the American Chemistry Council has endorsed the bill."
Shaw spoke at the Bank of America Transportation, Airlines and Industrials Conference.
Note: Updated at 4:19 p.m. on May 22 to correct amount of water removed from derailment site.