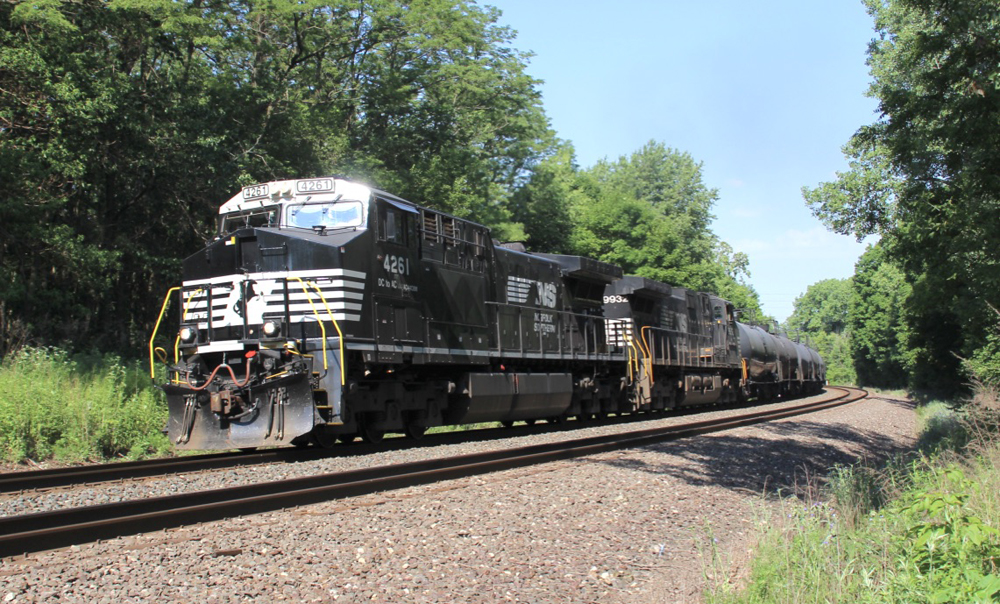 ---
WASHINGTON — The Senate Committee on Commerce, Science, and Transportation  approved a significantly revised version of the Railway Safety Act today (Wednesday, May 10), advancing the bill to the full Senate.
The Pittsburgh Post-Gazette reports the bill, introduced in the wake of the Feb. 3 East Palestine, Ohio, derailment, passed by a 16-11 margin, a vote largely along party lines. All committee Democrats voted for the bill, along with Republican U.S. Sens. J.D. Vance of Ohio, a co-sponsor, and Eric Schmitt of Missouri.
The substitute version of the bill that passed today has undergone a massive rewritten and grown substantially, from 18 pages in its original form to 77 pages in the new version. It makes hazardous material emergency training, which was just one of 11 sections in the original bill, its own four-part section in the new version. The Capitol Hill news site Roll Call reports the hazardous material provisions would expand grants for firefighters to purchase hazardous materials gear; empower the Secretary of Transportation to declare a significant hazardous materials incident, and provide up to $10 million to entities responding to such an incident.
Among notable changes:
— A requirement that the Secretary of Transportation set limitations for length and weight of trains transporting hazardous materials has been removed. In its place is a provision requiring the secretary to review a pair of reports and determine what existing regulations may require updating, "including consideration of the impact that train length and weight may have." (The reports are one issued by the Government Accountability Office in 2019 and another required under the Passenger Rail Expansion and Rail Safety Act of 2021.)
— A provision that said DOT-111 tank cars could not be used after May 1, 2025, unless they complied with DOT-117 specifications now sets a date of Dec. 31, 2028, and drops specific mention of DOT-111 cars. Instead, it says that any tank cars carrying Class 3 flammable liquids must meet or exceed DOT-117 specifications. (The 2028 date is itself an amendment from the 2027 date in the revised bill). The DOT-111 provision had been a concern for some shippers who use the cars for non-hazardous materials.
A total of nine amendments, beyond the substitute version of the bill, were passed by the committee. Among them was one from Sen John Thune (R-S.D.) requiring inspectors of railroad equipment to be subject to drug tests.
Roll Call also reports that several amendments were either defeated or withdrawn. Sen. Cynthia Lummis (R-Wyo.)  withdrew an amendment which would have struck the requirement for two-person crews, which the railroad industry opposes. Sen. Ted Cruz offered and withdrew an amendment which would have barred the Department of Transportation from prohibiting transport of liquefied natural gas by rail, and saw an amendment regarding cost-benefit analysis of the bill defeated.
Thune (R-S.D.) proposed an amendment which would have eliminated funding for commuter rail; Fox Business previously reported that funding would address wayside detector requirements. The SMART-TD union reports on its website that Thune offered an amendment that he said would address the bill's burdens on Class II and Class III railroads, but that it was defeated.
The Association of American Railroads called for legislators to "continue refining" the bill in a statement following its passage, with AAR CEO Ian Jefferies saying committee negotiations had led to "substantive improvements" addressing rail safety and support of first responders.
But Jefferies indicated railroads continue to take issue with provisions regarding two-person crews, regulation of wayside detectors, and increasing rules for transportation of hazardous materials, saying, "In a piece of safety legislation, each provision should be clearly designed to rectify a current safety challenge. As reported out of the Committee, this bill falls short of that goal."
The American Short Line and Regional Railroad Association expressed similar mixed emotions.
"The bill as approved in Committee today represents meaningful progress towards recognizing the unique needs of smaller freight railroads across the country and mitigates many of the unintended consequences that we were concerned about," ASLRRA President Chuck Baker said in a statement.
"However, due to the interconnected nature of the U.S. freight rail system, short lines are still apprehensive that this broad set of proposed new regulations would have repercussions throughout the supply chain, may ensnare smaller railroads directly regardless of the legislation's intent, and that funding proposals in the legislation may diminish opportunities for short line safety improvements."
"We pledge to continue working diligently and in good faith with members of Congress, as they have with us, to address all remaining concerns as the bill moves forward."
Norfolk Southern CEO Alan Shaw, whose railroad has been under intense legislative scrutiny since the East Palestine derailment, said in a statement that the committee vote was "a first step toward the ultimate goal of enacting bipartisan legislation that advances rail safety and strengthens the ability of rail carriers to maintain their critical role in the nation's economy. The Committee bill contains important advancements in accident prevention, accident mitigation, and accident response that will make our railroads, our employees, and communities safer."
— Updated at 6:30 p.m. CDT with additional information on revisions to bill and amendments that were defeated in committee meeting; updated and greatly revised at 7:38 p.m. CDT with additional details and links to text of revised bill and amendments.