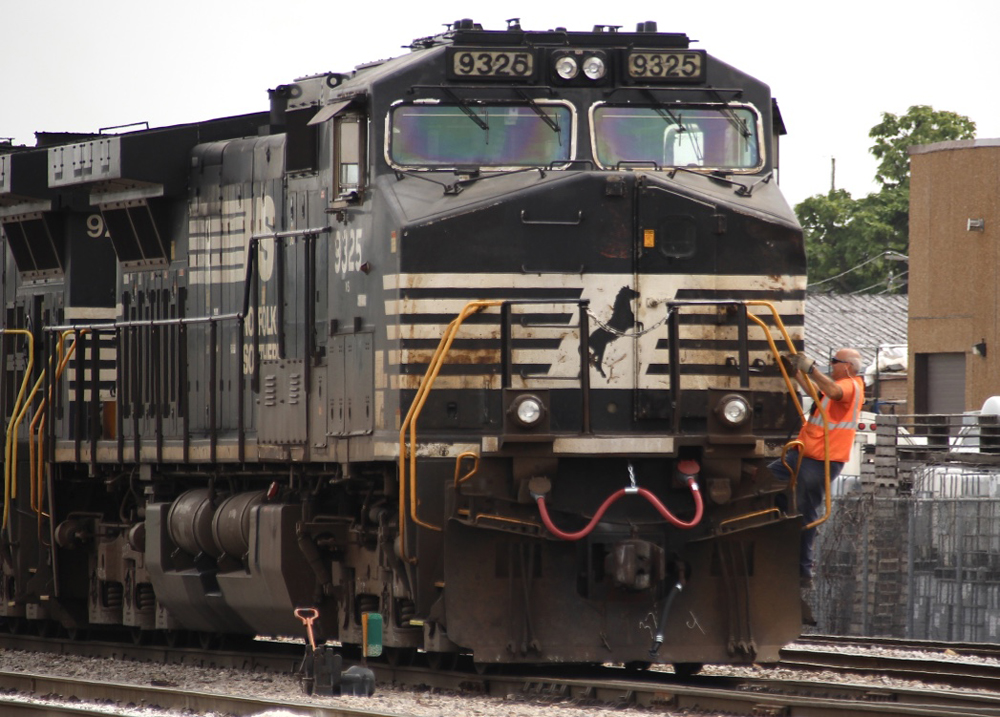 NORFOLK, Va. – Norfolk Southern's chief financial officer says the term "one-person crew" is a misnomer that has only stoked controversy about the rail industry's proposal to use ground-based conductors on routes protected by positive train control.
"It's unfortunate the terminology on one-man crew or one-person crew … because I don't think it's really the right terminology and it's become a bit of a lightning rod," Mark George told an investor conference today.
"The reality is this is about crew redeployment. Technology has rendered the role of a conductor in the cab itself unnecessary. So what we would like to see is ground-based conductor positions," George says. "We think that that's better for all stakeholders, including the crew people themselves to be on the ground as opposed to stuck in the cab. So that is definitely an area that we'd like to continue to push."
The Class I systems envision using roving conductors who are responsible for several trains in their territories.
The Class I railroads are currently in national negotiations with rail labor unions. In November 2019 the National Railway Labor Conference told labor unions that it was critical for the industry to take advantage of technology and adapt to changing times and competitive pressures.
"Perhaps the most glaring example of our need for modernization concerns the size and makeup of train crews. In order to take full advantage of new investments in modern technology, reduce human error and better align operational costs with other industries, railroads propose to redeploy conductors from the cab of the locomotive to ground-based positions on territories where PTC or equivalent technologies are enabled," the labor conference said. "Redeploying employees to ground-based positions in these territories will safely and more efficiently meet the industry's operational and service requirements while providing those employees with higher quality-of-life jobs that allow more employees to spend their nights at home after shifts rather than at hotels."
Negotiations, which also include broader contract issues, are not expected to conclude for another couple of years, George says.
Railroads argue that positive train control, which is designed to prevent train collisions and overspeed derailments, reduces the need for a second pair of eyes in the locomotive cab.
Rail labor opposes reductions in crew size and contends having just one person in the cab would pose safety and service issues. Unions have backed state laws that would require two people in the cab of locomotives. Railroads have challenged laws that have been enacted in several states.
SMART Transportation Division President Jeremy R. Ferguson says keeping two people in the locomotive cab adds a critical layer of safety.
"Having two people aboard a train is about public safety, employee safety, and safe operations. There is a rule of two in safety-sensitive industries — pilot and co-pilot in the air, driver and medic for EMS, first responder and a backup for police and fire," he says. "With the risks involved in transporting many of the materials our trains carry, freight rail should be counted among those. Anything less is a risky attempt to appease corporate greed and to place productivity and profit ahead of safety."
Ferguson also says that the industry's shift to Precision Scheduled Railroading has reduced employment levels, significantly boosted train lengths, and placed increased demands on train crews.
"Taking the conductor out of the cab does nothing to decrease task overload, mitigate the historical problem of mental fatigue that rail crews experience or help to prevent the loss of situational awareness that rail crew members, including engineers, are experiencing due to a combination of slashing jobs and Precision Scheduled Railroading," Ferguson says. "Using the euphemism of 'redeployment' merely masks the fact that an initial responder will be taken out of the train when a rail incident occurs. As supported by studies done by the Volpe Center, the eyes, ears and knowledge and skill set provided by a conductor in the cab along with an engineer is a major reason why rail crews work efficiently now when things go well and are able to quickly respond above and beyond the call when things do not — simply look at what happened this past weekend in Iowa and Minnesota for evidence of that."
Ferguson was referring to two Union Pacific derailments over the weekend.
He also is critical of technology that railroads say will help in the shift to one-person crews.
"Carriers' visions of one-person crews provide no solution to the shortcomings of technologies such as Positive Train Control and Trip Optimizer/Leader or to the business practices the Class I's have largely chosen to pursue," Ferguson says.
Earlier this month Union Pacific CEO Lance Fritz said the answer to driverless trucks, which are currently making pilot runs in the Southwest, is autonomous trains. A first step, Fritz says, is reducing crew size [see: "Union Pacific says autonomous trains are the answer …," Trains News Wire, May 5, 2021].
— Updated at 8:35 p.m. CDT with comments from SMART Transportation Division President Jeremy R. Ferguson