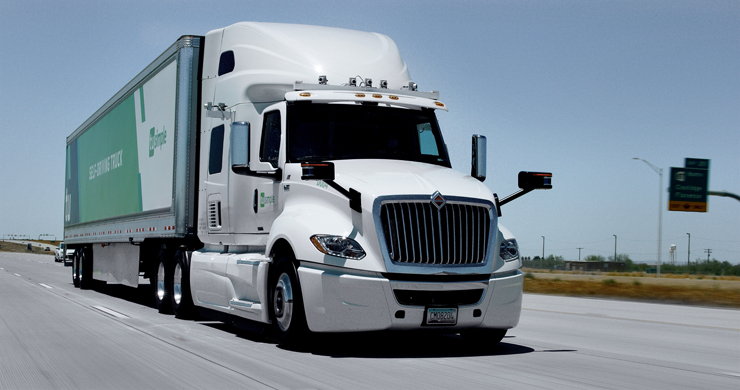 OMAHA, Neb. — How can railroads compete with autonomous or electric trucks that would dramatically reduce the cost of trucking?
"Ultimately, our answer to autonomous trucks is autonomous trains," Union Pacific CEO Lance Fritz says. A first step toward automation is reducing crew size where feasible, Fritz said during the railroad's investor day Tuesday.
UP invested in autonomous truck company TuSimple in December to keep tabs on the technology, and so it can test driverless rigs for intermodal drayage service, Fritz says. TuSimple, which runs autonomous trucks in the Southwest with a driver aboard who can step in if necessary, plans to make its first driverless revenue move this fall.
Analysts say that autonomous rigs could threaten nearly a third of the traffic that currently moves by rail. Electric trucks are significantly cheaper to operate than diesel rigs and are likely to arrive sooner, and in greater numbers, than driverless rigs, according to consulting firm Oliver Wyman. Either would erode rail's cost advantage over trucks.
"Using the positive train control platform we've already invested in, we believe the ability to reduce crew size is in our future," Fritz says. "This provides for a safer and more sustainable method of transportation. Certainly, from a public safety standpoint, running an autonomous train on a fixed track seems much safer than running 18-wheelers without drivers on our highways."
National negotiations between the Class I railroads and rail labor are in their second year. Reducing the size of train crews from two to one is on the table. Unions have long opposed further reductions in crew size and have argued that moving to autonomous trains would pose service and safety issues.
"We are committed to at least engaging seriously in the conversation about getting to a crew consist deal, where when we are prepared on the right territory, we can reduce the number of people in the cab of the locomotive to match the work," Fritz says.
UP envisions using ground-based roving conductors who would be responsible for several trains within their service territories. "We think that's got a lot of positives to it," Fritz said on the railroad's earnings call last month. "First and foremost is a lifestyle improvement for half the cab of the locomotive in that circumstance."
Instead of working unpredictable hours in the cab, he explains, conductors would instead work regular shifts and sleep in their own beds every night. And UP would see its crew costs fall.
Fritz says UP must do three things to maintain the railroad's cost advantage against autonomous trucks: Go to one-person crews and eventually autonomous operation; reduce fuel consumption; and ensure the railroad's transportation plan is as efficient as possible.
"All three of those are going to keep us in front of trucks," Fritz says.