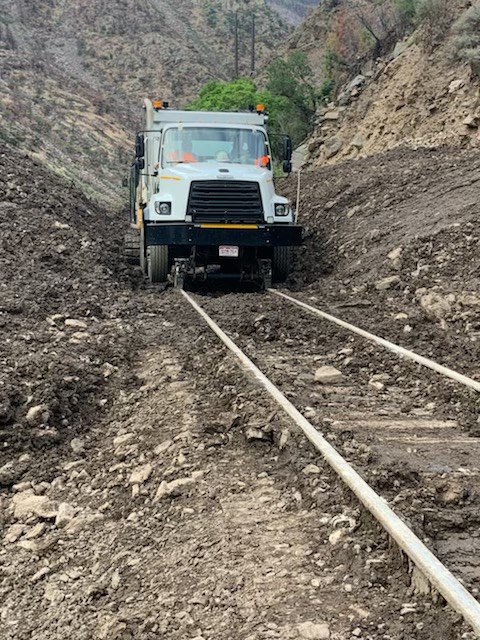 GLENWOOD SPRINGS, Colo. — Union Pacific has posted photos to its social media accounts, including Facebook, showing its work to dig out from mudslides last week that closed its route through Colorado's Glenwood Canyon.
Clearing of debris and rebuilding track was completed early this morning, with the first freight train passing through the slide area about 6 a.m., UP spokeswoman Kristen South reports. The slides followed heavy rains in an area where foliage burned during wildfires last year.
While the former Denver & Rio Grande Western line is a secondary route for freight traffic, it is used by Amtrak's California Zephyr, which since Friday, July 30, has been unable to operate beyond Denver for westbound trains and Grand Junction for eastbounds [see "'California Zephyr' route closed …," Trains News Wire, Aug. 2, 2021]. Zephyrs leaving Chicago and Emeryville, Calif., on Thursday will be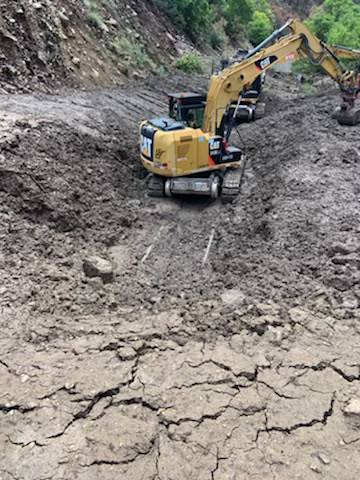 the first to offer service over the full route, meaning the first passenger trains to pass through the slide area will do so on Friday. Those trains will have limited space available, as they pick up passengers who have been stranded since the slides occured.
Adjacent Interstate 70 has also been closed by slides, a closure Colorado Public Radio reports could extend for several more days or weeks. The highway closure has prevented Amtrak from operating a bus bridge between the two operating segments of the Zephyr.
— Updated at 4:05 p.m. CDT with reopening of line; updated at 5:35 p.m. with details on resumption of Amtrak service