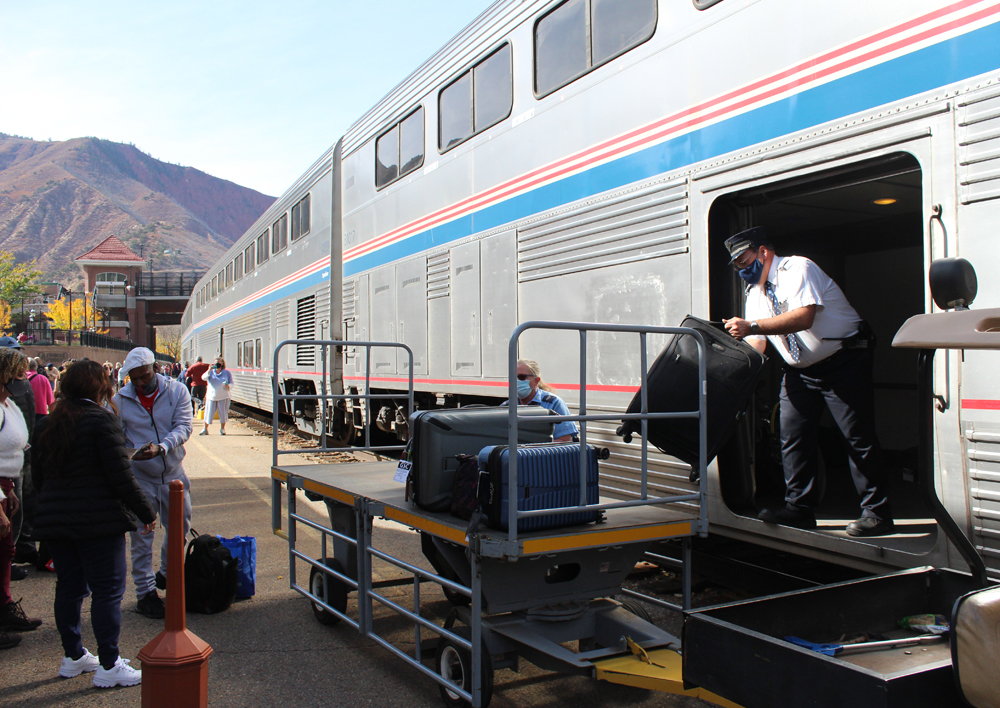 GLENWOOD SPRINGS, Colo. — Massive mudslides have washed out Union Pacific's former Denver & Rio Grande Western route through Glenwood Canyon, east of Glenwood Springs, while also blocking part of adjacent Interstate 70.
The slides not only have disrupted Amtrak's California Zephyrs, which normally pass in the area between crew change points in Denver and Grand Junction, Colo., but also mean alternate bus transportation has not been available. Eastbound and westbound trains already en route were terminated (short of the slide location) Friday, Saturday, and Sunday, and turned the same day at Denver or Grand Junction to return to their starting point. In doing so, they assumed the schedule of the trains that had been terminated.
Stranded passengers were given the option to return to their point of origin or wait for the line to open. Affected customers on Zephyrs that hadn't departed when the mudslides occurred were contacted and offered refunds or assistance with rebooking.
More than 100 motorists were trapped in their cars overnight Thursday, including 29 who took refuge in the road's Hanging Lake Tunnel, CNN reports.
On Saturday, additional mudslides also closed a highway north of Granby, Colo., a station on the Zephyr's route, and U.S. Route 6 over Loveland Pass. The Colorado Department of Transportation said I-70 would remained closed through the weekend.
Union Pacific spokeswoman Susan Stevens tells Trains News Wire, "Ten locations on the track were impacted by mud and rock slides. Equipment is on site and crews are working to clear the debris. Several locations were already cleared before cleanup was temporarily delayed for safety concerns due to weather."
Crews worked Saturday and Sunday to clear the last few locations. The railroad anticipates that route will be open again early Monday, but UP's Kristen South cautions, "Reopening is contingent on the weather cooperating with us."
Amtrak spokeswoman Beth Toll tells News Wire, "There was an initial discussion about detouring through Wyoming, but this was unable to be supported." The company advised passengers on Zephyrs departing from Chicago and Emeryville, Calif., on Sunday that service "may be affected" through the area, meaning the trains may or may not be able to pass through the canyon today.
The mudslides and closures come just two weeks before the scheduled Aug. 15 debut of Rocky Mountaineer's "Rockies to Red Rocks" daytime excursions using the same route.