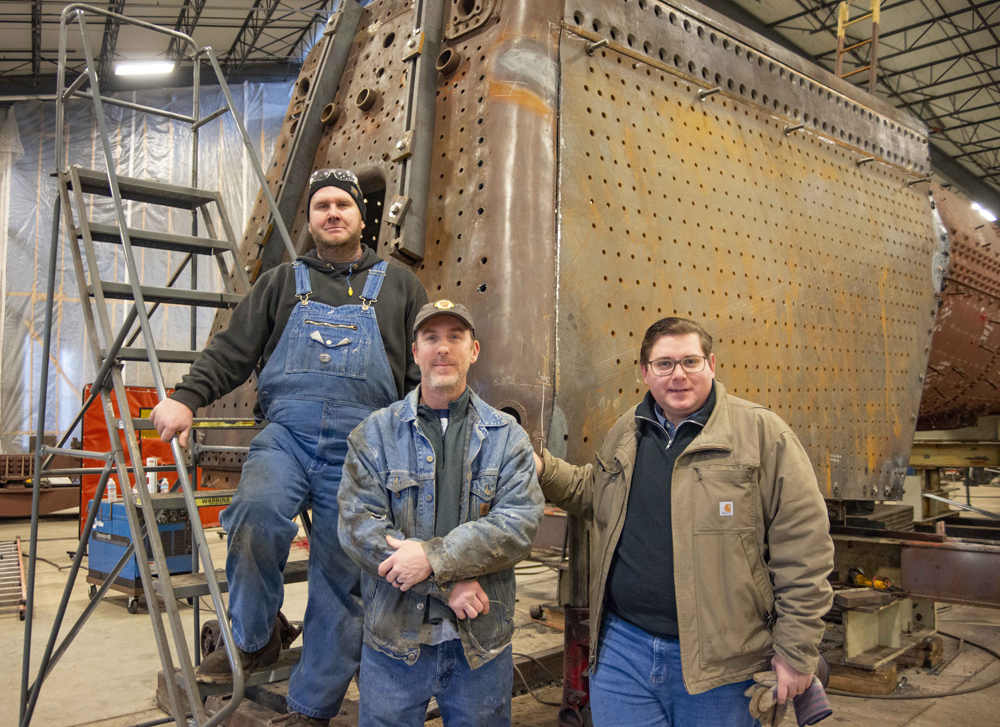 ---
ALTOONA, Pa. — The first new Belpaire steam-locomotive firebox built in Altoona in 76 years is taking shape at the Railroaders Memorial Museum.
Over the last week, employees of consultant FMW Solutions LLC and volunteers have fabricated a new firebox for former Pennsylvania Railroad Class K4s 4-6-2 steam passenger engine No. 1361 (PRR Juniata Shops, 1918). The last such work was completed in 1946, when the PRR built 25 T1-class streamlined 4-4-4-4 passenger engines in its shops here. Those locomotives, along with 27 T1s built by Baldwin Locomotive Works, were supposed to replace the road's 425-member K4s fleet, but instead were themselves quickly replaced by diesels, starting in 1947.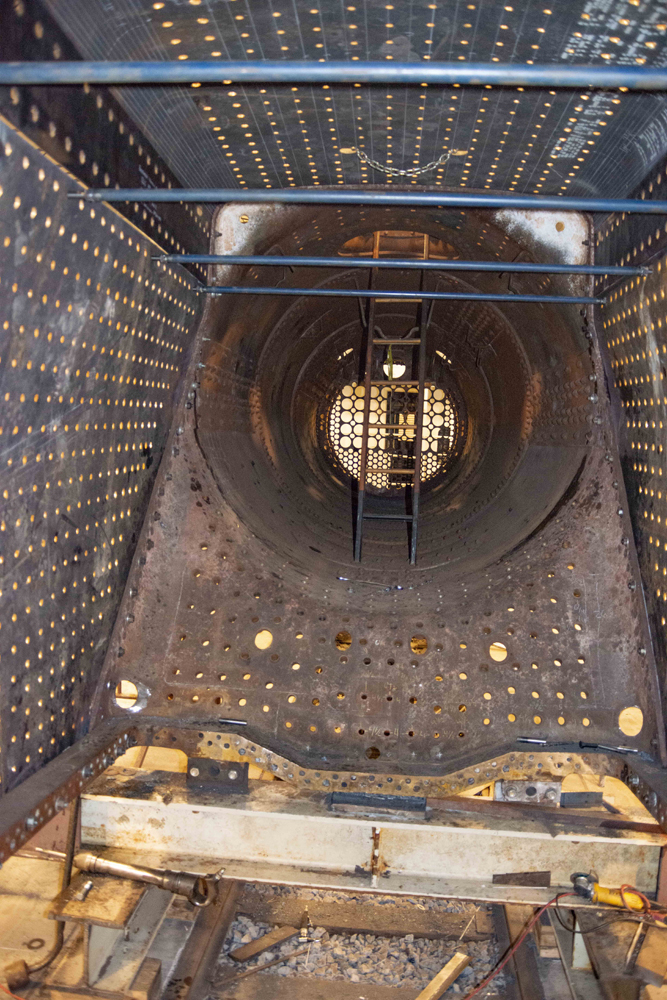 No. 1361 is undergoing a $2.6 million restoration to return it to running condition [see "PRR K4s engine No. 1361 to be restored …," Trains News Wire, June 25, 2021]. One of the obstacles is that the original mechanical specifications — drawn up by PRR in 1914 — do not meet present-day federal pressure-vessel safety standards. The museum has hired FMW to engineer and build a new firebox that's visually identical, but with thicker steel and other modifications that simplify and strengthen the component.
Shane Meador, FMW vice president-mechanical, and Zach Hall, an FMW foreman, oversaw the work of cutting out 7/16th-inch steel plates for the side and roof sheets, then assembling and welding them together to form a new firebox. PRR used 3/8th-inch steel, which doesn't meet the Federal Railroad Administration's "factor of 4" safety standard, meaning that a boiler must withstand a force of four times its normal operating pressure — for a K4s, 205 pounds per square inch.
The unusual squared-off Belpaire top results from a standard PRR adopted in the 19th century, differing from the radial, smoothly rounded shape of most North American locomotive boilers. Many British and European steam engines employed the Belpaire design, as did many Great Northern Railway engines.
Used on thousands of PRR locomotives of many classes, the odd shape added to the cost and complexity of No. 1361's restoration, including press-brake work to gently bend the side plates to meet the dimensions of the squared top.
Computer program helps engineer boiler changes
Meador said FMW used a computer program named Solidworks to precisely engineer the wrapper side sheets to conform to the round third boiler course and the squared top. Earlier this week, the components — right wrapper side sheet, right Belpaire plate, roof sheet, left Belpaire plate, and left wrapper side sheet — were being welded to prepare them to make "one continuous structure," Meador said. He added that some original PRR methods, including a riveted seam, were being replaced with an improved design that eliminates potential weak points and future maintenance headaches.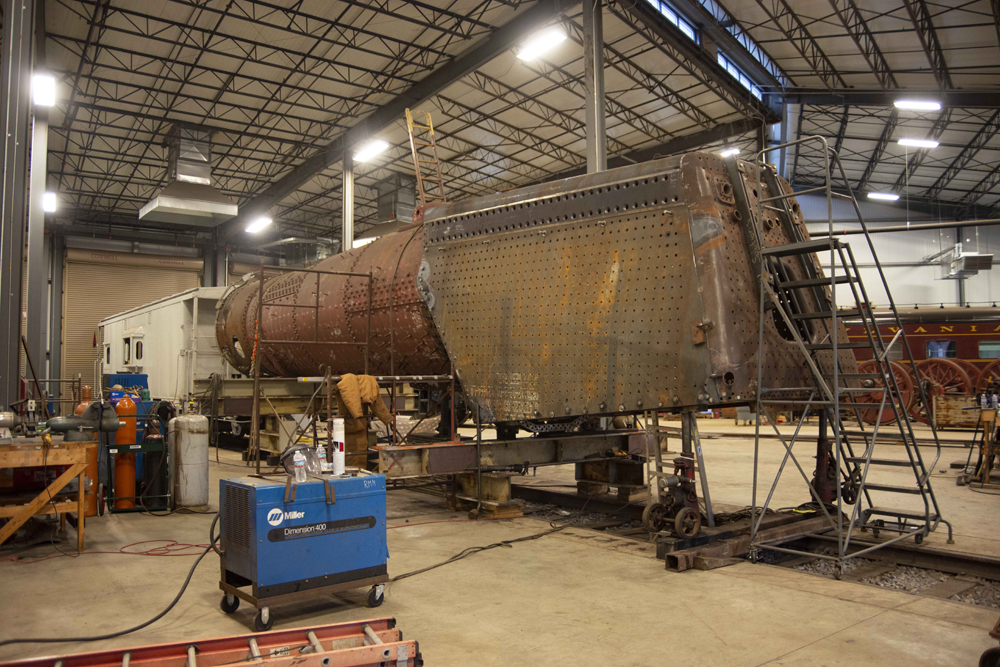 Another modification is the use of a Flannery staybolt pattern instead of the original PRR design. "It'll improve maintenance, improve longevity, and hopefully we won't have as many broken staybolts," Meador said. Pittsburgh-based Flannery Bolt Co. was a major supplier of staybolts, which create the space in a boiler for water to be heated into steam.
"When we get the fit done, [the outer shell] will be disassembled and heat-treated here in Pennsylvania, then it will be reassembled with rivets in the throat [where it meets the round third boiler course]," he said. That will involve some 250 to 300 rivets.
Once the outer structure is complete, the dimensions of the inner firebox, including the crown sheet, will be created in computer-aided design, Meador said.
Working with Meador and Hall are museum volunteers Andy Charlesworth, Tom McKelvey, Mike Reindl, and Brandon Sliko, as well as Dick Charlesworth and Bill Harella of the Horseshoe Curve Chapter of the National Railway Historical Society,
The outer wrapper work is expected to cost $150,000 of the total firebox work amount of $400,000, according to museum Executive Director Joe DeFrancesco. Of that, he said, the Pennsylvania Railroad Technical & Historical Society contributed more than $100,000 in June, which was matched by an anonymous donor. Another donation of $200,000 brought the total to $400,000.
"That will close out our current phase of the overall [$2.6 million] campaign," he said. "Next year we'll launch the next phase of fundraising." That will address boiler and running-gear work.
"We're very humbled and very pleased with the results," DeFrancesco said, "I appreciate the team [effort by] donors big and small, members, volunteers, and staff. It's momentum — it shows that it's shared enthusiasm. All things, considering [the] post-pandemic [situation], we're very happy and very grateful."
No. 1361 was one of 425 K4s-class engines built by Juniata (350) and Baldwin Locomotive Works (75). The type dominated the carrier's passenger-locomotive fleet for nearly 40 years, until the last were retired in 1957. The only other survivor is No. 3750 (Juniata, 1920), located at the state-owned Railroad Museum of Pennsylvania in Strasburg.
PRR retired No. 1361 in 1956 and the next year placed it on display at Horseshoe Curve. In 1985, the museum removed it from display and restored it to operation, briefly, in 1987-88.
Eighteen months ago, RMM Board Chairman Wick Moorman and DeFrancesco announced the plan to reactivate the engine. Moorman and longtime PRR historian and benefactor Bennett Levin are leading the project to not only restore the locomotive, but also to assemble a train of coaches and display cars to travel the state in an educational mission to tell the story of railroading in Pennsylvania. Already the museum has two PRR B60B baggage cars that can be used to hold exhibits.