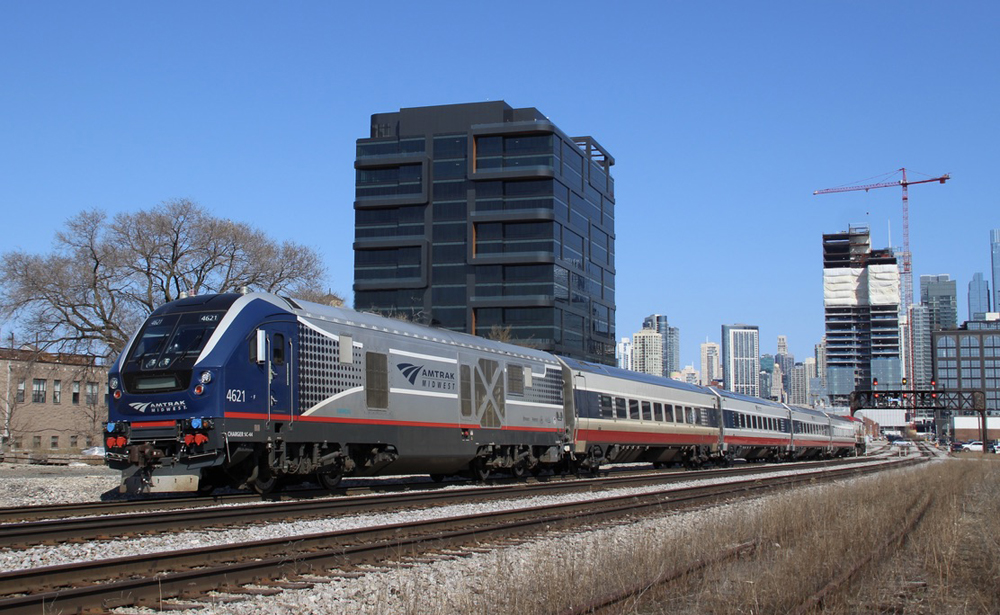 ---
Second of two parts
CHICAGO — The introduction of Venture business/coach cars on some state-supported Amtrak routes in the Midwest reflects an increase in availability of the Siemens-built equipment, delayed by a variety of production and acceptance issues.
Meanwhile, there is still no firm date for the introduction of California's Venture equipment, although a spokesman for the state's Department of Transportation says it will come this summer.
Trains News Wire provided a firsthand look at the new Midwest business-class cars in Part One of this report ["Venture business-class cars debut …," April 13, 2023].
Three Venture business/coach and 40 straight coaches were fully accepted and available for service during the last week in March, Illinois Department of Transportation spokesman Scott Speegle tells News Wire.
"Another two business/coach and five coaches are in the queue to be fully accepted and ready to be put into revenue service in the coming weeks, and another six cars (four business/coach and two coaches) are being shipped to Chicago and will be arriving soon," says Speegle. A café car continues to undergo climate testing in Canada; he says IDOT "hopes to begin introducing the new café cars in revenue service later this year."

Other spotting features for the new cars: Aside from "Business class" appearing next to one of the doors, 3A business class/coach cars have side doors at both ends (one contains a wheelchair lift) whereas both the 1A and 1B straight coaches have one of the doors blanked out on each side. This is where trash receptacles are located inside the car.
Where are California's cars?

---
Siemens and the California Department of Transportation said last fall that the first seven cars in the state's 49-car order for San Joaquin service had been accepted by Caltrans [see "California, Siemens say first Venture cars are ready …," News Wire, Oct. 5, 2022]. But the cars have yet to turn a wheel in service.
Responding to a News Wire question about the reasons for delivery delays, Siemens says in a statement, "It is up to our customers and their operators to determine when cars are deployed into passenger service. Siemens Mobility has implemented several design improvements which will benefit the operators and passengers since the initial IDOT cars entered service." The carbuilder declined to elaborate on those improvements in a follow-up email.
Caltrans' Senior Media Officer Edward Barrera says San Joaquin deployment is now set for "Summer 2023." The state plans on running intact trainsets with cab cars where all equipment is semi-permanently coupled, but California cab cars aren't expected until the first quarter of 2024. Business class isn't offered on San Joaquins and there will be no manned cafes either. "We will have vending machines and we are seeking a vending machine operator," says Barrera.
In a lengthy explanation to Trains News Wire, he adds, "A number of factors go into the decision of when an operator is ready to put a railcar into service: testing, resolution of issues, ability to accept the vehicle, crew comfort with the vehicle operations, and maintenance agreements. Caltrans and [the Illinois Department of Transportation] have separate processes and timelines to meet our own operating needs. In California, some third-party operation/maintenance agreements need to be resolved; Venture railcars in the California fleet [also] had some open items remaining. Both — agreements and open items — are being worked out, and we are working to place cars in the revenue service in the near future."