BOSTON — The Massachusetts Bay Transportation Authority has announced plans for another significant closure of one of its rail transit lines, just two days after saying it would shut down another line entirely.
The Boston Globe reports the MBTA plans to pose a portion of the Green Line for four weeks beginning Aug. 22, and will push back the opening of the Medford Branch by until November, the latest in a series of delays for that new segment.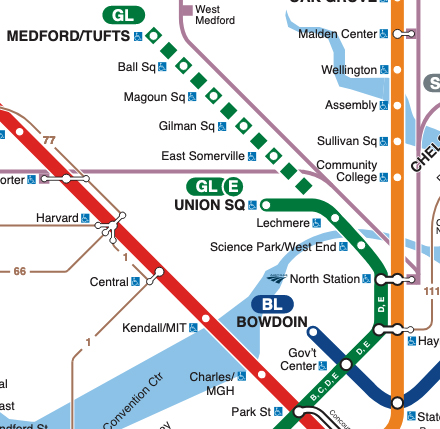 Green Line operations will be replaced by buses between the Government Center and Union Square stations, a six-station segment, part of which only opened in March. The closure is to accommodate work to prepare for the opening of the Medford branch, a 4.3-mile, five-station addition which will connect to that portion of the line.
"I know it is frustrating, but this is necessary work," MBTA general manager Steve Poftak said in a media conference call. "… We thought rather than having multiple diversions, multiple closures, and multiple service modes on this part of the Green Line, we would have it be consistent and we would give our forces unencumbered access to the entire workspace."
Friday's announcement comes on the heels of the decision to shut down the entire Orange Line for 30 days beginning Aug. 19 [see "MBTA to shut down Orange Line …," Trains News Wire, Aug. 3, 2022]. The two lines have a short parallel segment between Haymarket and North Station.
An MBTA announcement says the move from a late summer to November opening for the Medford Branch is because of factors "including necessary additional work and re-testing of the Medford Branch's power systems." The Globe reports the branch was originally scheduled to open last December, then in March. Test trains began running on the branch in May.