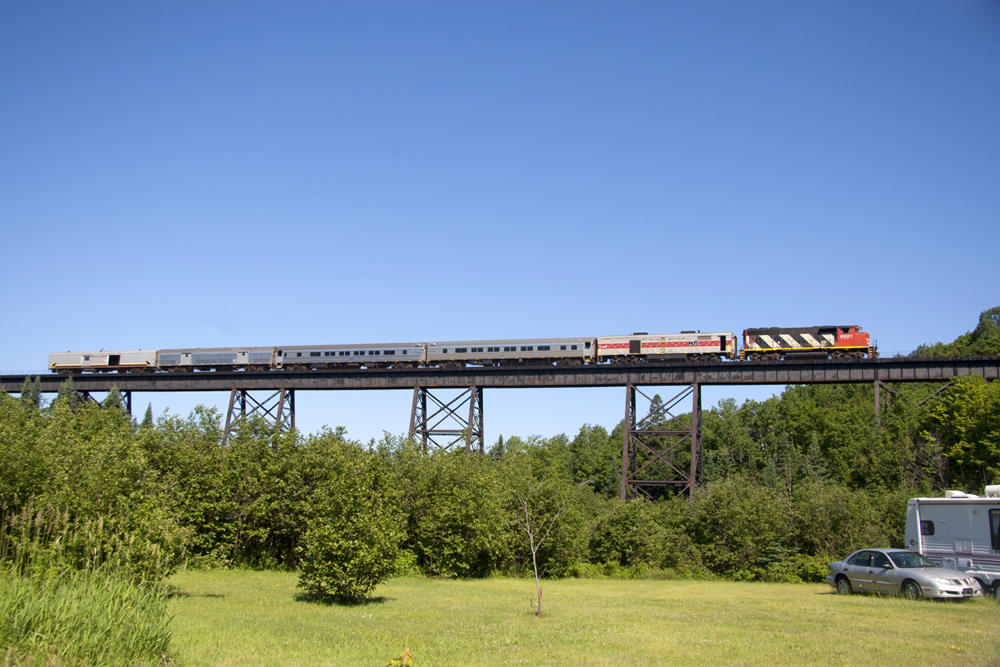 ---
SAULT STE. MARIE, Ontario — The chief of a First Nation group is planning a meeting with Watco management to discuss possible resurrection of passenger service on the transportation company's newly acquired Algoma Central Railway.
Missanabie Cree First Nation Chief Jason Gauthier tells the Sault Star newspaper that he is "confident" the new owner of the railroad will work with him and other groups interested in the passenger service. "I believe our discussion will be about the Memorandum of Understanding and how we can optimize it. … There has been a lot of collaboration going on and a lot of work put in to design a strategy that will see the train roll out again."
Watco's acquisition of the railroad from Canadian National was announced in 2021, as part of a deal also including CN branch lines in Wisconsin and Michigan [see "Watco purchases lines …," Trains News Wire, March 30, 2021]. At that time, the Missanbie Cree signed a memorandum of understanding for partnership opportunities, including the desire to revive the passenger train between Sault Ste. Marie and Hearst, Ont.
CN, which acquired the Algoma Central as part of its 2001 purchase of Wisconsin Central, ended the 296-mile service to Hearst in 2015, after failing to reach an agreement with a contract operator for the passenger train. A 114-mile tourist rail operation, the Agawa Canyon Tour Train, continued, although its 2020 season was cancelled because of the COVID-19 pandemic.
Travis Anderson, Sault Ste. Marie's tourism director, said he is in constant communication with Watco about its plans for the Agawa Canyon train, and hopes to meet with the company in March.
While he awaits a meeting with Watco — which finalized the purchase of the Algoma Central just two weeks ago — Gauthier is continuing to lobby the Canadian government for about C$2 million in annual funding for the Hearst operation, which provided the only reliable year-round form of transportation to some remote properties. Other groups are also pushing for the federal funding.
"We continue to push forward and we'll get there," Gauthier told the newspaper. "We are known for doing things in the long haul, so these delays are not surprising to us. I know we will get through it," he said.