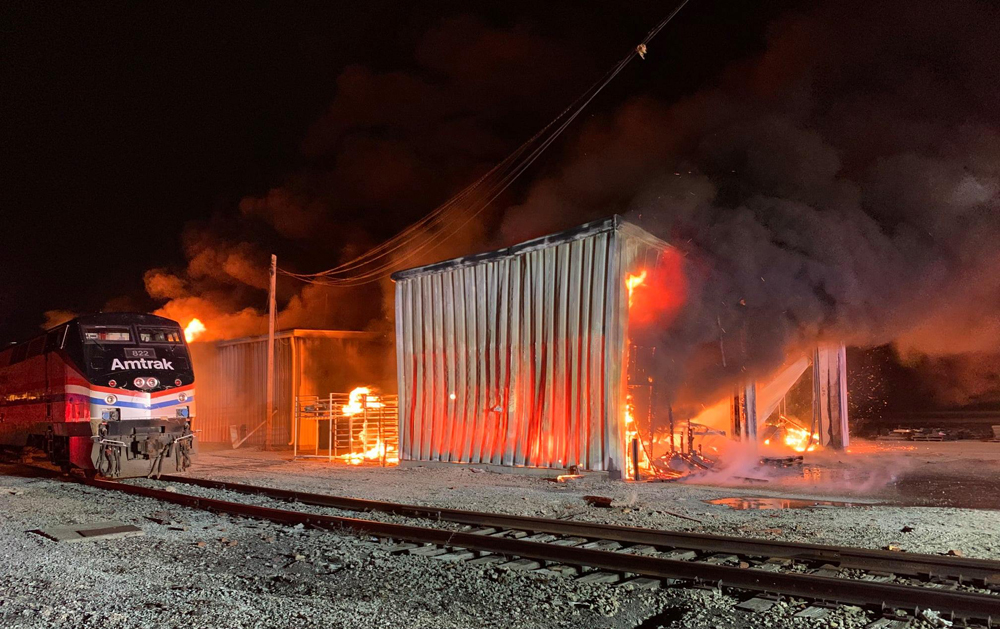 ---
INDIANAPOLIS — A Beech Grove, Ind., man has been sentenced to eight years in federal prison for a pair of arson fires, including one at Amtrak's Beech Grove heavy maintenance facility that caused more than $1.1 million in damage.
The U.S. Attorney's Office for the Southern District of Indiana says in a press release that Casey Sage, 35, was sentenced after pleading guilty to arson of a federal property and arson of property of an organization receiving federal financial assistance.
Court documents say Sage entered the Amtrak facility shortly after midnight on May 1, 2021, and ignited a railroad flare, throwing it into a building used to store acetone, paint, denatured alcohol, and other combustible materials. Two buildings were destroyed in the resulting fire [see "News photos: Fire destroys buildings …," Trains News Wire, May 2, 2021].
Investigators also found that Sage set a fire at the apartment of an ex-girlfriend in Greenwood, Ind., at a complex receiving federal Section 8 funding through the Department of Housing and Urban Development. That fire caused more than $100,000 in damages to the building and about $10,000 in property loss for the tenant.
"The arsons committed by the defendant were an outrageous course of conduct that endangered apartment complex residents and emergency personnel," said Zachary A. Myers, U.S. Attorney for the Southern District of Indiana. "… The serious sentence imposed today demonstrates that those who commit arsons with utter disregard for the lives and safety of the public will be held accountable."
The sentence imposed by U.S. District Judge James Patrick Hanlon also requires five years' probation following Sage's release from prison.