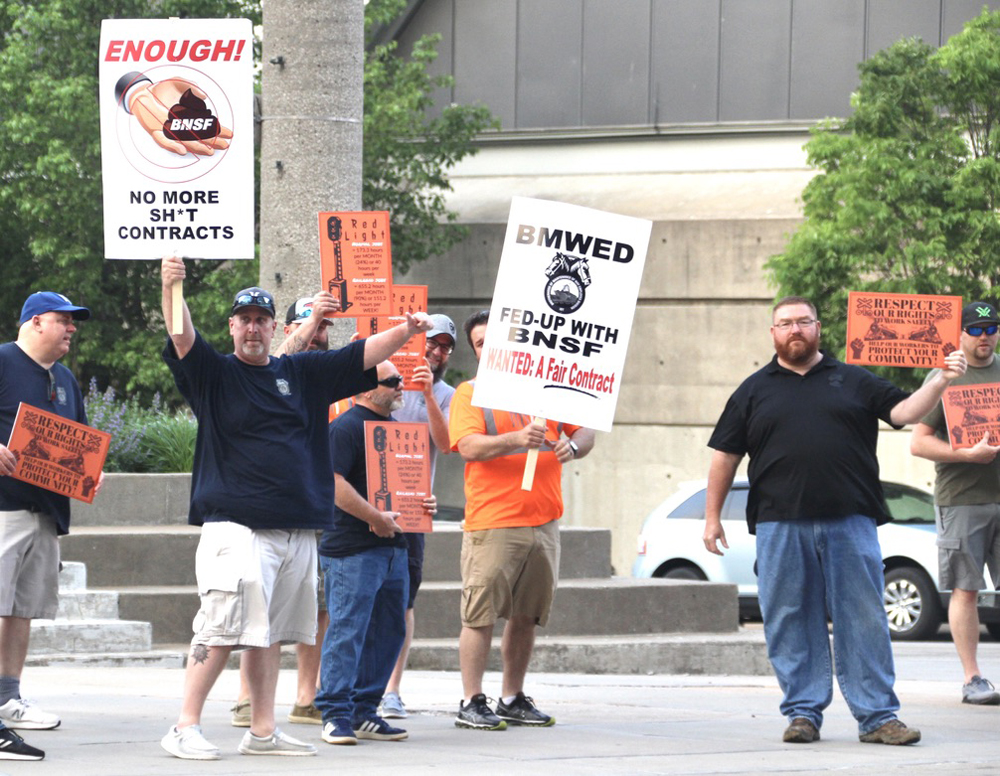 ---
WASHINGTON — The first freight railroad strike in three decades has been averted under a tentative deal reached overnight between Class I railroads and three labor unions, the White House announced early Thursday morning.
The Class I railroads reached tentative agreements with unions representing engineers, conductors, and signalmen after 20 hours of negotiations at the Department of Labor. The nine other unions involved in negotiations had previously reached tentative agreements with the railroads, although one had voted down its deal.
The deal includes an extended cooling-off period that puts off the prospect of a strike that could have begun as early as 12:01 a.m. on Friday. A strike would have crippled the U.S. freight railroad network and shut down Amtrak operations outside of the Northeast Corridor, as well as suspended commuter operations in several cities.
The Association of American Railroads says the contract will provide engineers, conductors, and signal workers with a 24% wage increase during the five-year period from 2020 through 2024, including an immediate payout on average of $11,000 upon ratification. The contract follows the recommendations of the Presidential Emergency Board that was convened after railroads and labor were unable to reach a negotiated settlement.
The unions said they were able to get concessions from the railroads on attendance policies and two-person crews, both of which were major sticking points in the contract negotiations that began in January 2020.
All tentative agreements are subject to ratification by the unions' membership.
The White House praised the deal.
"The tentative agreement reached tonight is an important win for our economy and the American people," President Joe Biden said. "It is a win for tens of thousands of rail workers who worked tirelessly through the pandemic to ensure that America's families and communities got deliveries of what have kept us going during these difficult years. These rail workers will get better pay, improved working conditions, and peace of mind around their health care costs: all hard-earned. The agreement is also a victory for railway companies who will be able to retain and recruit more workers for an industry that will continue to be part of the backbone of the American economy for decades to come."
Biden made "a crucial call" last night to Labor Secretary Marty Walsh and the negotiators representing railroad unions and companies, NBC News reported.
The White House and the AAR thanked Walsh, Transportation Secretary Pete Buttigieg, and Secretary of Agriculture Tom Vilsack for their work to help broker a deal with the assistance of the National Mediation Board.
Contract negotiations with the Brotherhood of Locomotive Engineers and Trainmen and the SMART-TD union had bogged down over two key issues: working conditions and changes to crew size.
Rail labor sought changes to railroad attendance policies they view as draconian, while railroads want the ability to shift conductors to a ground-based position. The Presidential Emergency Board recommended that the unions and railroads negotiate local settlements on work rules and crew consists.
In a joint statement, the leaders of the BLET and SMART-TD unions said the tentative agreement would provide railroaders with the largest wage increases in more than 45 years while holding the line on insurance costs and copays and addressing scheduling issues.
The deal also includes provisions for time off and takes the crew consist issue off the table.
"For the first time, our unions were able to obtain negotiated contract language exempting time off for certain medical events from carrier attendance policies. Our unions will now begin the process of submitting the tentative agreement to a vote by the memberships of both unions," SMART-TD President Jeremy Ferguson and BLET President Dennis Pierce said.
They thanked the rank and file for showing solidarity throughout the bargaining process, which "made the difference in our obtaining an agreement with provisions that exceeded the recommendations of the Presidential Emergency Board."
The agreement, the union leaders said, includes provisions that will create voluntary assigned days off for road train crews, plus an additional paid day off.
"Most importantly, for the first time ever, the agreement provides our members with the ability to take time away from work to attend routine and preventative medical, as well as exemptions from attendance policies for hospitalizations and surgical procedures," Ferguson and Pierce said.
SMART-TD said it was able to block the railroads' attempts to fast-track arbitration on crew consist agreements, which the union leaders said would protect two-person crews for the indefinite future.
The International Association of Machinists and Aerospace Workers (IAM) District 19, which announced Wednesday that that it had voted down its tentative agreement [see "Machinists reject tentative contract …," Trains News Wire, Sept. 14] said it is working to return to the bargaining table with the National Carriers' Conference Committee, the organization representing the railroads, "to negotiate an agreement worthy of our members' ratification," and to understand the tentative agreements reached today. In voting down their agreement, union members approved a strike but delayed it until Sept. 29 to allow bargaining by other unions to continue.
Amtrak, which had announced cancellation of all long-distance trains as of today in anticipation of a work stoppage, said this morning it is "working to quickly restore canceled trains and reaching out to impacted customers to accommodate on first available departures."
— Updated at 6:36 a.m. CDT with Amtrak statement; updated at 7:46 a.m. CT with contract details from union leaders; updated at 12:13 p.m. CDT with statement from machinists' union.

This is a developing situation. Follow Trains News Wire for more information as it becomes available.