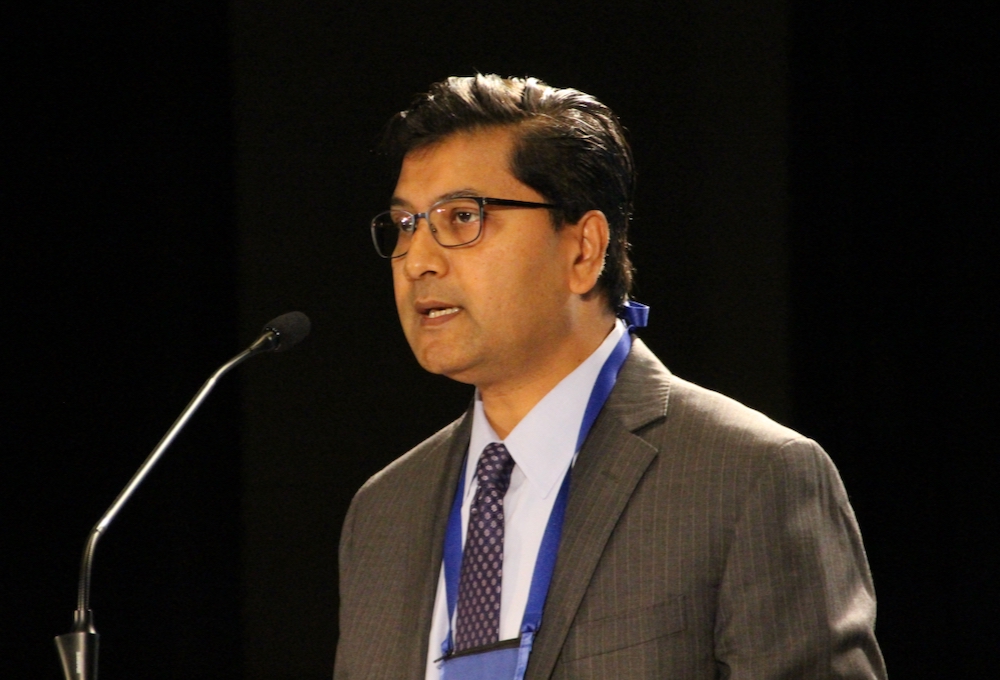 PHOENIX — Amit Bose, the Federal Railroad Administration's Deputy Administrator, covered a great deal of ground in his keynote address Thursday to the American Short Line and Regional Railroad Association.
Only once, however, did he display a degree of agitation about his subject matter: when discussing a forthcoming rule proposal on train crew size.
The rule, he said, will propose minimum requirements for the size of train crews — but will have room for exceptions to go below that size.
"I want to emphasize that," said Bose, President Joe Biden's nominee to be FRA Administrator. "If you make a safety case, you will be able to go below the crew size that is minimum." That was part of rule proposals in 2015 and 2016 that were halted under the prior administration, he said.
"I don't want misinformation to be out there about that rulemaking," he said. "I've heard it already, over and over again, and I've heard it misreported in the media. I want to be clear on that. And if you need examples, go back to the [Notice of Proposed Rulemaking] in 2015 and 2016, which was consensus-based. It was not something the FRA did in some room at headquarters on its own. …
"I know it's going to have an impact on the industry. I know some of the short line railroads operate below minimum crew size. If you have a safety case, make it. FRA will listen to it. Misinformation is not helpful in this situation.
"It will take into account historical differences of existing passenger and freight operations, which differ in complexity and crew staffing approaches. This rulemaking will address the potential safety impact of one-person train operations, including appropriate measures to mitigate an accident's impact and severity, and the patchwork of state laws that currently exist."
Also to come, Bose said, is rulemaking on locomotive recording devices, and rules that will address congressional requirements in the newly signed infrastructure bill, including fatigue risk-management plans and alcohol and drug testing for maintenance employees.
Bose also said the agency would be relaunching the Railroad Safety Advisory Committee, which he said he saw "fall by the wayside during the past four years and not utilized to its full capacity.
"I am committed to reinvigorating that committee and making it function effectively," he said, "to be an opportunity for management and labor to come together and reach consensus and talk to each other, and not have situations where labor and management are at loggerheads." By providing a venue for communication between management, labor, shippers, manufacturers and others, he said, "RSAC has led to the issuance of several safety rulemakings. It's avoided litigation because we've done things on a consensus basis."
ASLRRA Awards
Thursday's general session also saw the association honor a number of award winners. Among them:
— The introduction of the inaugural members of the ASLRRA Short Line Hall of Fame: Eugene (Gene) H. Blabey, a career journalist and shortline investor who served on the ASLRRA Board of Directors and on the boards of several short lines, whose moving speech earned a standing ovation; Mortimer (Mort) B. Fuller III, retired CEO, president and chairman of Genesee & Wyoming; and the late Marjorie (Maggie) Pinsly Silver, the retired president and chairman of the Pinsly Railroad Co. who spent more than 40 years at the company.
— Carl Belke, a board member of the Livonia, Avon & Lakeville and Western New York & Pennsylvania railroads and a 48-year career railroader, received the Schlosser Distinguished Service Award for long-time service to the ASLRRA and shortline railroading.
— Two individuals from Patriot Rail Co. received the top individual safety honors. Herman Crosson, vice president safety, training and regulator, was named Safety Professional of the Year; George Johnson Jr., a locomotive engineer at Patriot's Golden Triangle Railroad, was named Safety Person of the Year.
— Michigan's Lake State Railway was honored twice, as Railway Age's Regional Railroad of the Year, and as one of the four recipients of ASLRRA's Business Development Award.
— Other Business Development winners were Ironhorse Resources' Santa Teresa Southern Railroad; Pan Am Railways, and R.J. Corman Carolina Lines. Details on those award winners were previously featured on News Wire [see "ASLRRA honors four railroads …," Sept. 2, 2021].
— R.J. Corman's Memphis Line was honored as Railway Age's Short Line of the Year. Receiving honorable mention were Belpre Industrial Parkersburg Railroad and the Grenada Railroad.
— Maintenance-of-way equipment firm Vancer received the Veterans Recruitment Award for its program using employees who are veterans to recruit new employees from those making the transition from active duty to civilian employment.