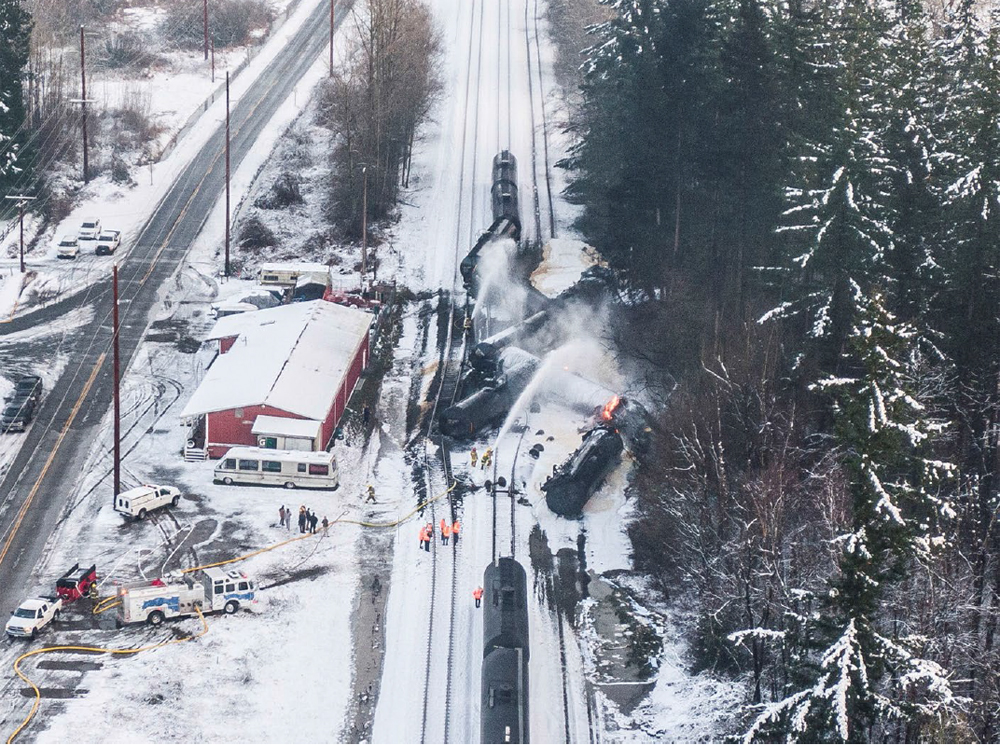 WASHINGTON — Vandalism is a possible factor in the derailment and fire involving a BNSF oil train in Custer, Wash., in December 2020, according to a Federal Railroad Administration accident report released Thursday.
The report cites as other possible contributing factors the crew's failure to properly inspect the train; BNSF's failure to comply with rules for securing trains with hazardous materials; and a failure to inform crews of other vandalism in the area, which could have heightened their situational awareness.
Ten cars of the 108-car train derailed at 11:40 a.m. on Dec. 22, 2020, with three of those cars catching fire, leading to the evacuation of 120 people near the accident scene, as well as closure of nearby Interstate 5 for about four hours. There were no injuries, but BNSF reported more than $850,000 in damage resulted.
The FRA found unlocked coupler pins caused the train to separate, and closed or partially closed air brake angle cocks prevented an emergency brake application. The contributing factors reflect elements that made those circumstances possible:
— The unexplained train separation and partially and fully closed angle cocks could have resulted from vandalism or tampering.
— The train had been left unattended in an area where it could not be secured; BNSF did not have a plan in place to determine when and where "key trains" — certain types of trains carrying hazardous materials — could be left unattended, which fails to meet federal requirements.
— The crew failed to use the "train check" function for a train with distributed power units, which would have indicated a problem resulting from the closed angle cocks; the crew would then have walked the train and had the opportunity to find the closed angle cocks.
— More than 20 vandalism and tampering incidents had occurred on BNSF's Bellingham Subdivision in 2020, but the railroad "failed to educate" crews of this fact, which might have heightened their concerns about such problems.
The possibility of tampering with the train had been raised earlier this year. Seattle National Public Radio affiliate KUOW reported in June that a union official said, during a disciplinary hearing for crew members involved in the accident, that the derailment "was caused without a doubt by sabotage" [see "Radio station report says union official blames BNSF oil-train derailment on sabotage," Trains News Wire, June 7, 2021]. And the report was released on the same day a Bellingham, Wash., woman was convicted for using a shunt to disrupt BNSF operations, one of a series of such incidents involving shunts in the area during 2020 [see "Washington woman convicted for shunt attack …," News Wire, Sept. 9, 2021].