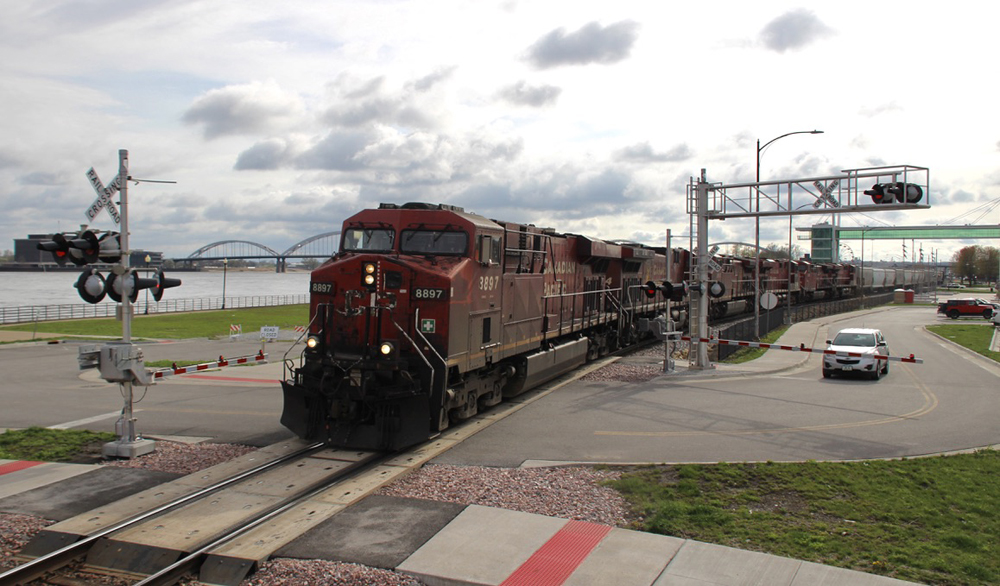 ---
DAVENPORT, Iowa — A former mayor of Davenport is urging the city to turn down its tentative $10 million agreement with Canadian Pacific and organize a regional effort to block the railroad's proposed merger with Kansas City Southern.
Meanwhile, the city of Muscatine, some 30 miles southwest along the Mississippi River, has approved a $3 million agreement with CP.
The Quad-City Times reports Bill Gluba, a four-term mayor between 2008 and 2016, appeared before the city's aldermen on Wednesday, calling the potential merger "perhaps the most significant issue ever to face our city" and saying it threatened the viability of the city's riverfront parks and other amenities. The merger application by CP and KCS has projected freight traffic through Davenport will grow from eight to 22 trains per day.
CP has agreed to contribute up to $10 million toward quiet zones, pedestrian access to the river front, and a grade-separation project if the merger is approved [see "Davenport, Iowa, reaches agreement …," Trains News Wire, Aug. 3, 2022]. In return, the city would not object to the merger. Davenport's city attorney said the deal is likely far better than anything the Surface Transportation Board would require in the way of mitigation as a condition of the merger.
Aldermen are scheduled to vote on the agreement next week.
Gluba told the alderman they should "get a regional coalition together to fight this," in the manner of the eight Chicago suburbs who have banded together as the Coalition to stop CPKC. That group seeks up to $9.5 billion for mitigation of a potential traffic increase from three to 11 freight trains per day and has turned down a $10 million offer from Canadian Pacific. In a recent filing with the STB, CP called the coalition's request "simply untenable and disproportionate to any possible impact" from the merger [see "CP, KCS dispute Metra merger contentions …," News Wire, July 14, 2022].
Muscatine council approves agreement in split vote
KWQC-TV reports the Muscatine City Council voted 4-3 on Thursday to approve a $3 million deal with Canadian Pacific to help mitigate impacts of the proposed merger. Some $1.6 million would go toward a grant application to build an overpass to replace a grade crossing at Dick Drake Way; $1.4 million is for other projects, such as development of quiet zones.
CP spokesman Andy Cummings, who was in attendance at the Muscatine meeting, told the station that the railroad's process "is very much about listening to the communities [and] hearing their concerns."
— Updated at 8:40 a.m. to include Muscatine agreement.